Williams helps U.S. to Futures victory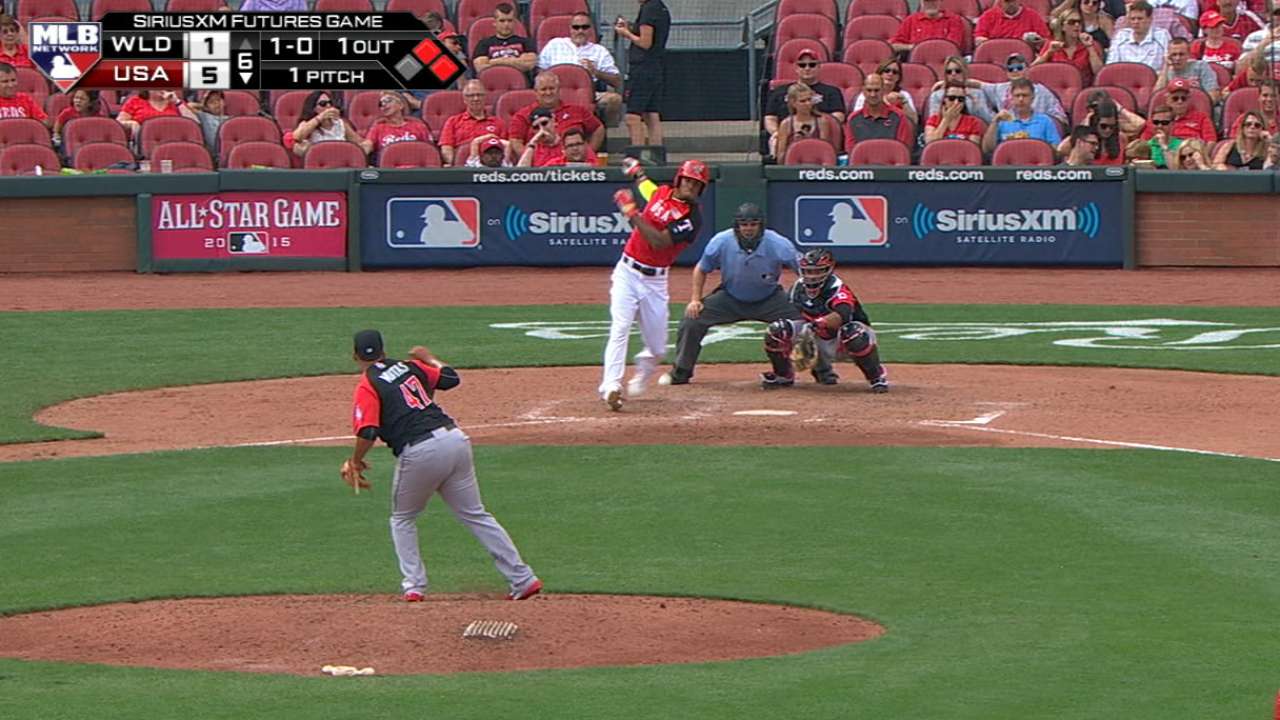 CINCINNATI -- Left fielder Nick Williams, ranked seventh in the Rangers' system by MLB.com, laced a sixth-inning RBI single shortly after checking into the U.S. Team's eventual 10-1 victory in Sunday's SiriusXM All-Star Futures Game at Great American Ball Park.
Nomar Mazara, ranked third, went 2-for-3 while batting eighth as the World Team's starting designated hitter.
Williams was invited to the Futures Game largely because of the lessons he took away from a humbling first stint in the Texas League last season.
Amidst hearing constantly, from Rangers officials and prospect experts alike, about how special he could be by focusing a little harder, by paying a little more attention to his craft, Williams needed to learn those things for himself. And to do that, he needed to fail.
That finally came in the middle of August last year, after a promotion to Double-A Frisco, when Williams finished his season with a .226 batting average over a 15-game stretch.
"It made me wake up," Williams said. "It made me realize that I need to start working."
He credited longtime second baseman Delino DeShields, Williams' coach in the Arizona Fall League, for "opening my eyes to the type of player I can be," and then he started to work on that.
In 83 games for Frisco this year, Williams -- a 6-foot-3, left-handed-hitting outfielder with all the tools -- is slashing .295/.354/.455, with nine home runs and eight stolen bases. From one year to the next, his strikeout rate has dropped from 29 percent to 18.
"It was just growing up," Williams said. "That was the whole thing. Sometimes you just have to shut up and listen. Me, I just wanted to go out there and play. In practice, I would screw around, play around, didn't take my reads off the bat. During BP, I'd just try to hit home runs. And during games, I was just see ball, hit ball. It's different now."
Mazara came to the Rangers as part of a $13 million splurge internationally in 2011. He signed a $4.95 million bonus, a since-broken record for the largest by an international amateur. And since then, the 20-year-old right fielder has impressed, batting .262/.349/.437 with 51 homers, 234 RBIs and 38 outfield assists in 390 Minor League games.
Marlins prospect Jarlin Garcia called Mazara "the toughest guy I've ever faced, because his strike-zone awareness is so good."
"He is one of the most advanced guys in the Minor Leagues, and he is not going to be able to buy beer until next spring," Rangers general manager Jon Daniels said. "You see how big he is and the type of at-bats he has, and you forget how young he is. There is a lot to be excited about."
Mazara is the fastest-rising player among the Rangers' wealth of outfield prospects and has come up frequently in trade talks since the end of last season, when his OPS jumped from .692 to .840 thanks largely to a more subtle leg kick.
"That makes me feel very happy," Mazara said of being mentioned in trades, "because they see the results and it means people are saying good things about me. I just have to keep moving forward, keep working hard."
Alden Gonzalez is a reporter for MLB.com. Read his blog, Gonzo and "The Show", follow him on Twitter @Alden_Gonzalez and listen to his podcast. MLB.com reporter T.R. Sullivan contributed to this report. This story was not subject to the approval of Major League Baseball or its clubs.