Moreland puts up career-best first half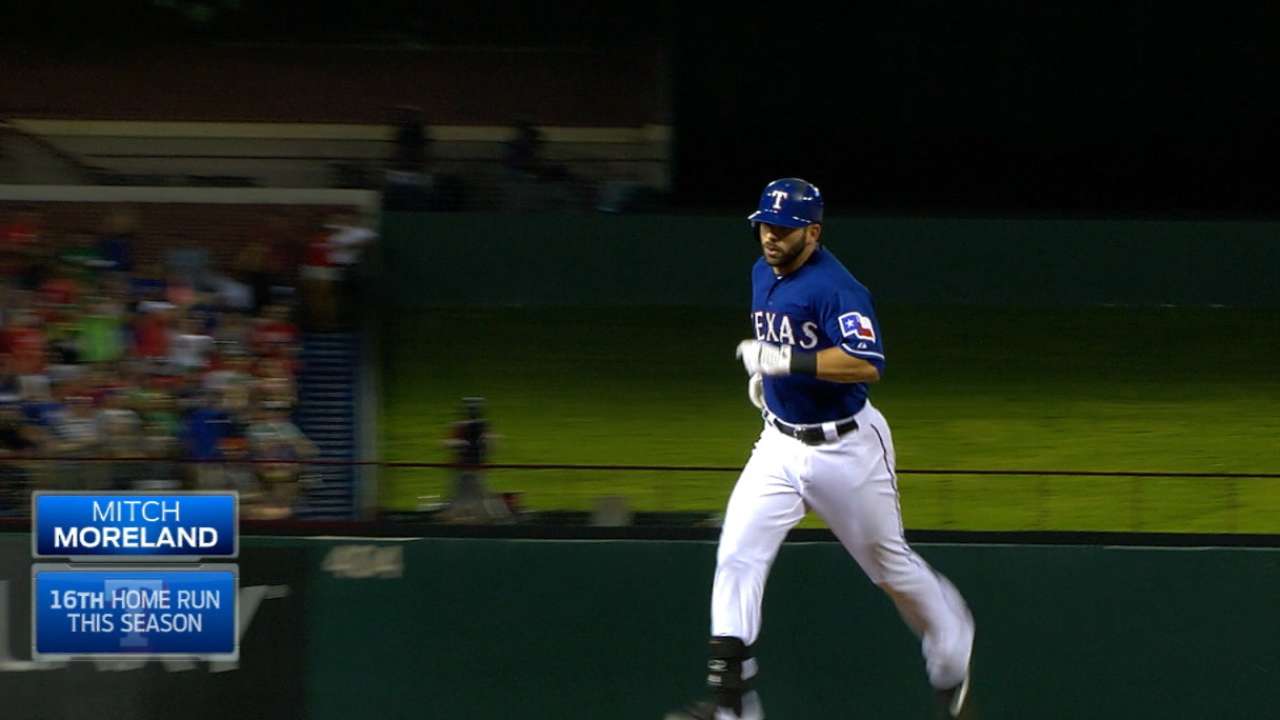 ARLINGTON -- Lost in the Rangers' 6-5 defeat to the Padres on Saturday night were the two home runs hit by Mitch Moreland. That gave him 16 on the season, the most on the team despite being out from April 28 to May 12 because of surgery on his left elbow.
Going into Sunday's game, his .289 batting average, 16 home runs, 46 RBIs, .335 on-base percentage and .538 slugging percentage were all career highs for the first half of a season. It's easy to see why Moreland feels this has been the best of his five seasons with the Rangers.
"Personally, yes, I would say so," Moreland said. "I feel like I've just tried to go up there and get a good pitch to hit. It's something to build on and get better as you go, help the team win and get to where we want to go."
Staying healthy was huge. The two-week absence was a minor setback compared to what Moreland has endured in the past. Moreland also admitted it helps that American League All-Star Prince Fielder was willing to step aside as the regular first baseman and accept the role of designated hitter. That has allowed Moreland to return to the field.
"That was big as well, I can't thank him enough for him to be the team player he is and the type of player he is," Moreland said. "I love being out there. I'm in the game more on the field. It's helped me. He is having a great year, so maybe it's helping him, too."
Rangers manager Jeff Banister said the close relationship between the two players has also helped Moreland.
"I think it has kind of unlocked some of Moreland's confidence," Banister said. "That relationship is kind of exciting to watch."
Worth noting
• Pitcher Matt Harrison threw a bullpen session on Saturday, working on getting his delivery in sync. Harrison said he didn't have any abnormal soreness after making his first Major League start in 14 months on Wednesday. The Rangers have not set their second-half rotation, but Harrison -- who has made a comeback from spinal fusion surgery -- said he is planning to play catch on Tuesday and then throw another bullpen session on Thursday, when the Rangers work out at Minute Maid Field in Houston. The Rangers open the second half on Friday against the Astros.
• Outfielder Antoan Richardson, who was in Spring Training with the Rangers until undergoing back surgery, has begun a rehab assignment with the Arizona Rookie League Rangers.
• Outfielder Shin-Soo Choo turns 33 on Monday.
T.R. Sullivan is a reporter for MLB.com. Read his blog, Postcards from Elysian Fields, follow him on Twitter @Sullivan_Ranger and listen to his podcast. This story was not subject to the approval of Major League Baseball or its clubs.