Yanks set rotation to open second half
Tanaka, Pineda and CC to face Mariners in the Bronx
BOSTON -- More so than talent, potential or even track record, durability was an area of concern for the veteran-laden Yankees entering the season, especially in the case of their starting pitchers.
As the Bombers head into the All-Star break atop a crowded American League East, however, manager Joe Girardi finds himself sleeping better when it comes to the health of his rotation. That includes the electric Masahiro Tanaka, who has returned to form since coming off the disabled list June 3, oft-injured fireballer Michael Pineda and 34-year-old southpaw CC Sabathia.
"I feel pretty good about where we're at from a physical standpoint," Girardi said. "I'm sure when Tanaka has a rough start, I'm going to be asked about his health. I don't think I'll ever get away from that. But I think the way Pineda's come through the first half, that CC's been able to make all his starts, that Tanaka's healthy again. I think it's a good sign.
"The important thing is that they stay that way."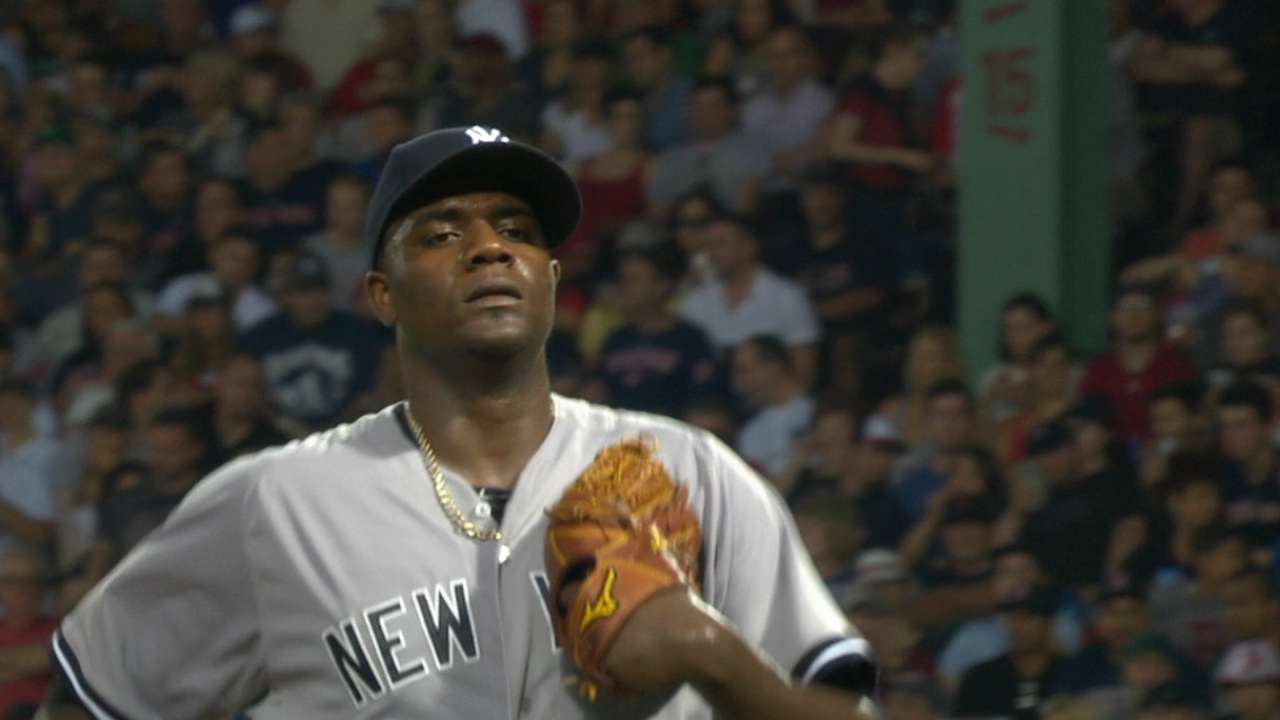 Those three starters also happen to be the trio that will lead the Yankees into the second half next weekend. Tanaka draws the start in Friday's series opener against the Mariners, with Pineda and Sabathia following on Saturday and Sunday.
Girardi said Nathan Eovaldi and Ivan Nova will round out the next turn of New York's rotation.
Tanaka and Pineda would be pitching on eight days' rest, while Sabathia would have 10 days off between his last start (July 8) and his next one (July 19). Girardi's reasoning with Sabathia centers around the high number of left-handed hitters in the Mariners' lineup.
"You can match it up the first time [after the All-Star break]. You can't really know how it's going to play out the rest of the year as teams are going to make trades and do things," Girardi said. "You don't want to give everyone too many days off because I think they just get out of rhythm."
For Sabathia, who has struggled while going 4-8 with a 5.47 ERA, his second-half performance should greatly influence whether the Yankees can maintain their division lead through August and September. Improvement against right-handed hitters, who are batting .331 with 18 home runs against him, will be crucial.
"The ability's there. We know that," Girardi said. "I have confidence in him. And we need him to pitch well. That's the bottom line. We need all the guys to carry the equal load. All five starters. You can't rely on one or two and expect to be in the playoffs."
Worth noting
• Girardi said injured outfielder Carlos Beltran (left oblique strain) could return for the series against the Mariners. He ran the bases at Fenway Park on Sunday and is expected to play a few Minor League rehab games at the team's complex in Tampa, Fla., this week.
Alec Shirkey is an associate reporter for MLB.com. This story was not subject to the approval of Major League Baseball or its clubs.