White Sox lookback, Part 5: Blum becomes an unlikely hero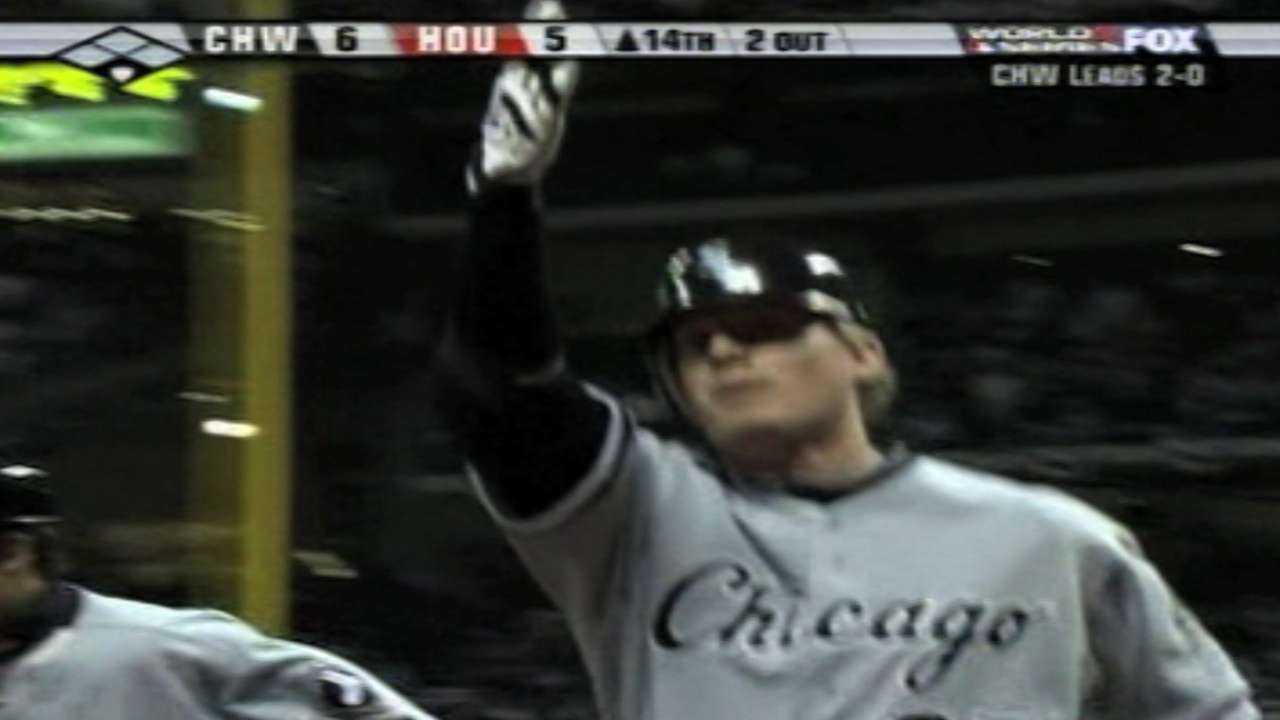 CHICAGO -- The White Sox will be honoring the 10-year anniversary of the team's 2005 World Series championship next weekend at U.S. Cellular Field. This latest celebration presents a chance to look back at key moments from that postseason run -- with a special focus on the World Series, with the words coming primarily from the participants themselves.
Here is Part 5 of this multi-part championship oral history series.
White Sox lookback, Part 1: Dropped 3rd strike
Game 3 of the 2005 World Series: Blum becomes an unlikely hero
All of the momentum stood on the White Sox side with a 2-0 series lead. But the Astros weren't about to give up on their home field. Even with Roy Oswalt on the mound, the visitors held a 5-4 lead in the eighth, thanks to a five-run fifth. Houston scored one in the eighth, setting up Geoff Blum's heroics in the wee hours of the morning during the 14th inning.
White Sox executive vice president Ken Williams, who was general manager at the time: "He has a statue for one World Series at-bat."
White Sox lookback, Part 2: WS Game 1
Blum: "Timing is everything."
Jermaine Dye opened the 13th with a single off of Ezequiel Astacio -- the seventh of eight Astros pitchers -- but he was quickly erased when Paul Konerko grounded into a double play. So Blum was able to swing away, instead of being called upon to bunt. He ended up driving a 2-0 pitch out for the game-deciding homer.
As Williams pointed out, that drive was Blum's only career World Series at-bat.
White Sox lookback, Part 3: Konerko's slam
White Sox chairman Jerry Reinsdorf: "I had a suite all the way down the left-field line. But, in Houston, the seats are outside the suite. So I was sitting outside watching the game, and the leadoff guy got on and then Konerko hit into a double play. I got so [upset]. I get [upset] easily. So I got up from my seat and I walked back into the suite, and I looked up at the monitor and I saw the ball going over the fence. That's the first time I saw that."
Blum: "My kids now appreciate me a little bit more. It actually gave me an extra two or three years in the big leagues. Call it clutch, but winning the World Series with the White Sox and contributing gives a little boost [to] your career."
Blum was acquired from the Padres for Minor Leaguer Ryan Meaux at the non-waiver Trade Deadline that season, as another small but crucial part of this amazing group.
White Sox lookback, Part 4: Podsednik's HR
White Sox manager Ozzie Guillen: "Kenny asked me about what we need. Kenny, he was awesome about that: 'What do you guys need? I think we can do this or do that.' It was hard for me to say what we need when we are in first place.
"I needed somebody to play the infield [who could] help [Juan] Uribe and [Joe] Crede. We don't have any names. We had this guy available, Blum. I said, 'That's the guy.' I coached him with the Montreal Expos. And look at how big he comes up in the World Series."
For the record, Mark Buehrle, who started Game 2, earned the one-out save as the team's ninth hurler of the night. Damaso Marte also became the answer to a trivia question by joining Babe Ruth as the only pitchers to pick up victories in 14-inning World Series games.
Next up: Completing the sweep
Scott Merkin is a reporter for MLB.com. Read his blog, Merk's Works, follow him on Twitter @scottmerkin and listen to his podcast. This story was not subject to the approval of Major League Baseball or its clubs.