Orlando's HR rescues Royals against Blue Jays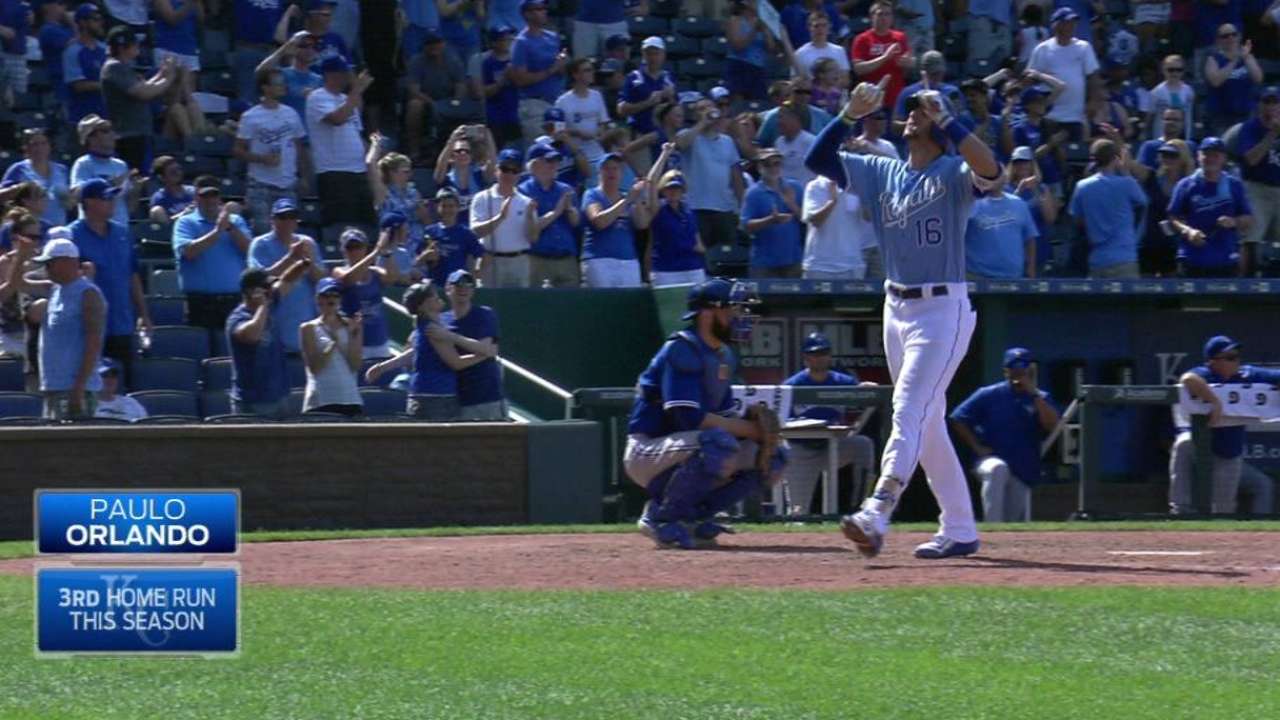 KANSAS CITY -- Paulo Orlando snapped a tie with a clutch homer in the eighth inning off reliever Bo Schultz to lift the Royals to an 11-10 victory over the Blue Jays on Sunday in the rubber game at Kauffman Stadium.
In a wild game that had seven errors, the Royals had the final push. Greg Holland came on to close it in the ninth as the closer fanned Russell Martin and catcher Salvador Perez, who was huge on defense in this one, cut down Ryan Goins trying to steal second for a game-ending double play.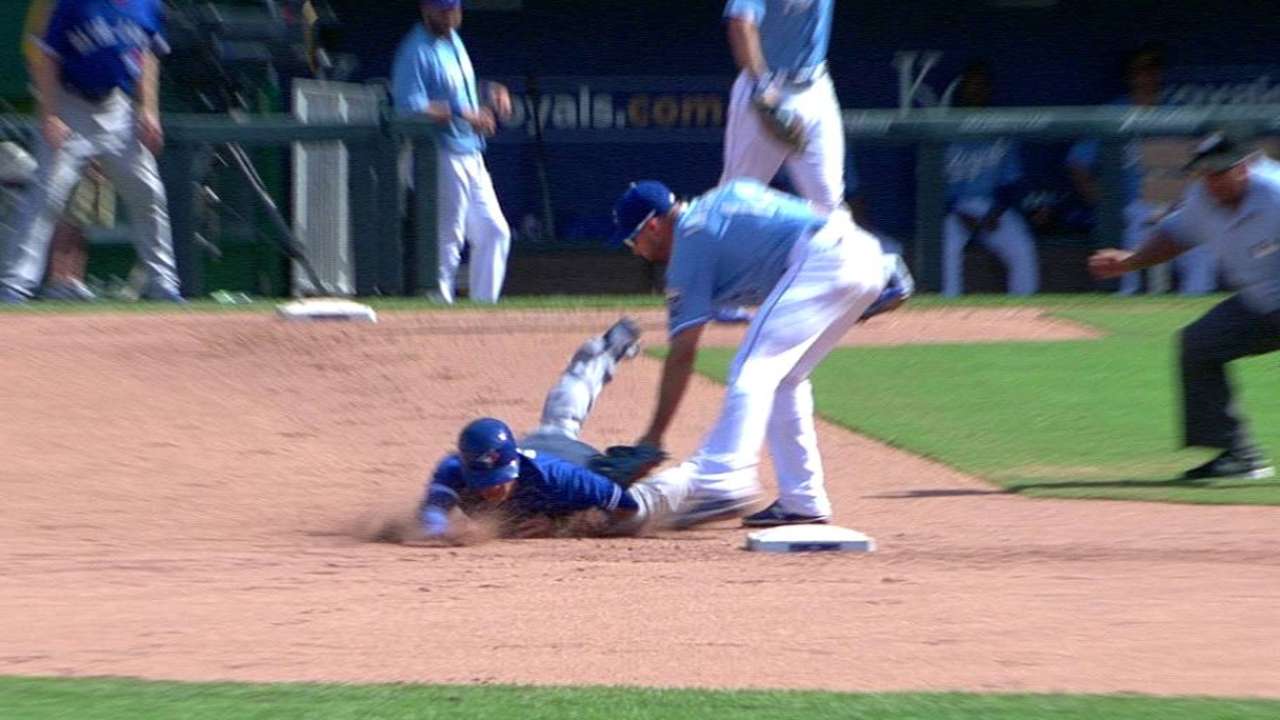 The Blue Jays had trailed, 7-0, before rallying for eight in the sixth. The Royals went back up 10-8, but Toronto eventually tied it on Jose Reyes' RBI single off Wade Davis in the eighth. It was only the second earned run off Davis all year and came after Kevin Pillar's leadoff triple. With the lead run at first and one out, Jose Bautista was ejected while at the plate with a 1-2 count and Toronto was unable to recapture the lead. That set the stage for Orlando's dramatic blow leading off the eighth.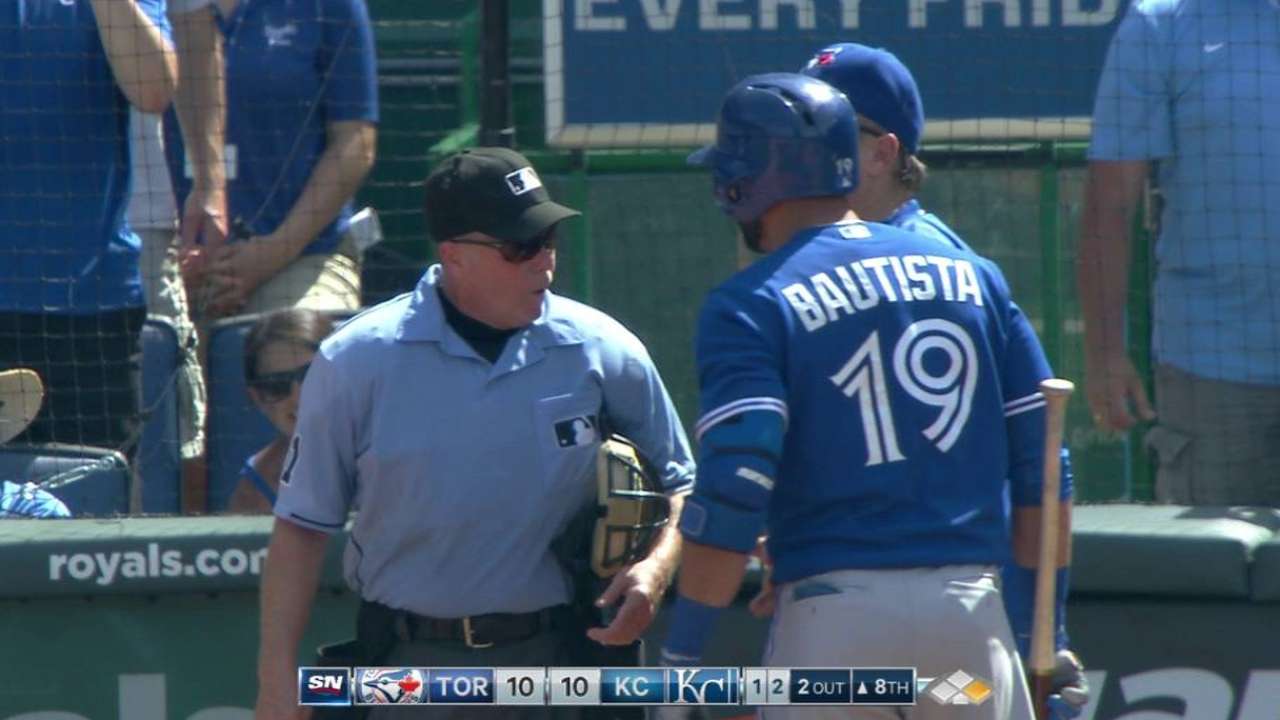 "The heat baked the infield," Royals manager Ned Yost said. "Both teams were really struggling with it.
"It was just one of those days where nothing was going to come easy."
Blue Jays manager John Gibbons lamented that his team couldn't get a shutdown inning immediately after scoring eight times in the sixth. The Royals came right back with three as the first two batters singled off Steve Delabar and Reyes later committed a two-run error.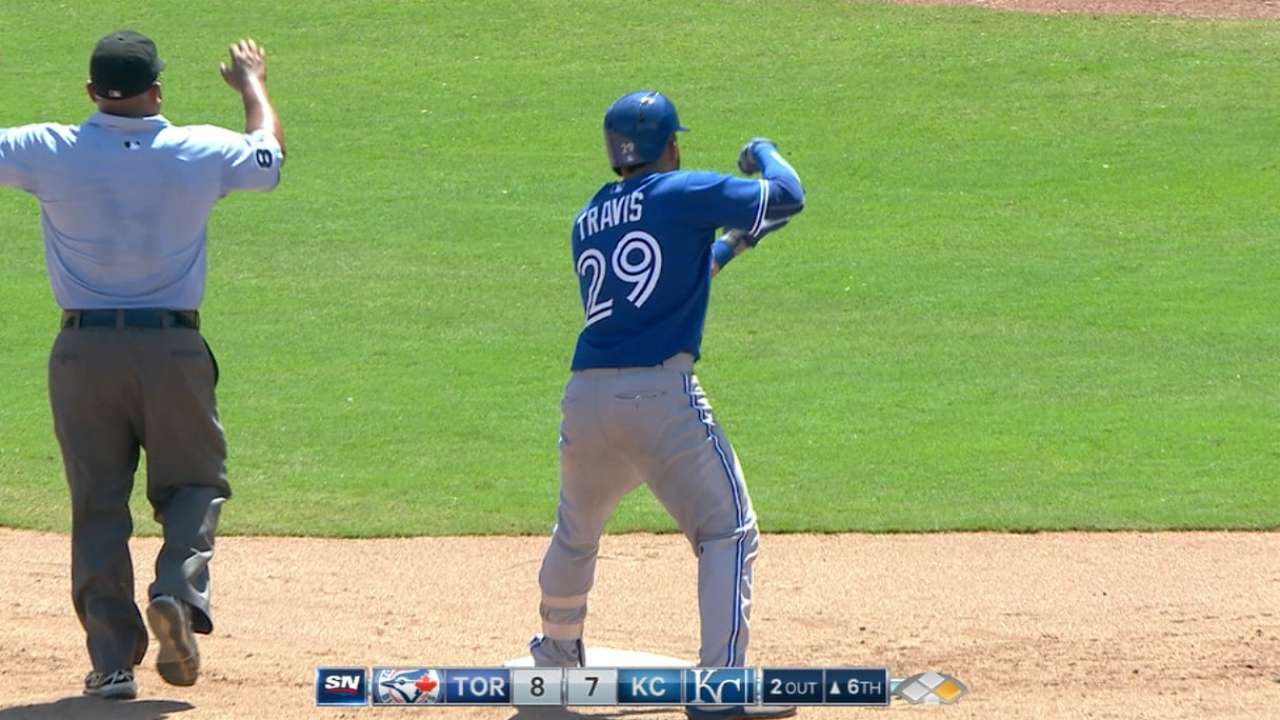 "The key is, you take the lead there and you've got to get some outs. You've got to have some shutdown innings," Gibbons said. "The first two guys get on and that's what absolutely kills you."
In his second start, Blue Jays left-hander Felix Doubront surrendered six runs in the first inning, four of them earned. He wound up going four more innings and allowed just one run over that span.
"He didn't have his best command, but they were also finding holes," catcher Russell Martin said. "We weren't able to get outs on some weakly hit balls."
Royals starter Edinson Volquez worked 5 1/3 innings, allowing five hits and four runs, but only one run was earned.
MOMENTS THAT MATTERED
Catching A break: The Blue Jays appeared headed to the bottom of the sixth in a 7-2 hole when Martin hit what looked like an inning-ending double-play bouncer to short. But Alcides Escobar initially bobbled the ball and then fed second baseman Omar Infante with plenty of time to get a forceout. Infante dropped the ball for an error to change the inning completely. A run scored and Toronto added five more to take an 8-7 lead.
Out at third: Martin was the potential tying run when he advanced to third on a wild pitch in the seventh with one out. But when Martin rounded the bag too far, Perez threw him out trying to scramble back to the bag.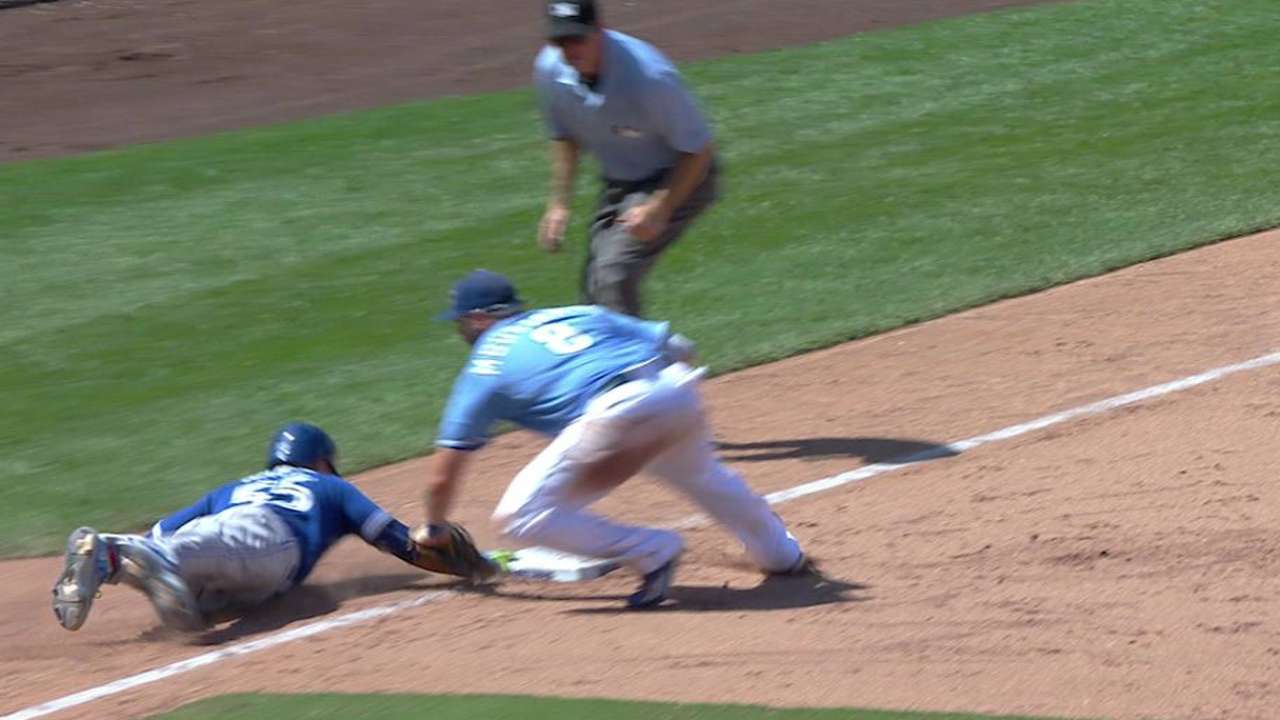 "I don't know if he was trying to score or trying to fake or something," Perez said. "Good thing Mike was right there. I see [Martin] try to go to home plate, and no way, no chance he was going to get to home plate."
Martin credited Perez's arm for making the difference on the play.
"If you look at it, I really wasn't that far [around third]," Martin said. "That kid has a cannon arm. What I did recognize was the pitcher was kind of lazy to get to and cover home plate. I'm rounding third base with a full head of steam and thinking aggressively."
Hottest first inning: The Royals strung together six hits -- including two doubles and a home run -- and scored a season-high six first-inning runs in Sunday's first-half finale. Kansas City reached its previous-best first inning twice before, scoring four runs in the first against the Twins on June 11 and the Indians on May 8.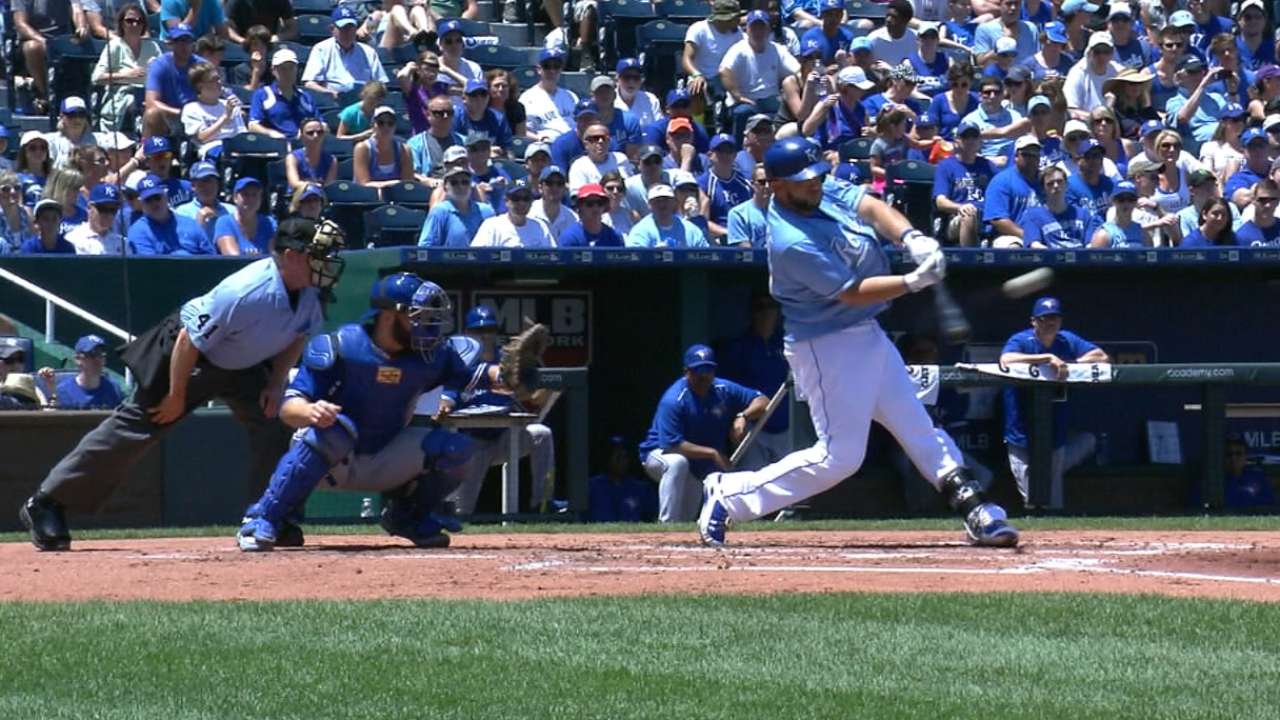 Turned away: Chris Colabello made a bid to give the Blue Jays a 2-0 lead in the first, but the slick-fielding Escobar wouldn't let it happen. With runners at second and third and two out, Colabello hit a smash that Escobar was able to backhand with quick reflexes and his strong throw kept Toronto off the scoreboard.
UNDER FURTHER REVIEW
Pillar was caught stealing third on a throw from Perez to Mike Moustakas for the final out of the second inning when Pillar slid off the bag after initially beating the throw. Toronto challenged the call, which was confirmed.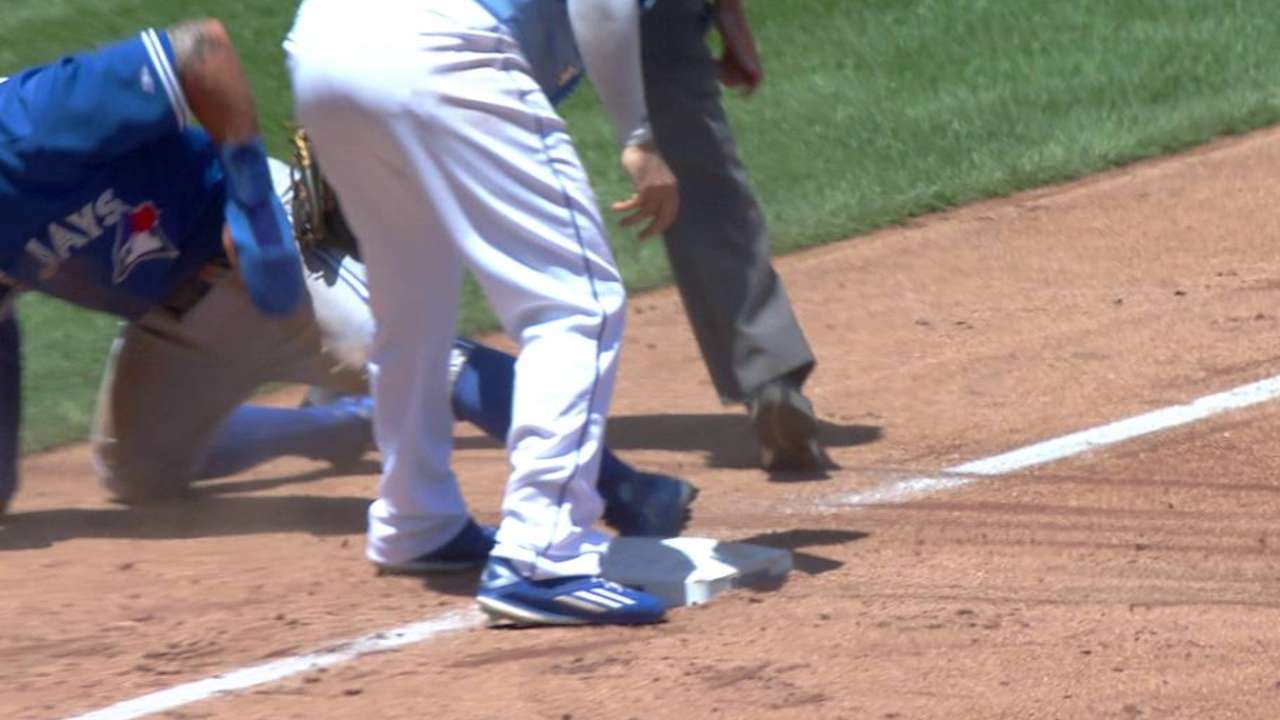 In the seventh inning, Martin went to third on a wild pitch, but he rounded the bag too quickly. Perez quickly retrieved the ball and fired to Moustakas, who tagged out Martin before he could get back to the base. The crew chief reviewed the call and it was ruled as stands.
WHAT'S NEXT
Blue Jays: The Blue Jays will return to action on Friday at 7:07 p.m. ET to open a three-game set against the Rays at Rogers Centre. It's the only home series in a stretch which has Toronto playing 16 of 19 games on the road.
Royals: The Royals will open the second half with a day-night doubleheader at 1:10 and 7:10 p.m. CT on Friday against the White Sox at U.S. Cellular Field. Right-handers Chris Young and Volquez will be the starters.
Watch every out-of-market regular-season game live on MLB.TV.
Jordan Wilson is an associate reporter for MLB.com. Robert Falkoff is a contributor to MLB.com. This story was not subject to the approval of Major League Baseball or its clubs.