Buchanan shows better control in solid return
Phillies starter allows one run in five innings without walking a batter
SAN FRANCISCO -- Even on a night when Phillies starting pitcher David Buchanan threw well enough to win, his team came out on the losing end.
Buchanan, who entered Saturday without a victory in five starts this season, allowed one run on eight hits in five innings of an 8-5 loss to the San Francisco Giants.
For the first time this year, the Phillies right-hander gave up fewer than three earned runs and did not walk a batter. Buchanan had issued 5.47 walks per nine innings prior to Saturday's outing, so the command was a sign of improvement for the 26-year-old.
"Didn't walk anybody, which was my biggest thing that was kind of hurting me earlier this year," Buchanan said. "Keeping the ball in the strike zone and executing my pitches, that was my goal."
The Giants were able to get runners on base with Buchanan on the mound, but the second-year starter consistently worked out of jams to keep them off the board.
Buchanan allowed a one-out single to Joe Panik in the first inning before Matt Duffy ripped a line drive off the pitcher's left arm. He stayed in the game, got Buster Posey to line out to right field and then struck out Hunter Pence with a nasty full-count breaking ball.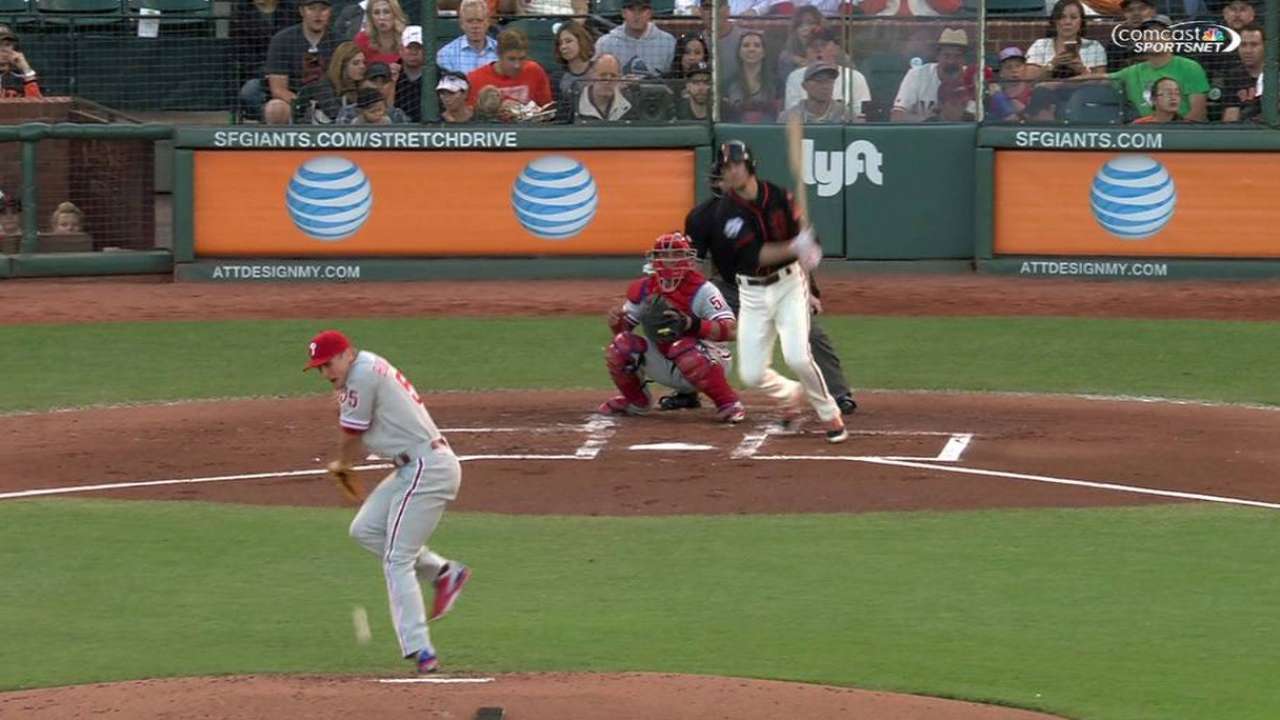 In the second, the Giants managed to push a run across after Brandon Belt led off the inning with a double and Brandon Crawford tripled him home. But Buchanan bounced back, retiring the next three hitters to strand Crawford at third base.
Buchanan allowed runners into scoring position in each of the next three frames as well, but did not allow a single one to cross home plate.
"When guys start hitting the ball around, you might try to nibble and start leaving balls in the middle of the plate, start walking guys," Buchanan said. "I think that was the biggest thing mentally -- to pound the zone with confidence."
After Ryan Howard and Cody Asche went deep in the top of the sixth inning, Buchanan exited the game with a 4-1 lead. Interim manager Pete Mackanin said he pulled his starter after just 72 pitches because the Giants had three lefties coming up in the sixth.
"It was a perfect matchup for a left-hander," Mackanin said. "It didn't work as well we [hoped] it would work."
But by the end of the inning, the Giants stormed back for five runs off the Phillies' bullpen, and Buchanan was slapped with a no-decision.
"When a team goes ahead, you like to see them shut it down," Buchanan said. "You have to win those games."
Oliver Macklin is an associate reporter for MLB.com. This story was not subject to the approval of Major League Baseball or its clubs.