Gomez desires to remain with Brewers
Outfielder trying to avoid distraction of trade speculation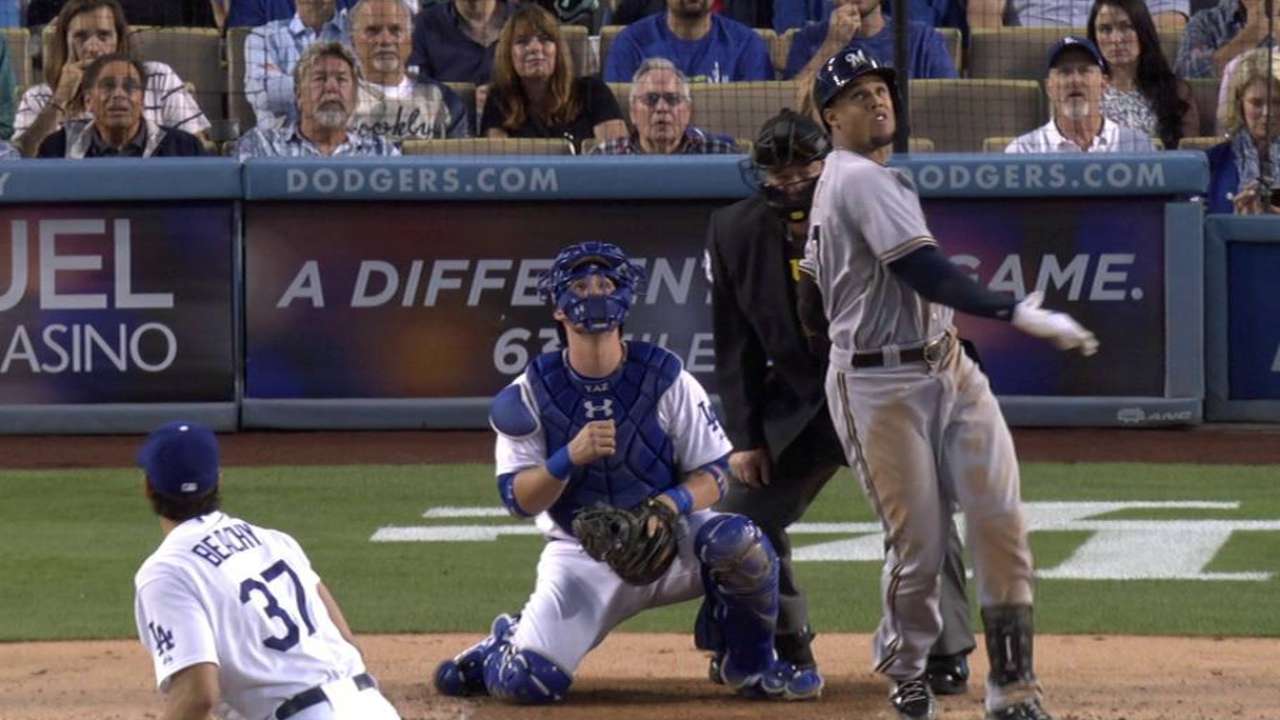 LOS ANGELES -- Carlos Gomez had the sort of performance in Saturday night's 7-1 win over the Dodgers that makes him one of the Brewers' most intriguing trade options. He reached base safely three times, logged five RBIs and doubled a runner off first base after making a running catch in center field.
Gomez, a season and a half removed from a foray into free agency that could net him a nine-figure contract, is aware he could be dealt. His hope, he said, is that it doesn't happen.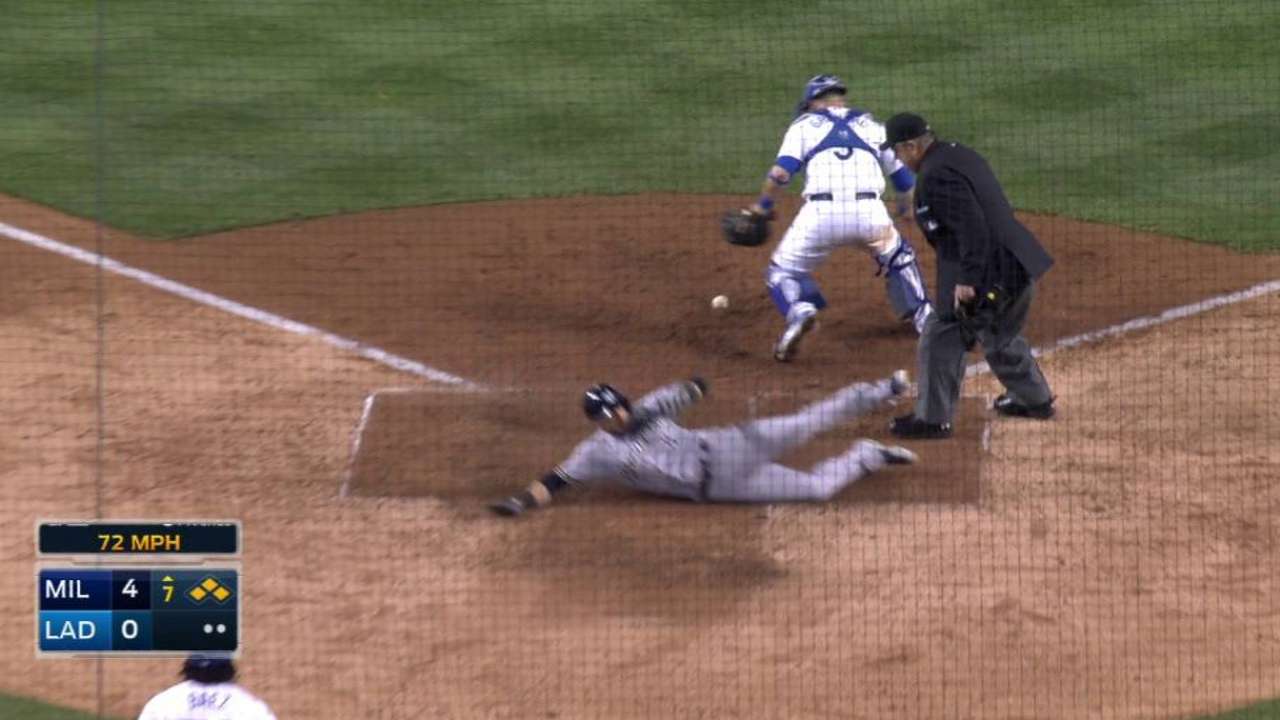 "This is my sixth season in this organization and if it does happen, it's going to hurt for me and my family because we owe a lot to this organization," said Gomez, in the third season of a four-year contract. "But I've been in the game so long that I understand I have to move forward. If this happens, there's nothing I can do. If that happens, it's because the organization thinks it has a better future to bring in new prospects to rebuild everything. I don't think it's going to happen and I don't have this on my mind.
"The only thing I have on my mind is play every day and give everything I have. Next year is my last year under contract, and I wish I could stay here for the rest of my career. You spend seven seasons with one team, I don't think you want to move. You want to stay here, especially with the group we have. I feel like I'm a Milwaukee Brewer. I don't look at myself as anything else."
Gomez is 29, earning $8 million this season and due $9 million in 2016, reasonable salaries for a player who ranked in the top 20 of National League Most Valuable Player balloting in each of the past two seasons.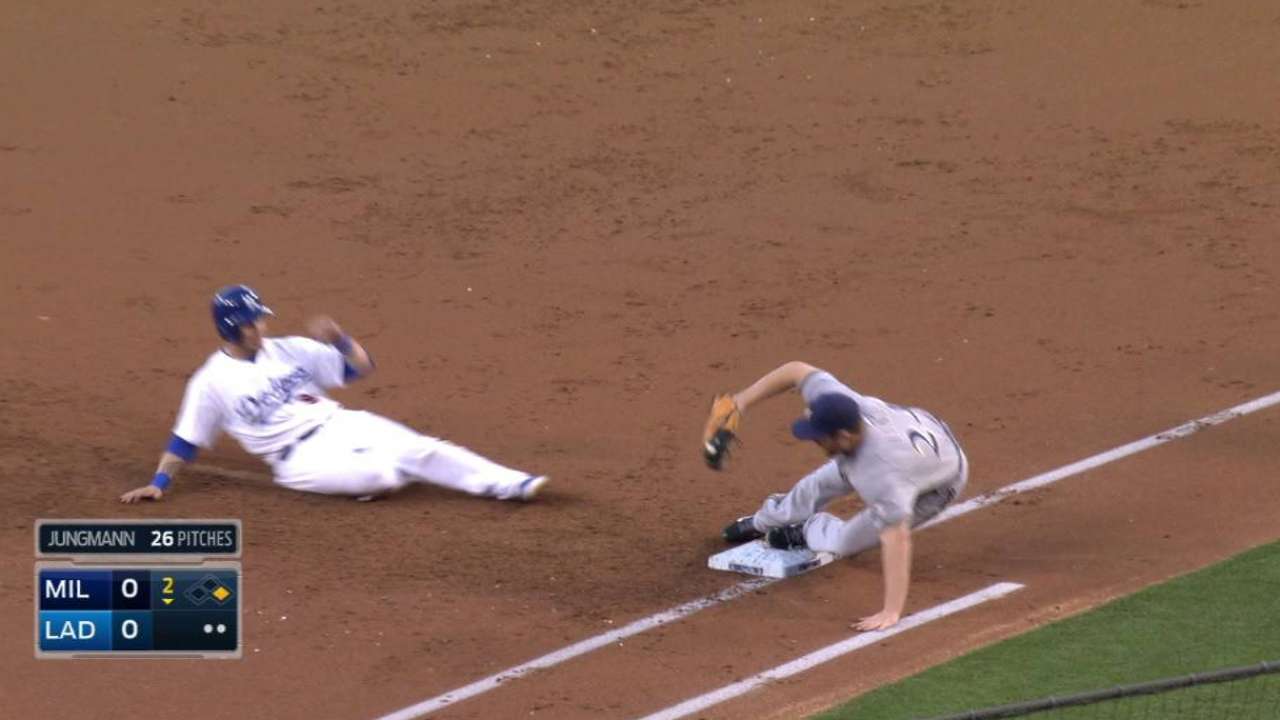 He is one of two Brewers outfielders on the block. Gerardo Parra, who went 3-for-5 with a pair of RBIs on Saturday, is a free agent at season's end.
"We're at that time of the year when there's going to be speculation, there's going to be rumors, there's going to be reports," Brewers manager Craig Counsell said. "For the players, it's impossible to avoid. But you take the game as an easy way to put yourself back into focus."
Before the start of this series against the Dodgers, Gomez spent time talking with representatives of his agent, Scott Boras. That is routine for clients when they visit Dodger Stadium, since Boras' offices are in Los Angeles. Gomez said they did not discuss trade rumors.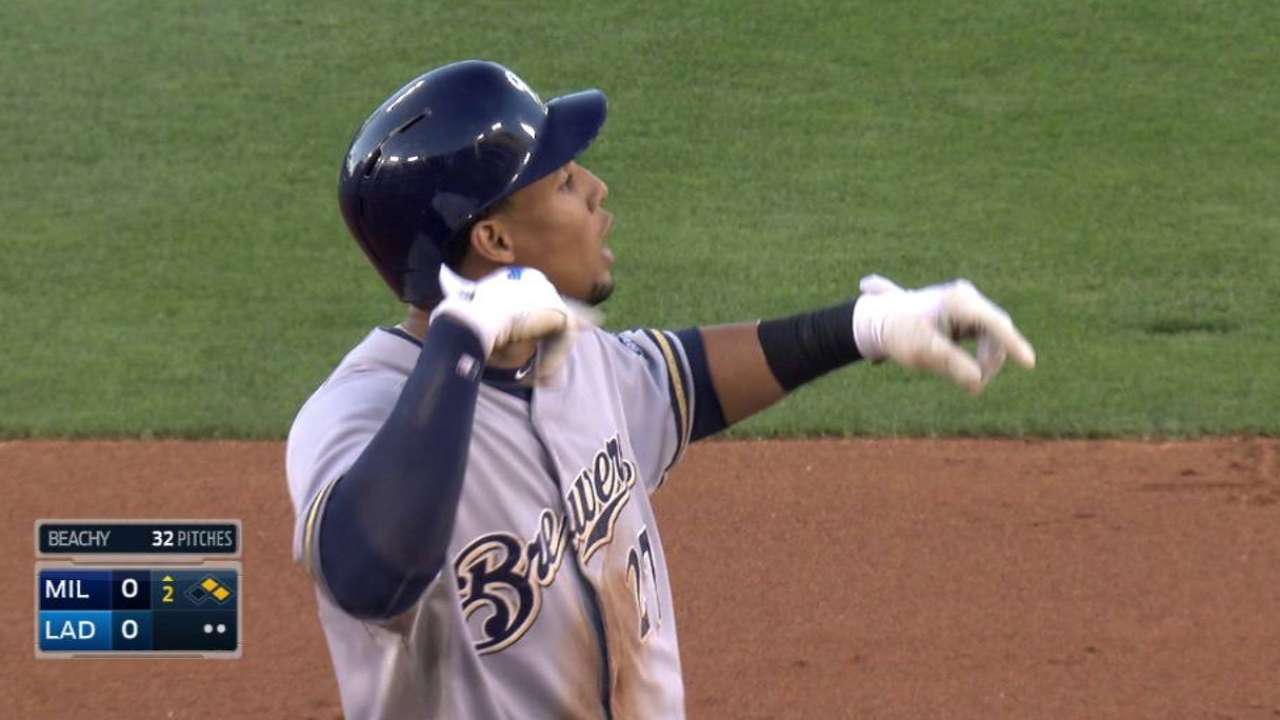 "I don't ask. Because if I ask, then I have it in my mind," Gomez said. "It's not my problem. The only thing I have to care about is today, and I'm part of the Milwaukee Brewers. It's nothing I can control. If the Brewers want to trade me, they're going to do it. Even if I cry and say, 'Don't do it.' It's not something that I can control. The only thing I can control is to come here and give everything I have for the team."
Adam McCalvy is a reporter for MLB.com. Follow him on Twitter @AdamMcCalvy, like him on Facebook and listen to his podcast. This story was not subject to the approval of Major League Baseball or its clubs.