Jungmann has look of potential ace
Tosses first complete game in second straight gem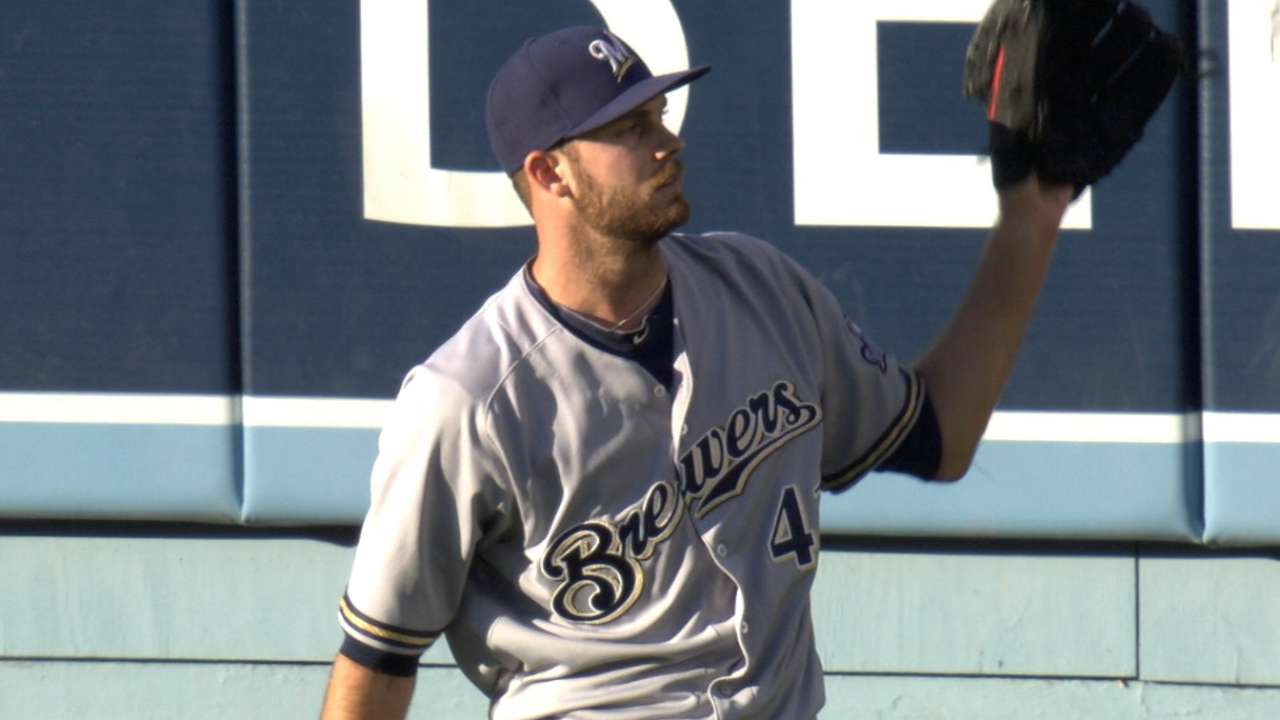 LOS ANGELES -- In the hour that followed Taylor Jungmann's first professional complete game, a three-hit, low-stress, 7-1 win over the Dodgers, the question was who enjoyed it most. The rookie Brewers right-hander? Or his catcher?
"He's ace material, for sure," said catcher Jonathan Lucroy, who typically is not prone to superlatives. "There's no reason he couldn't be a dominant force on our staff for a while."
Pitching into the eighth inning for the second straight start and keeping hitters off balance all night with his unique, cross-body delivery, Jungmann limited the National League West-leading Dodgers to one run on three hits and did not allow a run until the eighth inning, long after the Brewers had built their lead. Jungmann finished the Brewers' first complete game this season with a strikeout of Howie Kendrick on his 100th pitch.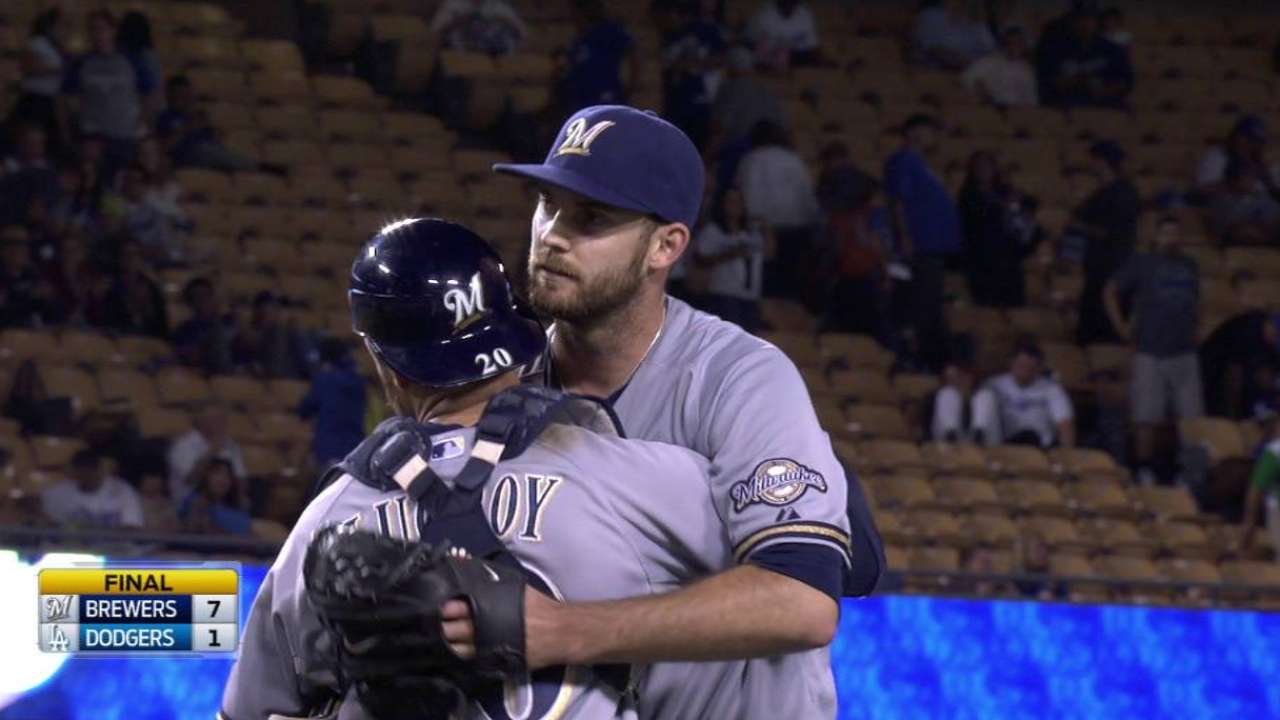 He became the 15th Brewers pitcher to finish a complete game before making his eighth career start, and the first since Don August pitched two of them in 1988. It was the Brewers' first complete game this season.
Jungmann retired 11 consecutive batters in one stretch from the fourth inning through the end of the seventh, entered the eighth inning having spent just 75 pitches, and took the mound in a ninth inning for the first time since his college days at Texas.
"Obviously, that's a big game for me," Jungmann said.
Well done Mr. Jungmann well done sir! Thanks for letting us be bored outta our minds for 9 innings!! #completegame #brewcrew

— Will Smith (@White_Willy31) July 12, 2015
He has already pitched a handful of those. The 12th overall pick in the 2011 Draft, Jungmann is 4-1 with a 2.15 ERA in seven Major League starts since a promotion from Triple-A Colorado Springs last month. In his last two starts, an eight-inning win at Cincinnati on July 5 and Saturday's win at Dodger Stadium, Jungmann has commanded all three of his pitches, a sinking fastball that touches 95 mph, and two "plus" offspeed pitches: a curveball and a changeup.
The manner in which Jungmann throws those pitches contributes to their effectiveness, Lucroy explained.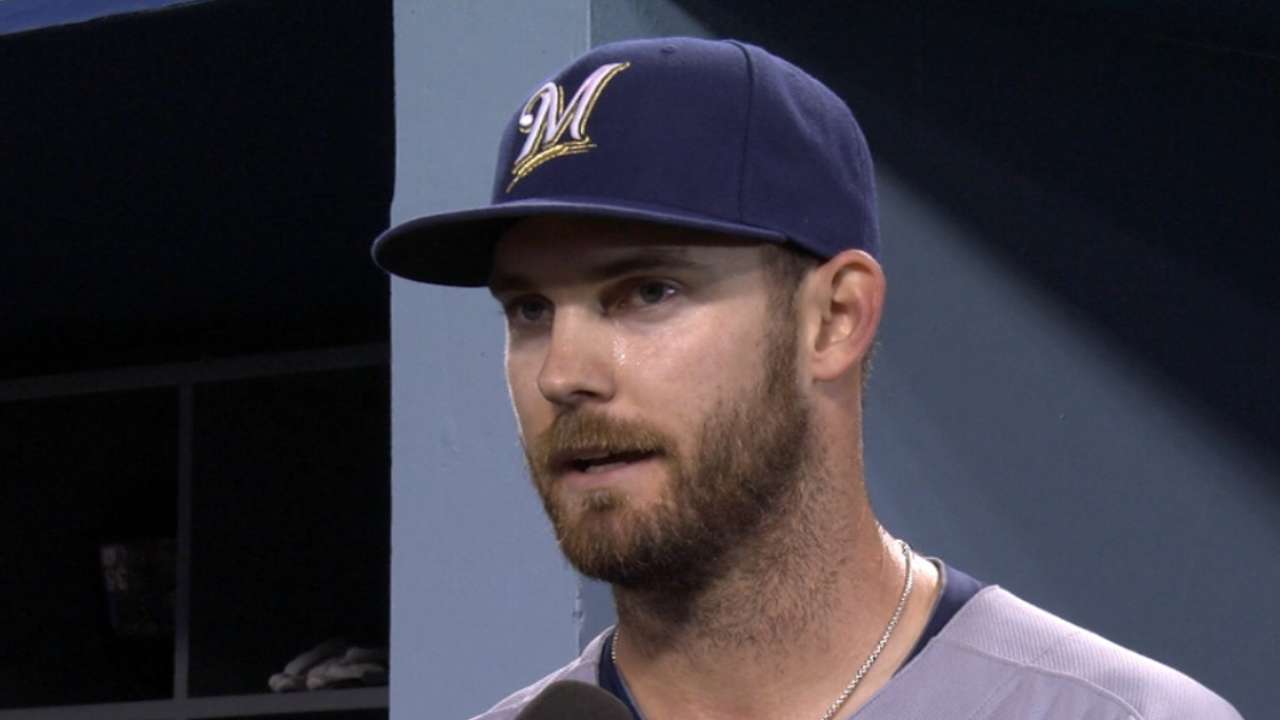 "I'm telling you, because of his delivery, because of his crossfire action on the ball, it is so hard to square that ball up," Lucroy said. "I know for a fact, facing a guy like Jered Weaver, who throws a lot less harder than [Jungmann] does. The ball is moving at an angle, almost from behind a right-handed hitter. It's very deceptive."
Said Brewers manager Craig Counsell: "He was just in control the whole game. There was not a lot of good swings from their guys. … In today's game, anybody who finishes a game, it's impressive. It's just not that easy to do in today's game. Complete games are rare, so that's a good performance."
Adam McCalvy is a reporter for MLB.com. Follow him on Twitter @AdamMcCalvy, like him on Facebook and listen to his podcast. This story was not subject to the approval of Major League Baseball or its clubs.