Magic Cutch: Bucs make Cards' leads vanish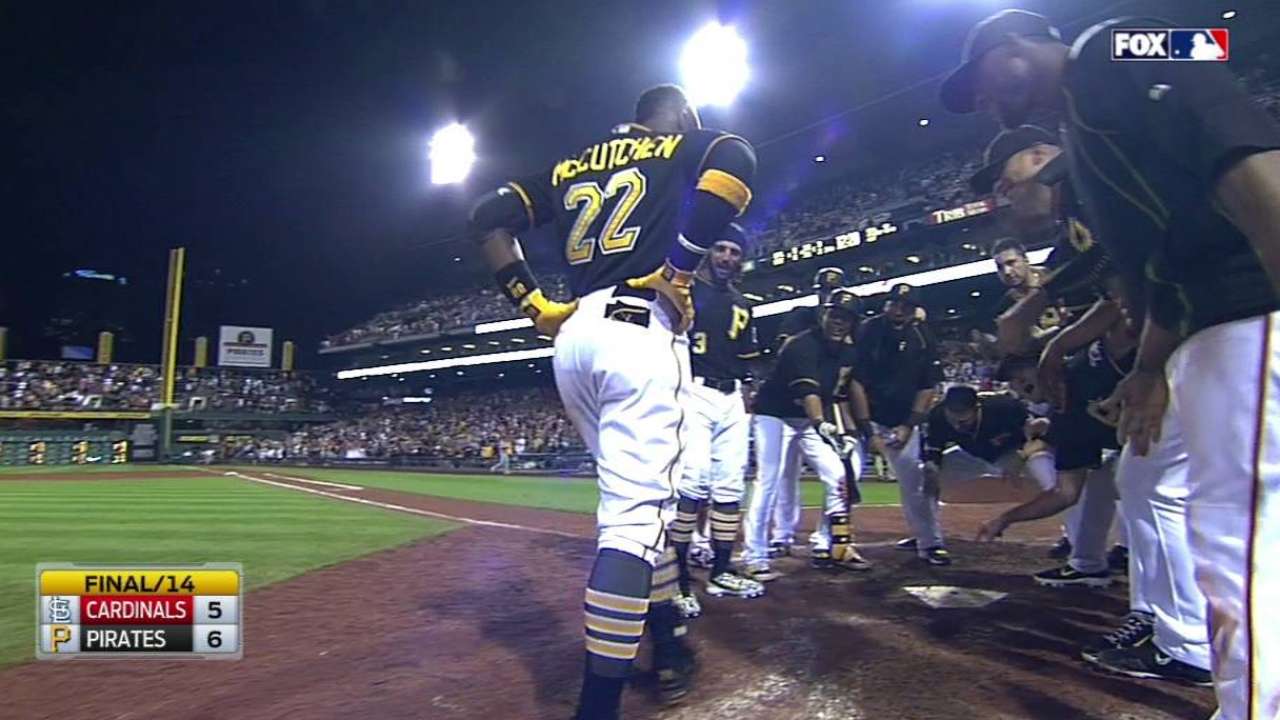 PITTSBURGH -- Andrew McCutchen swung at the 1-2 sinker and lifted it over the center-field fence. And as he rounded first base, he shot a clenched fist in the air, and with it lifted the Cardinals shroud that had stifled the Pirates for years.
"I don't know if you can ever get even, but it definitely does feel good to be able to win in that fashion at home," McCutchen said shortly after his two-run homer in the bottom of the 14th had given the Bucs a 6-5 win.
With that he had also extended his career-long hitting streak to 18 games -- only the third man since 1900 to keep alive a streak of 15-plus games with a walk-off home run.
This was -- in addition to hardball theater at its most suspenseful, dramatic, extended best -- the kind of game the Cardinals always win.
That landscape shifted after Neil Walker's leadoff single off freshly recalled lefty Nick Greenwood, in his first appearance, forced the Cardinals to do what they had refused to do since the eighth inning -- pitch to McCutchen, who had been walked in his previous three plate appearances, including intentionally with two outs and no one on in the 11th.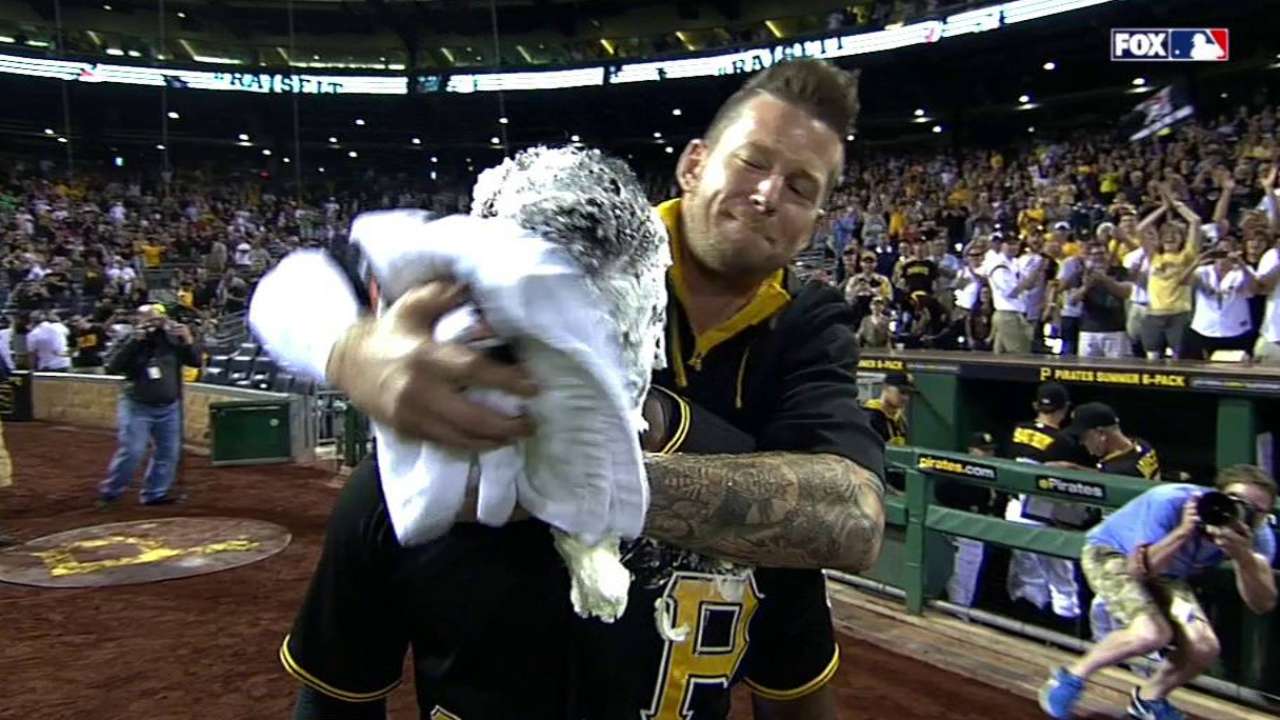 "It all started with Walker getting on base. Then they pretty much had to pitch to me," said McCutchen. "I [cleared my head] as much as I could, and tried to stay on the at-bat, not let my emotions get the best of me there. I tried to calm down and wait on a pitch to hit."
He got the pitch, he got the long hit, he got the sizable remnants of a crowd of 37,318 to empty their lungs of whatever sound remained in them, he extended his hitting streak to 18 games -- but all of that was secondary to what he felt.
"That was a lot of fun. Quite a dramatic ending right there," he said. "Who would have thought it would come down to that? That was definitely a game to remember.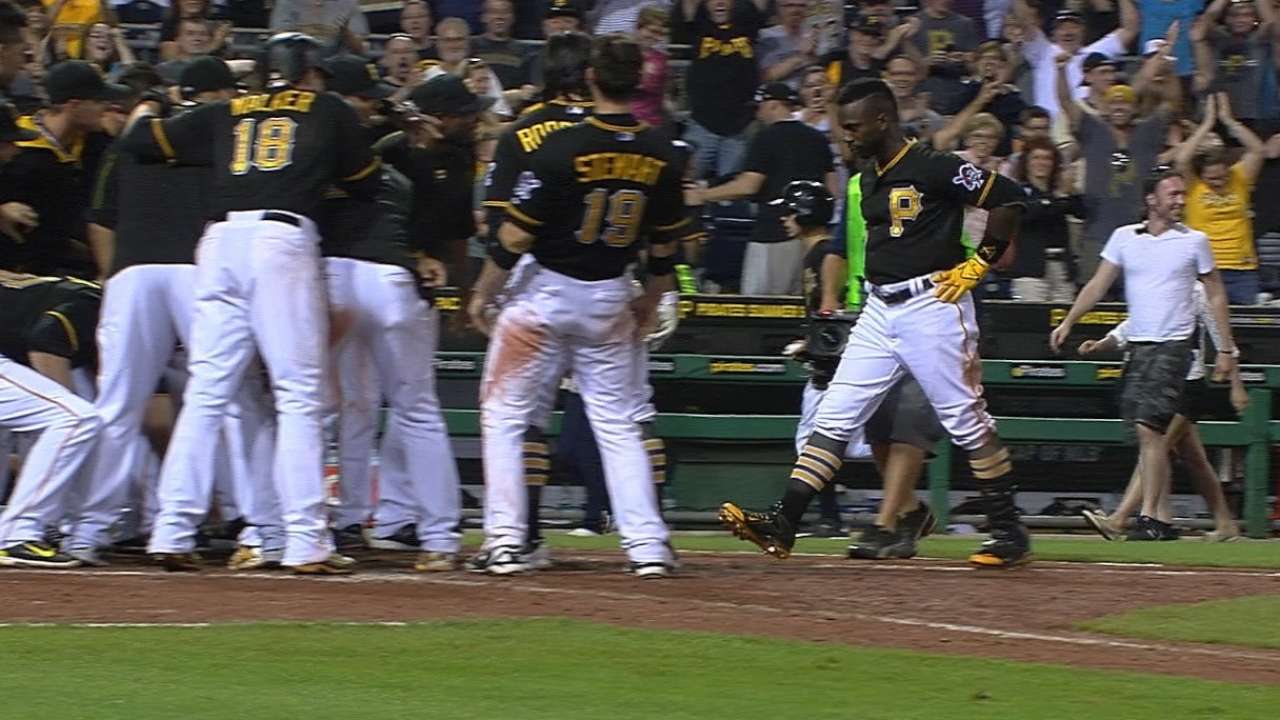 "Oh, man, just to have that opportunity to be able to come through and to put us on top. ... There's nothing else like it. I enjoyed that one. Coming back a number of times, it just shows what type of team we have. We battle every single day; no matter the score, we try to stay in the game and win it."
The entire country now knows that, because they saw it late Saturday and very early Sunday. The Bucs were down 3-0 early, 4-3 in the 10th, 5-4 in the 14th.
"Grit all over," proclaimed manager Clint Hurdle, who, thanks to his ejection in the second inning, watched the game, like most of the nation, on TV. "Another example of that -- with an exclamation point."
Tom Singer is a reporter for MLB.com and writes an MLBlog Change for a Nickel. He can also be found on Twitter @Tom_Singer and on his podcast. This story was not subject to the approval of Major League Baseball or its clubs.