Janssen's emphatic 8th proof he's fitting in 'pen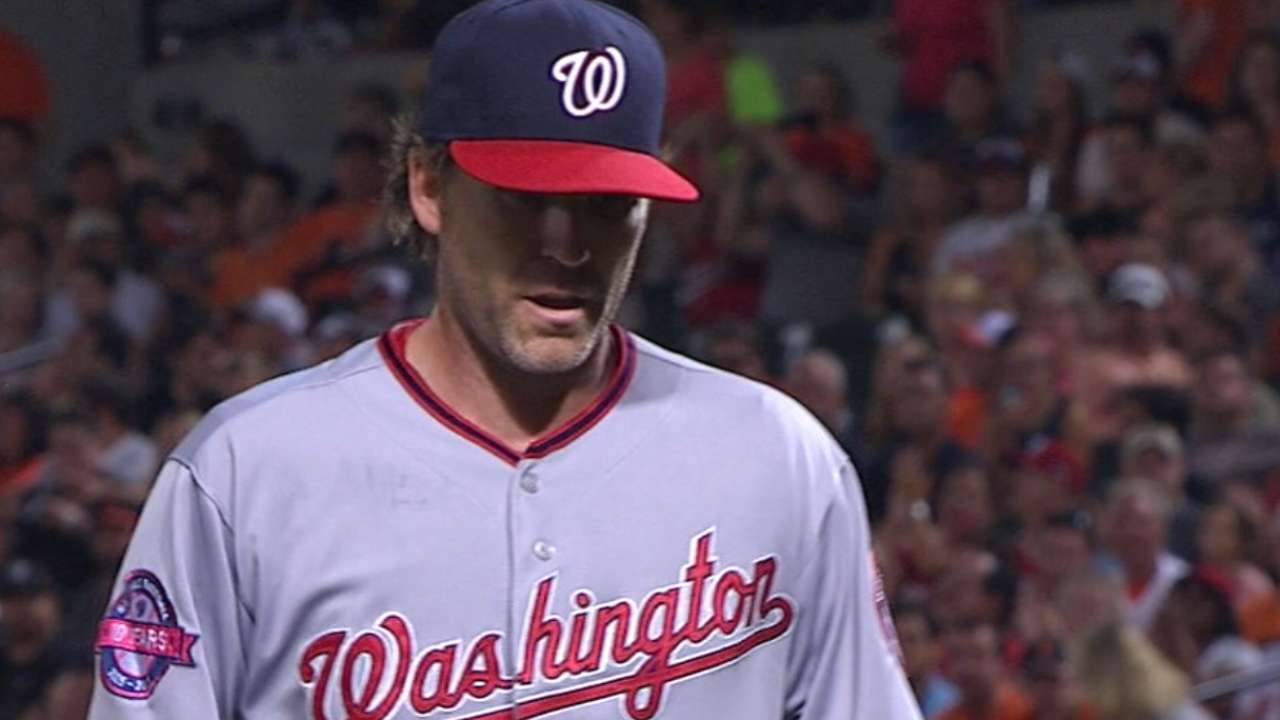 BALTIMORE -- In a vacuum, Casey Janssen's emphatic fist pumps after two strikeouts in the eighth inning of Washington's 7-4 win over Baltimore on Saturday would have been nothing more than just one more exuberant outward expression from an energetic right-hander.
However, given the context of his long career and his somewhat rocky assimilation to the Nationals bullpen, it was clear there was more meaning behind them.
"It has to do with me just not really contributing yet," said Janssen, who, since missing the first two months of the season rehabbing from rotator cuff tendinitis, has posted a 3.86 ERA. "I feel like there is a place for me here, and I got to find my way. And, I haven't yet. It was a big spot. It was a spot where I have to build that trust. I have to build the trust of my teammates, the staff, everybody. It was an opportunity for me to show them what I can do."
On Friday night, with the Nationals up one, Janssen was given the ball to start the eighth inning. He allowed a soft dribbler of single to Chris Parmelee and a 109-mile per hour lineout to Adam Jones.
Janssen was pulled, Parmelee came around to tie the game and the Orioles walked off in the next inning.
Fast forward one night, and Janssen, who saved 81 games for Toronto over the past three seasons, had his chance for redemption, again in the eighth, again with a slim lead.
"It's not a surprise to me," Janssen said. "It's what I love to do. It's hopefully why they brought me here. I want to embrace it. I want to show them that they don't need to look anymore, but that comes with success. I just have to continue to have innings like that and continue to show them that this is the guy that they brought in and you can trust me, it's going to be all right."
Nolan Reimold struck out swinging before Steve Pearce went down looking. After both, there was a fist pump from Janssen. Then J.J. Hardy hit a line drive to third baseman Yunel Escobar, who knocked it down and threw to first to end a clean eighth.
For the 33-year-old Janssen, the outing was more significant than just a hold before the All Star break. It was one more step toward earning trust and proving he belongs.
Jacob Emert is an associate reporter for MLB.com. This story was not subject to the approval of Major League Baseball or its clubs.