Hanley's power stroke back on display
Red Sox slugger swats tiebreaking blast, appears primed for big summer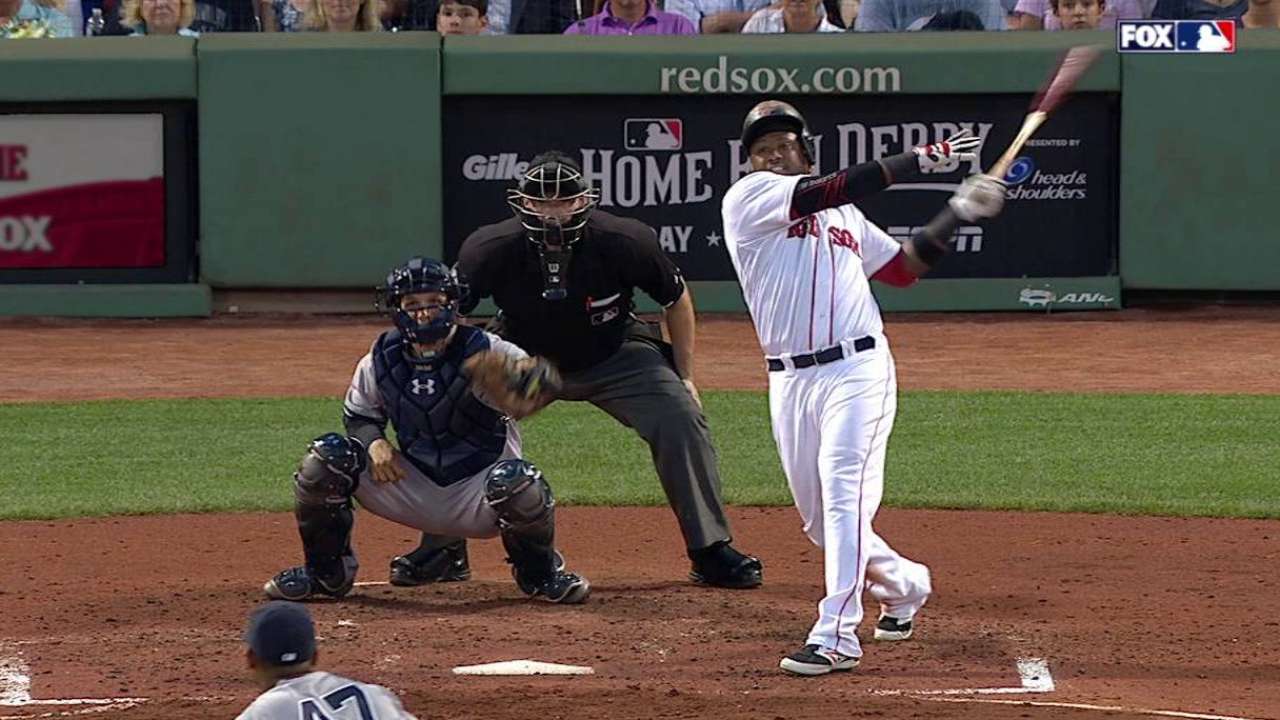 BOSTON -- The 92-mph fastball from Ivan Nova seemed to be rising as it got to home plate, and Hanley Ramirez never flinched. Instead, he unloaded on it.
The baseball soared into the Fenway night and into Boston's bullpen in right-center field, and the Red Sox had their most impactful hit in a 5-3 victory over the Yankees.
The two-run homer in the fourth inning not only broke the tie, but it served as further proof that Ramirez has regained the stroke that made him one of the most dangerous hitters in the American League in April.
Ramirez has clubbed four homers in his past eight games, and has 19 on the season. The left fielder was not around for comment after Saturday's game, but his bat spoke loud enough in a 2-for-4 performance.
"The biggest thing tonight was it was the first time in a while he's driven the ball the other way like he did," said Red Sox manager John Farrell. "We saw a little bit more of a flatter swing, and he saw the ball up in the strike zone that he drives the ball out of the ballpark."
With one game left before the All-Star break, Ramirez looks primed to have a strong summer.
"As far as the first half goes, he gets off to a quick start, goes through a little slide, but he's been a key offensive contributor," said Farrell. "But I think the biggest thing tonight are two balls he hits the other way with authority."
David Ortiz also looked in fine form, belting a double to left, a hard single into deep right and a laser beam to the Monster that Brett Gardner made a fine catch on.
When Ortiz and Ramirez are hitting in unison, the Red Sox are extremely dangerous.
"Hanley's like a little brother to me, you know what I'm saying? We talk about the game a lot and we try to keep up with it," said Ortiz. "I know everything started a little slow at the beginning of the season, but it's a long season and it's a season where you've got to be able to figure things out."
Despite a 42-46 record, Boston is within striking distance, 5 1/2 games behind New York in the American League East.
If the Red Sox can get their two key power bats going on a consistent basis, it should have a ripple effect on the rest of the lineup.
"It gives us a lot of balance," said Ortiz. "If he's swinging good and I'm swinging good, definitely the rest of the lineup is going to swing good. Pablo [Sandoval] is going to see good pitches. Nap [Mike Napoli] is going to see good pitches."
Ian Browne is a reporter for MLB.com. Read his blog, Brownie Points, follow him on Twitter @IanMBrowne and listen to his podcast. This story was not subject to the approval of Major League Baseball or its clubs.