Precious CarGo: Clutch hit rescues Rockies
Gonzalez delivers walk-off single in 9th to beat Braves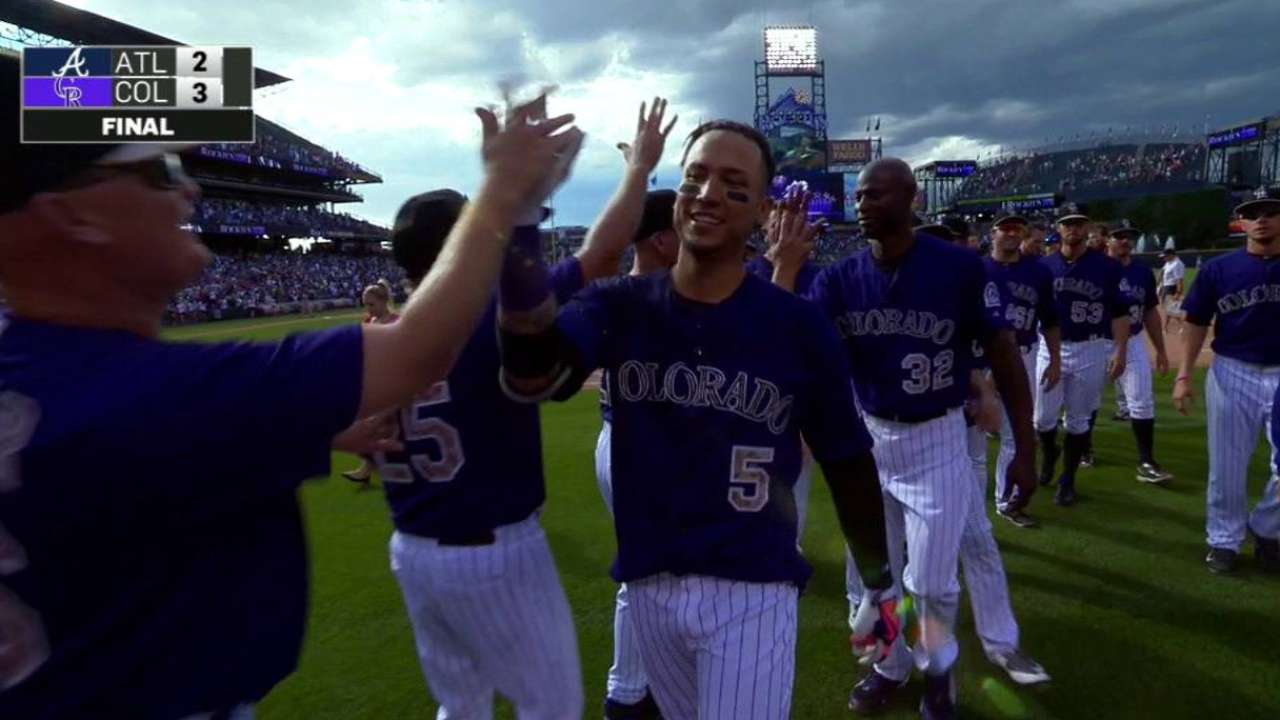 DENVER -- Carlos Gonzalez's first hit went the furthest, but it was his last hit that generated the widest smile of all.
After launching a no-doubt, two-run homer -- which was projected by Statcast™ to land 441 feet away -- in the first, Gonzalez followed that up with a bases-loaded walk-off bloop single in the ninth off Mike Mike Foltynewicz. That propelled the Rockies to a 3-2 win over Atlanta on Saturday afternoon at Coors Field, as well as their first three-game winning streak since June 20-23.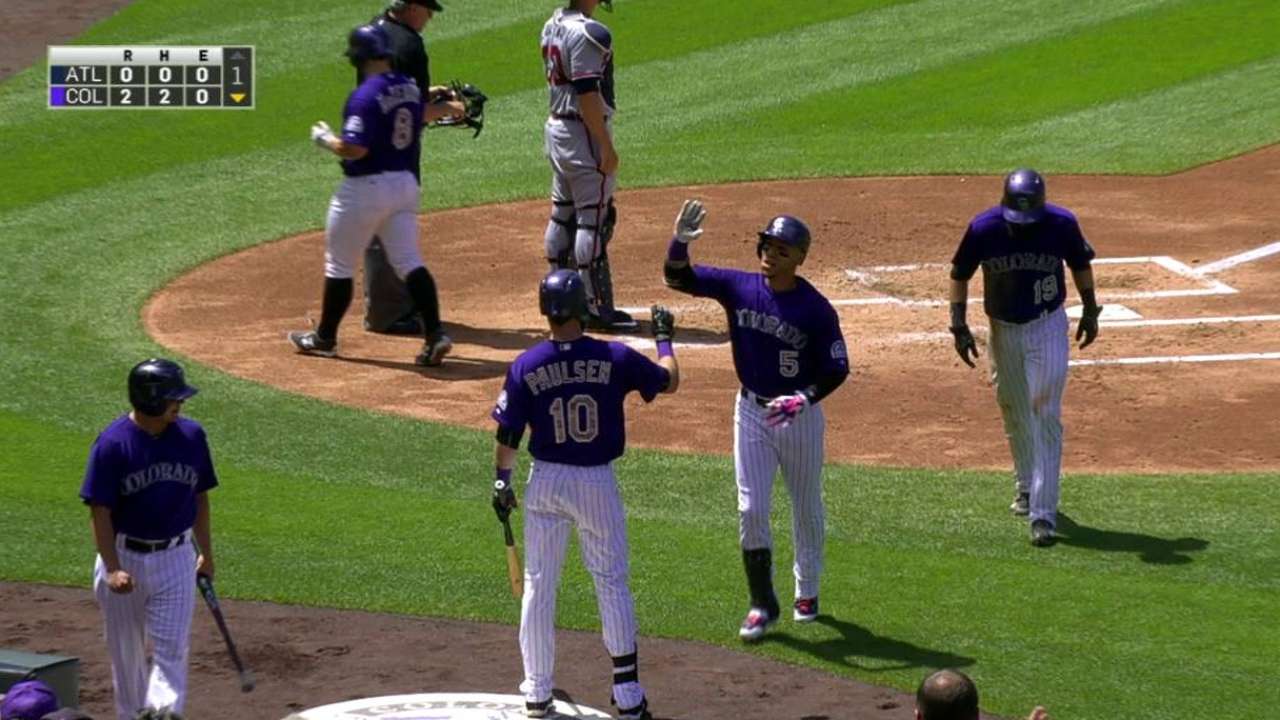 Gonzalez's single fell perfectly in between shortstop Andrelton Simmons and center fielder Cameron Maybin, who couldn't field the ball cleanly in time to try to throw out Drew Stubbs at the plate.
"Right off the bat, the [infield is] playing in, so I knew it had chance," Gonzalez said. "Everything was going to depend on Stubbs' read because he was on third base, and it's one of those plays that you don't know if you're supposed to tag or stay halfway. But it was perfect."
"I'll take that everyday. A win is a win no matter what."
A win that had his fingerprints all over it.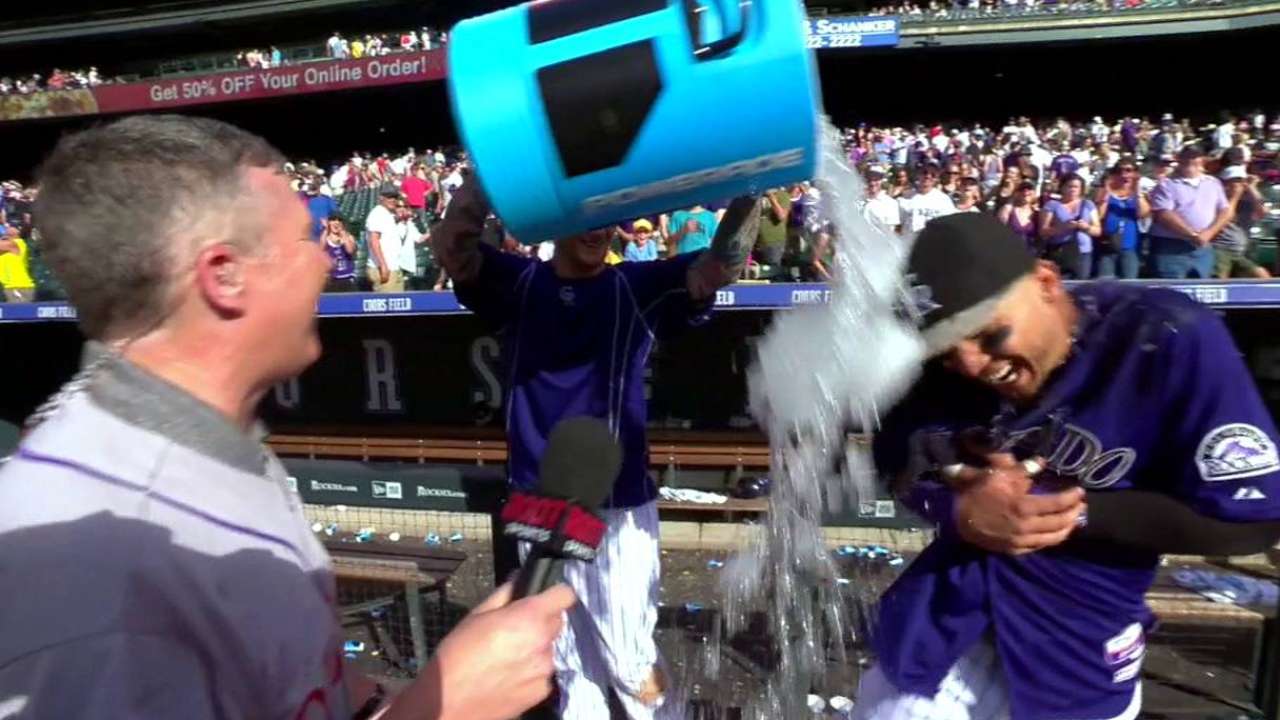 In vintage Gonzalez fashion, he connected with a Matt Wisler fastball on the outer half of the plate and launched it into a center-field pine tree for his second homer in as many games. He now has six hits in the series and is batting .389 (14-for-36) with three homers and seven RBIs this month.
After undergoing season-ending knee surgery last September, Gonzalez said he's essentially back to full strength. It showed on the home run, where he successfully implemented his distinct high leg kick to help generate power.
"It was something I wasn't able to do the last two years, because of the injuries," Gonzalez said. "My swing never changes. I just need to give my hands a chance to work. When I can sit back, I can throw my hands."
Afterwards, Brandon Barnes took control of the postgame water bath, soaking Gonzalez with a full cooler just moments after his walk-off hit. The Venezuelan outfielder shivered and quickly backpedalled away, but the gigantic smile still remained.
"He's one of those five-tool guys that can beat you in a number of ways," Rockies manager Walt Weiss said, "and that's what he did today."
Dargan Southard is an associate reporter for MLB.com. This story was not subject to the approval of Major League Baseball or its clubs.