Missed opportunities prove costly for Braves
Atlanta strands nine runners in one-run loss to Rockies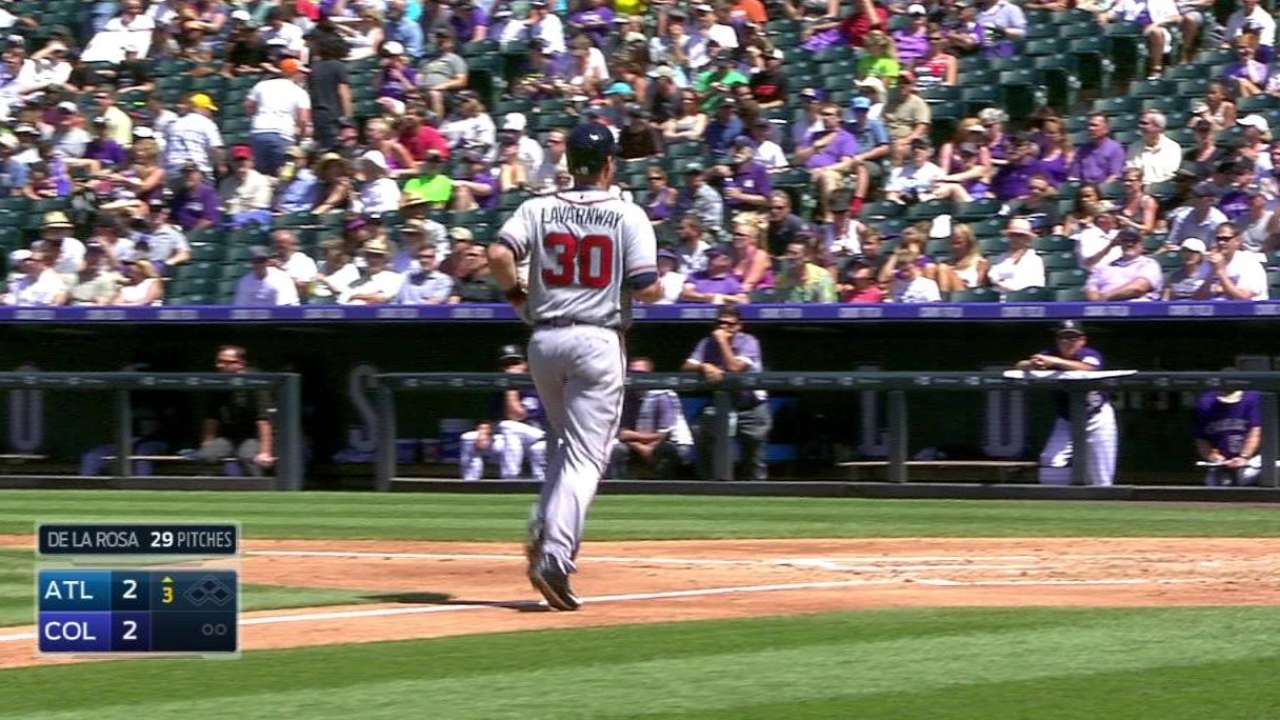 DENVER -- Moments after seeing their veteran closer Jason Grilli suffer a season-ending ruptured left Achilles tendon on Saturday afternoon at Coors Field, the Braves watched the Rockies complete a 3-2 victory when Carlos Gonzalez's one-out bases-loaded single fell in between Andrelton Simmons and Cameron Maybin.
So along with digesting Grilli's injury and this defensive miscue that resulted in a fourth straight loss, the Braves also had to deal with the fact that they had just stranded nine runners over Saturday's final five innings and consequently wasted the impressive effort provided by their rookie starter Matt Wisler, who allowed two earned runs over six innings during his first Coors Field experience.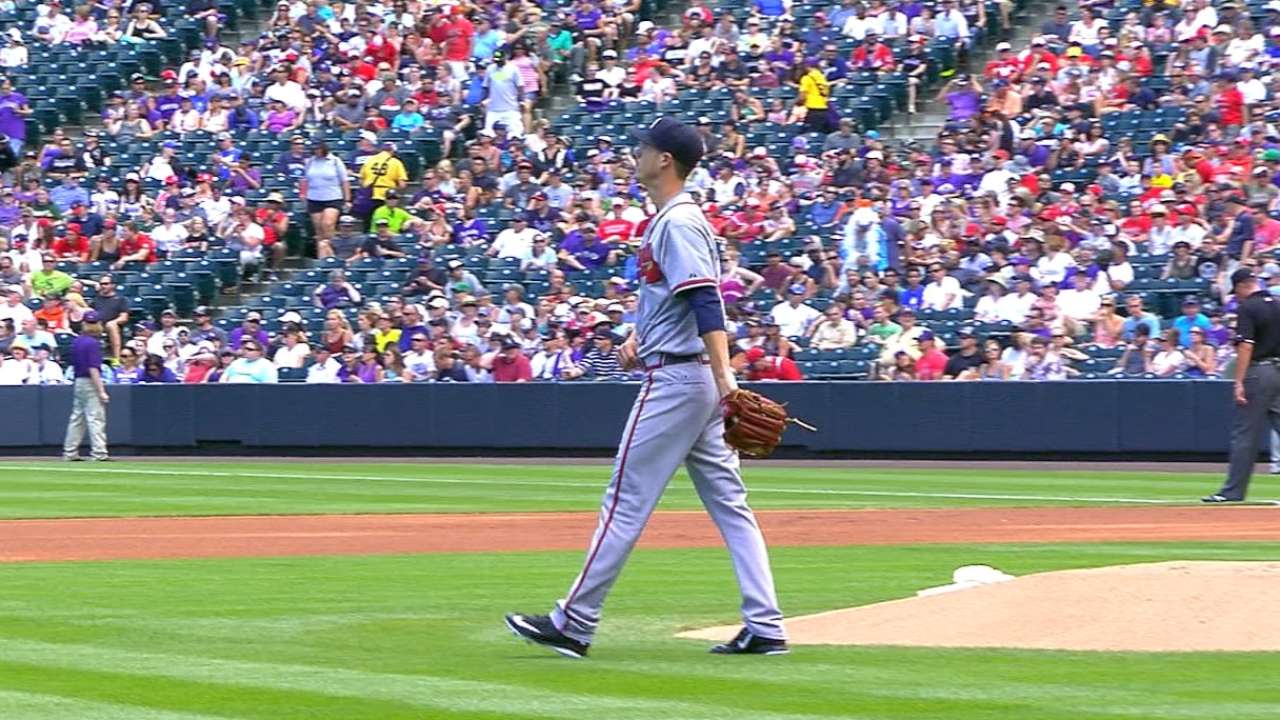 "We pitched well and we didn't score runs," Braves manager Fredi Gonzalez said. "In this ballpark, when you get those opportunities and don't do it, it will come back to haunt you."
After receiving solo homers from Juan Uribe and Ryan Lavarnway during the first three innings, the Braves managed to waste two bases-loaded scoring threats, including one in the eighth inning that will continue to bother corner infielder Chris Johnson.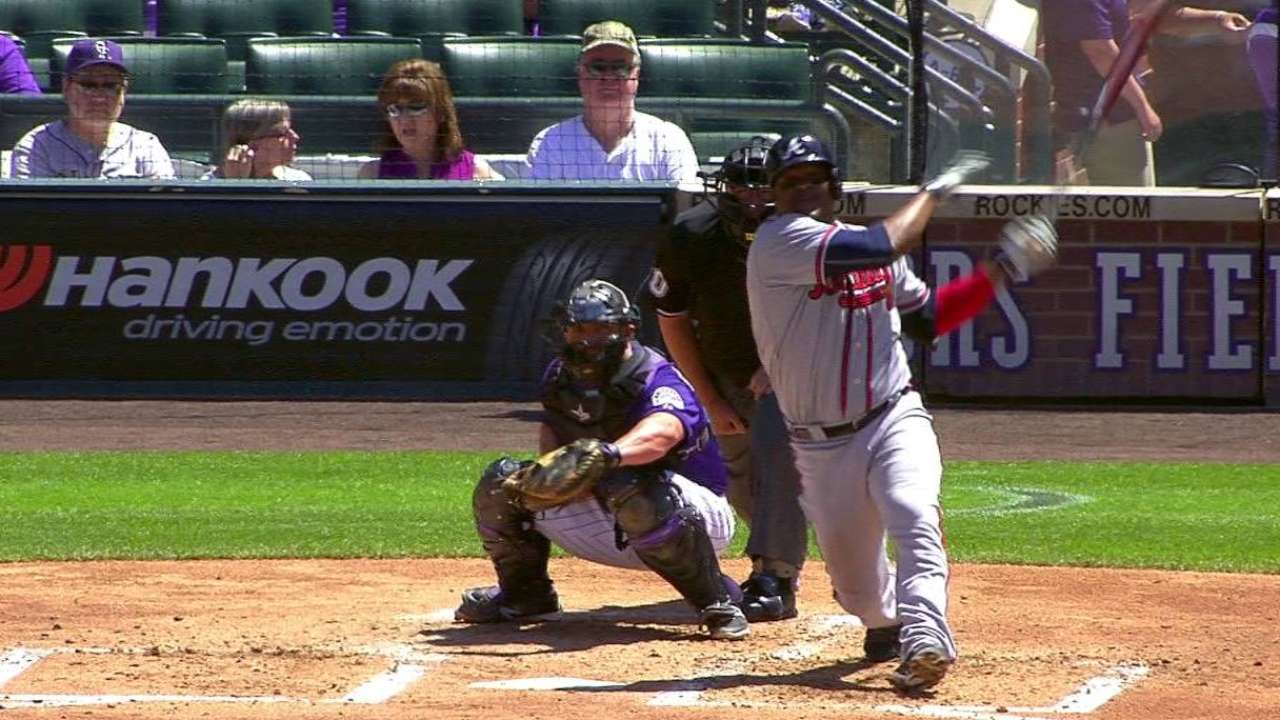 Nick Markakis and Johnson opened the eighth with consecutive hits against Rafael Betancourt. But Johnson was thrown out at second base while attempting to record a double on a high fly ball that hit high off the wall in the right field corner. After the game, he admitted he came out of the batter's box slowly because he wasn't sure if the ball would be fair.
"I just got caught looking at it out of the box, you know when it's right down the line you have a tendency to steer it a little bit as you're running," Johnson said. "I wish I could go back and just not look at it and think if it's fair, it's fair and if it's foul, it's foul."
With his mind seemingly focused on Grilli, Gonzalez said he had not had time to look at video to see if Johnson had come out of the box slow.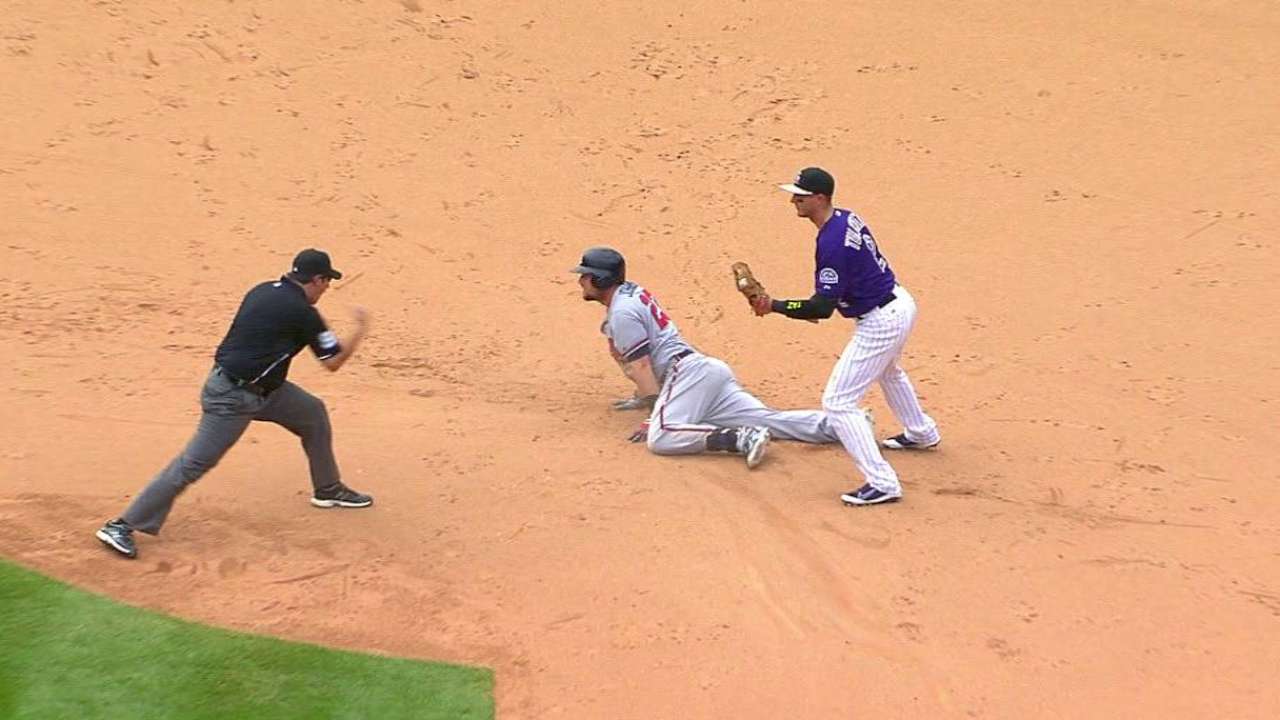 "If that did happen, then shame on us," said Gonzalez, who saw the eighth inning bases-loaded threat end with Simmons' shallow fly ball and a Lavarnway strikeout.
The inability to take advantage of scoring opportunities prevented the Braves from celebrating the effort provided by Wisler, who surrendered a two-run homer to Carlos Gonzalez in the first inning and then blanked the Rockies over the remainder of his six-inning effort. The 22-year-old rookie used his slider to conclude four of his seven strikeouts.
Wisler credited the success he had with the slider in this thin Rocky Mountain air to the experience he gained while pitching at elevation in the Pacific Coast League last year. The highly-regarded prospect has posted a 3.10 ERA through his first five career starts.
"I've seen some savviness," Fredi Gonzalez said. "He pitches more like a veteran than he does a rookie. That is something that is good to see."
Mark Bowman is a reporter for MLB.com. Listen to his podcast. This story was not subject to the approval of Major League Baseball or its clubs.