Revere showing younger Phillies consistency
Experienced outfielder shook off early slump to boost batting average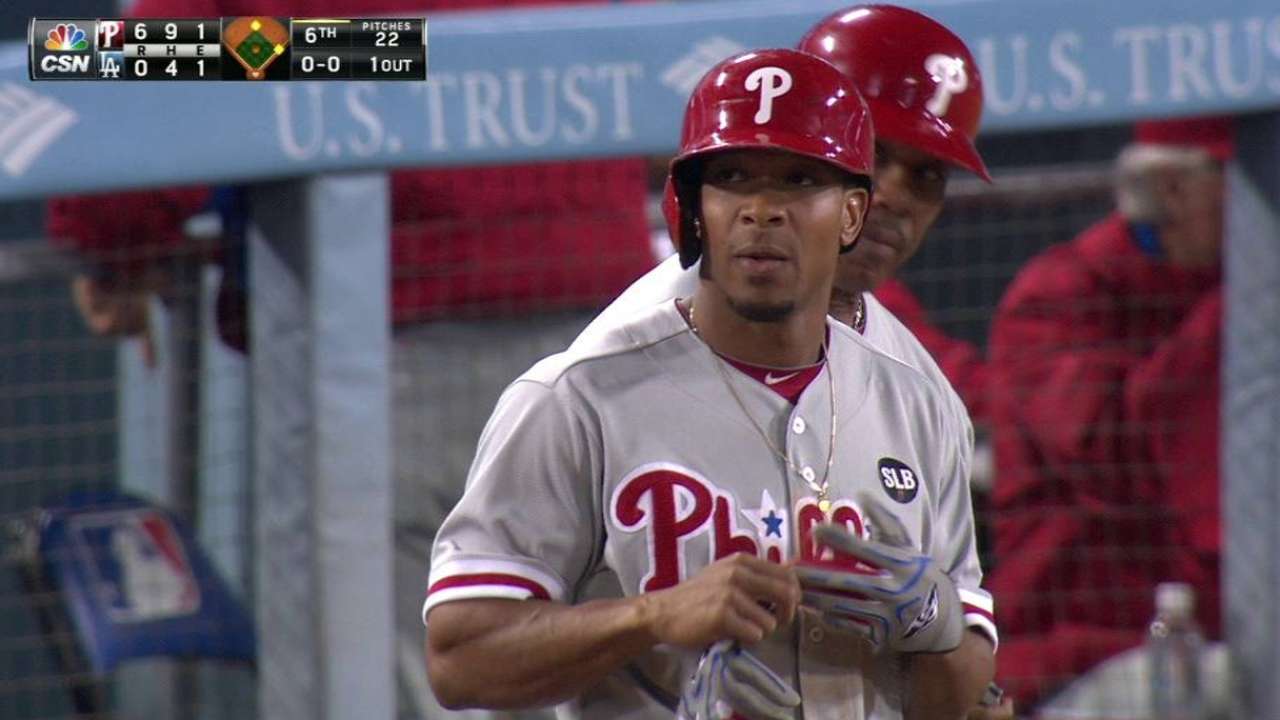 SAN FRANCISCO -- The Philadelphia Phillies, who hold Major League Baseball's worst record, have not given their fans much to cheer about this season. The team is in the rebuilding stage, with its main focus on developing its younger crop of players.
The Phillies have talented youth already on their roster in Maikel Franco, Cesar Hernandez and Odubel Herrera, among others.
But those without experience learn from veterans, and players like outfielder Ben Revere, who is in his sixth MLB season, are tasked with showing the younger guys what it takes to consistently produce at the big league level.
While Philadelphia's lineup struggles to score runs, Revere continues to find ways to get on base -- and then swipe the next one. His 21 stolen bases were fifth best in the Majors entering Saturday and he is the only player to steal 20 or more bases in each of the last five seasons.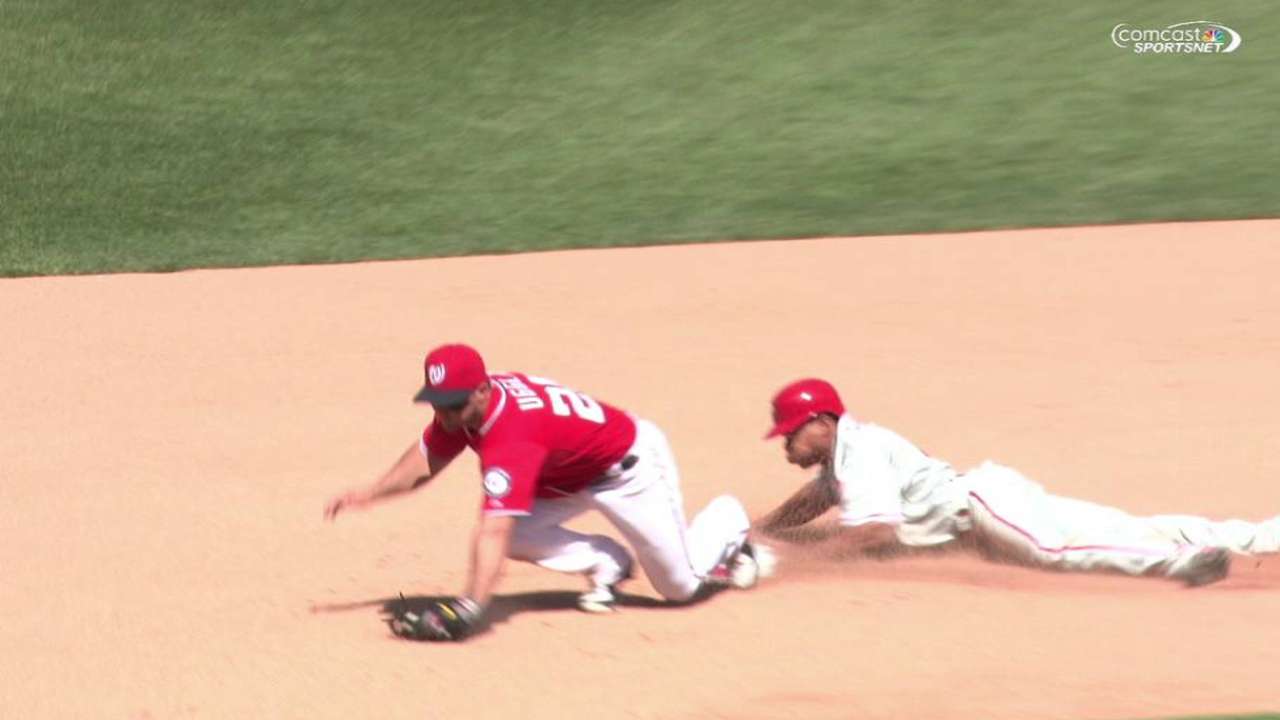 A career .292 hitter, Revere got off to a slow start to the 2015 season, batting .215 in the month of April. The Phillies' leadoff hitter credits the tough start to bad luck, and rightly so: Revere's .250 batting average on balls in play in April was 72 percentage points lower than his career average.
"This is the first time I hit the ball as hard as I did in April," Revere said. "Balls [weren't] falling."
The 5-foot-9, 170-pound center fielder has seen his batting average rise in every month since. Revere hit .286 in May, .346 in June and is batting .391 in seven games in July.
Entering this month, he was one of 18 Major League players (with a minimum of 50 at-bats in each month) to raise his batting average in each month by at least 10 percentage points, according to Sports Features Group.
"It's not how you start, it's how you finish," Revere said.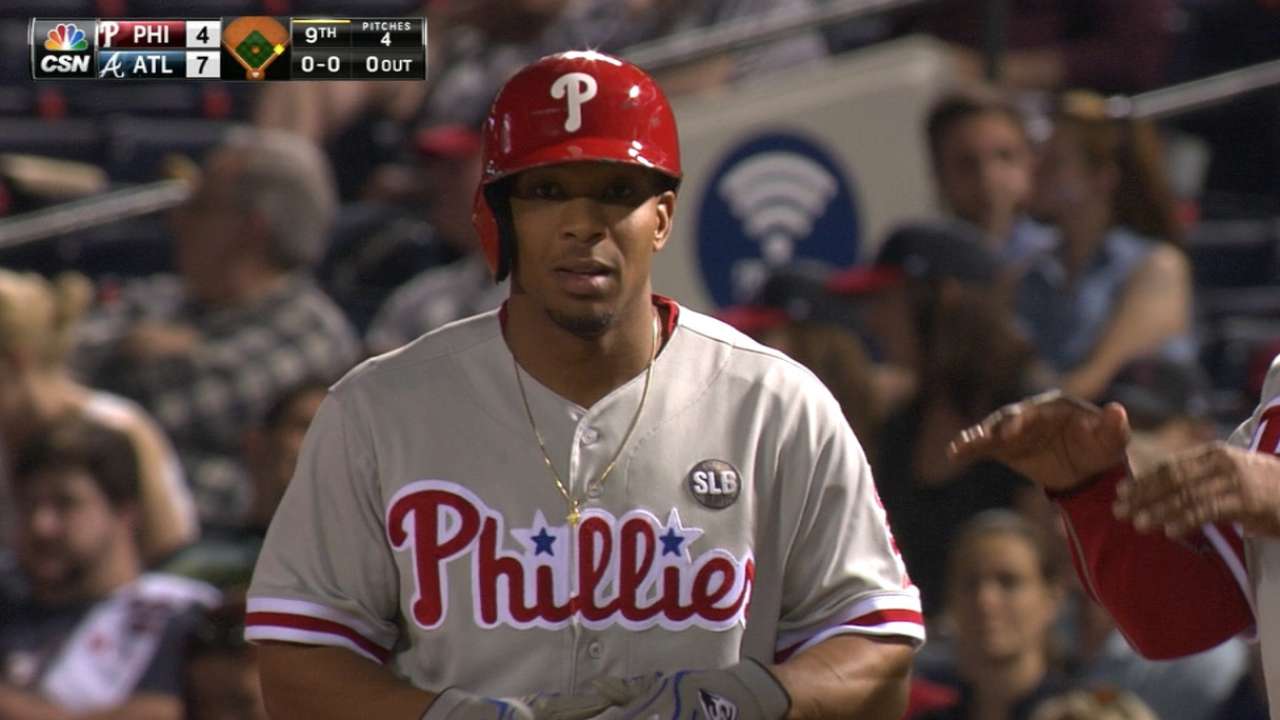 Revere went 2-for-2 with a walk against 2014 World Series MVP Madison Bumgarner on Friday night and is now 7-for-14 off the left-hander in his career.
"You want to face the best and compete against the best," Revere said. "Facing those guys, I really get excited."
Revere said he's pleased with his success, but insists he's more concerned with helping his teammates get better.
"As a leader, as a veteran, I try my best to help the team, try to spark the team as much as I can," Revere said. "We're going to help these guys become better professional baseball players."
Oliver Macklin is an associate reporter for MLB.com. This story was not subject to the approval of Major League Baseball or its clubs.