MLB.com Columnist
Phil Rogers
Sale states case as AL's best against Cubs
White Sox lefty looking like starter for Tuesday's All-Star Game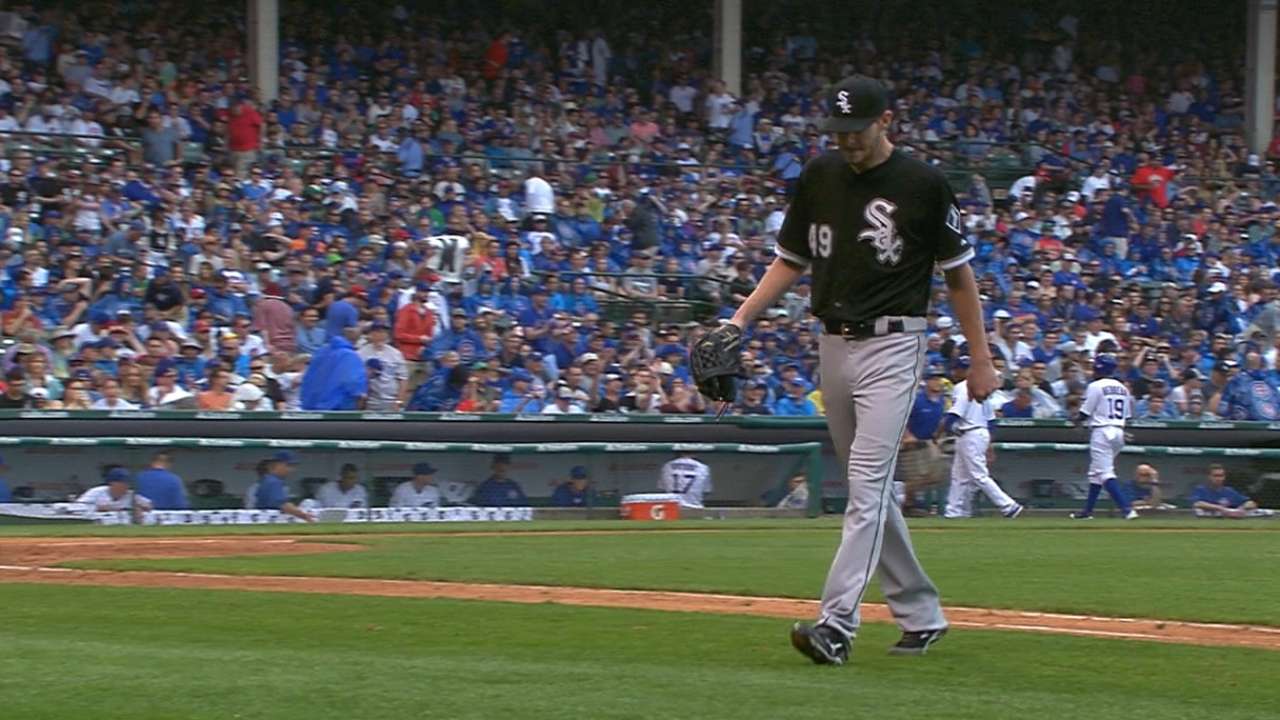 CHICAGO -- Any more questions? Nah, we didn't think so.
Dallas Keuchel is a great story and has had a fabulous season, and you can certainly see why American League manager Ned Yost will give him strong consideration to start Tuesday's night All-Star Game presented by T-Mobile. But Keuchel is not the Randy Johnson of his generation.
Chris Sale, only 26 and getting better, has become the starting pitcher who batters most hate to face. It would be fitting if he was the AL starter in a prelude to his role model, Johnson, being inducted into the Hall of Fame later this month.
"I watched everything he did," Sale said in a June interview. "That's the guy I wanted to be."
Consider it mission accomplished.
After mowing down the Cubs in a 5-1 victory on a gray, damp Saturday afternoon, Sale improved to 8-4 and lowered his ERA to 2.72. He's struck out an AL-leading 157 in 119 1/3 innings.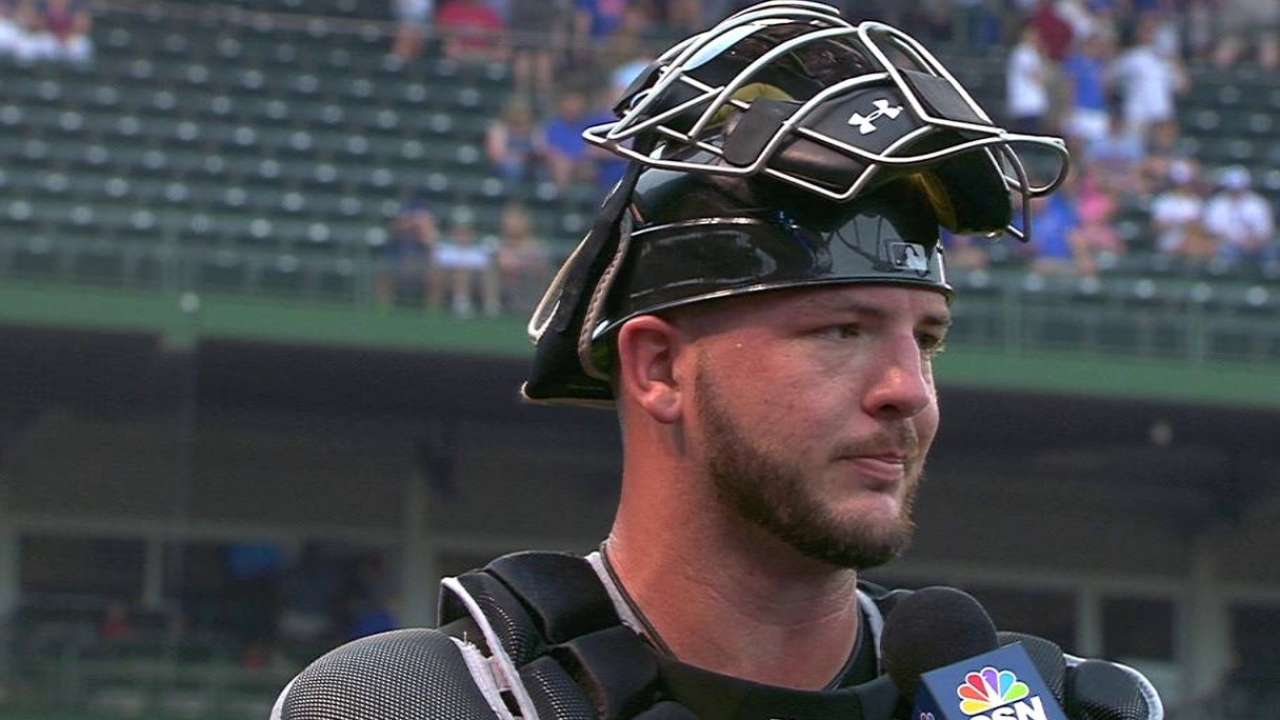 Sale is on pace to both break Ed Walsh's White Sox record for strikeouts, which has stood since 1908, and to have the most strikeouts in the Majors since Johnson struck out 290 in 2004.
And now for the kicker.
Sale has put together those numbers even though he had a broken right foot in Spring Training, which contributed to him having a 5.93 ERA as late as May 6. In his last 12 starts, he's compiled a 1.76 ERA with 131 strikeouts in 92 innings.
Oh, and during that stretch, Sale also showed himself to be a top-notch teammate. He's easy to get along with as a rule, but he erupted -- by his high standards -- when a Chicago reporter asked him last month if he felt like he almost had to throw a shutout to win a game.
Never mind that this was almost true at the time, with the White Sox mired in a stretch in which they produced nine runs in a six-start stretch by Sale. He learned a long time ago that baseball is a team sport and there are no good days for him when his team doesn't win.
That's the way all the best pitchers are.
At the start of the game on Saturday, Sale was a blank page for almost everyone in the Cubs' clubhouse. Only three players had ever faced him, with Chris Denorfia's 0-for-3 the greatest body of evidence.
It's safe to say Sale made quite an impression.
Jon Lester had opposed him across the mound before -- including a memorable 2014 duel when Robin Ventura allowed Sale to throw 127 pitches and develop a sore elbow that forced him onto the disabled list -- but this time, he got to step into the batter's box and face Sale.
"I can see what makes him so good," Lester said. "His [backside] and elbows are coming at you. The balls flinging from different angles and all that, and he's got really good secondary pitches he throws all the time."
Sale allowed six hits, including two from Anthony Rizzo, the more experienced member of the Cubs' celebrated All-Star combo. But Rizzo had his Sale moment.
The White Sox lefty answered a third-inning single by making Rizzo seem overmatched the next time he faced him. Sale punched him out on three pitches, with Rizzo taking a late half-swing on a 78-mph slider and dropping down to a knee. But Rizzo landed the last punch, with a single to start the eighth, which also ended Sale's day.
And Kris Bryant? As White Sox broadcaster Ken "Hawk" Harrelson likes to say, 'Hang with 'em.'
Sale not only struck out Bryant all three times he faced him, but twice he carved Bryant up like a pumpkin. When Bryant engaged in a seven-pitch battle in the third inning, Sale threw him four consecutive changeups. Yes, four consecutive changeups.
Sale's strikeouts of Bryant came on a slider, a fastball (at 97 mph) and a changeup. He twice got him on four pitches, and overall Bryant swung and missed eight times in the 15 pitches Sale threw him.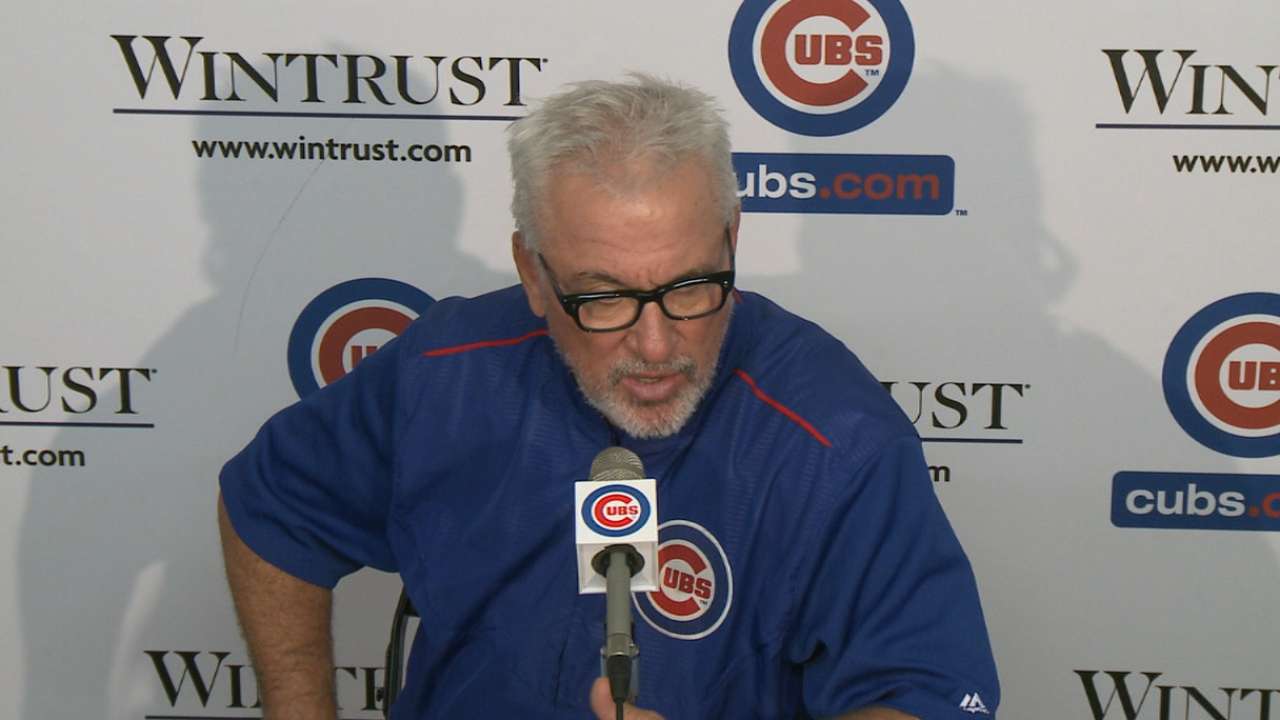 Cubs manager Joe Maddon has watched Sale since 2011, when he was the rare first-round Draft pick assigned to work out of the bullpen. Maddon has seen Sale develop into a dominator by using his changeup to complement an excellent slider and a fastball that just seems to gain velocity.
Asked what was the best thing about Sale's performance, Maddon answered quickly "his changeup." Sale threw it 32 times in his 115-pitch outing, four more times than he threw his slider. It induced nine of the 22 swing-and-misses from Cubs hitters, and two out of every three were in the strike zone.
That's a lethal weapon mixed with a fastball that -- according to Brooks Baseball -- ticked 100 mph in the first inning and averaged 97. The lower-body work Sale did last winter in Florida has given him more velocity than he has ever had as a starter, but his success comes from being able to pound the strike zone with three pitches, which he throws in any count.
Executive vice president Ken Williams has said the White Sox loved Sale's changeup coming out of Florida Gulf Coast University, but he largely canned it during his apprenticeship in the bullpen, when he developed his killer slider. Sale's changeup reappeared in a big way in 2013 and has become more of a weapon over time.
"His overall command has gotten better, but his changeup is elite," Maddon said. "You look at that guy you're looking at [something special]. He came out in the first inning jacked up a little bit. He was throwing 99, but then he settled down to his usual numbers. But his changeup is an elite pitch. Everybody looks at the fastball and the breaking ball, but the changeup is what makes it work."
Sale will have all three pitches on display on Tuesday in Cincinnati, whether or not Bryce Harper wants to see them. Maybe he'll fight one off like Rizzo. Maybe he'll get the Bryant treatment.
Big fun to watch, either way.
Phil Rogers is a columnist for MLB.com. This story was not subject to the approval of Major League Baseball or its clubs.