Frias to throw live BP at Camelback Ranch
Rehab start expected during All-Star break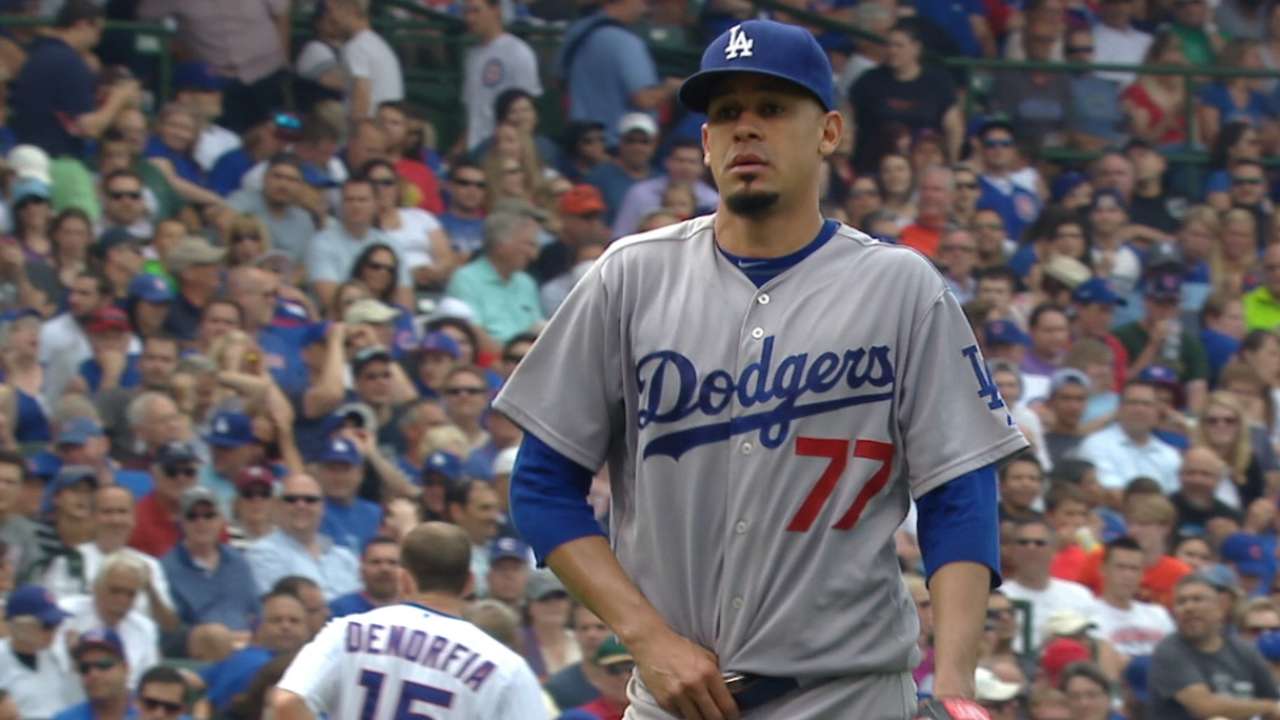 LOS ANGELES -- With Brandon Beachy making his Dodgers debut on Saturday, the man he's replacing continues to work on his rehab.
Carlos Frias has been on the disabled list since July 1 with lower back tightness and will travel to Camelback Ranch, the Dodgers' Spring Training facility in Glendale, Ariz., on Sunday to throw 40 pitches of live batting practice. If all goes well, Frias will throw a rehab start for Class A Advanced Rancho Cucamonga during the All-Star break.
Once Frias is back, there is some question as to what role he will return. The Dodgers could keep Beachy in the rotation and move Frias back to the bullpen; Frias made two appearances in relief in April before injuries promoted him to the starting rotation.
"Carlos fits anywhere," Dodgers manager Don Mattingly said. "He's got a live arm, a rubber arm. He's shown that he can throw 95-100 pitches and that he bounces back quickly. He fits anything we want to do. There just might be a little bit of a transition if we wanted to switch up."
While Mattingly declined to name his rotation for after the break, he said Zack Greinke and potentially Clayton Kershaw's participation in the All-Star Game wouldn't affect the team's plans for shuffling the order.
Another injured Dodger due back after the All-Star break is Carl Crawford. The outfielder is still on a rehab outing for Triple-A Oklahoma City from an oblique injury. The club had a pair of games rained out this past week, which has slowed his rehab progress.
"I don't think the plan is immediately after the break," Mattingly said of Crawford's return. "Carl's been out for two months. That's basically winter, you're starting over."
Mattingly said the goal is to get Crawford around 35 to 40 at-bats in the Minors. As it stands right now, Crawford is 5-for-14 in 18 plate appearances.
Steve Bourbon is an associate reporter for MLB.com. This story was not subject to the approval of Major League Baseball or its clubs.