Mariners fan, 108, sets MLB first-pitch record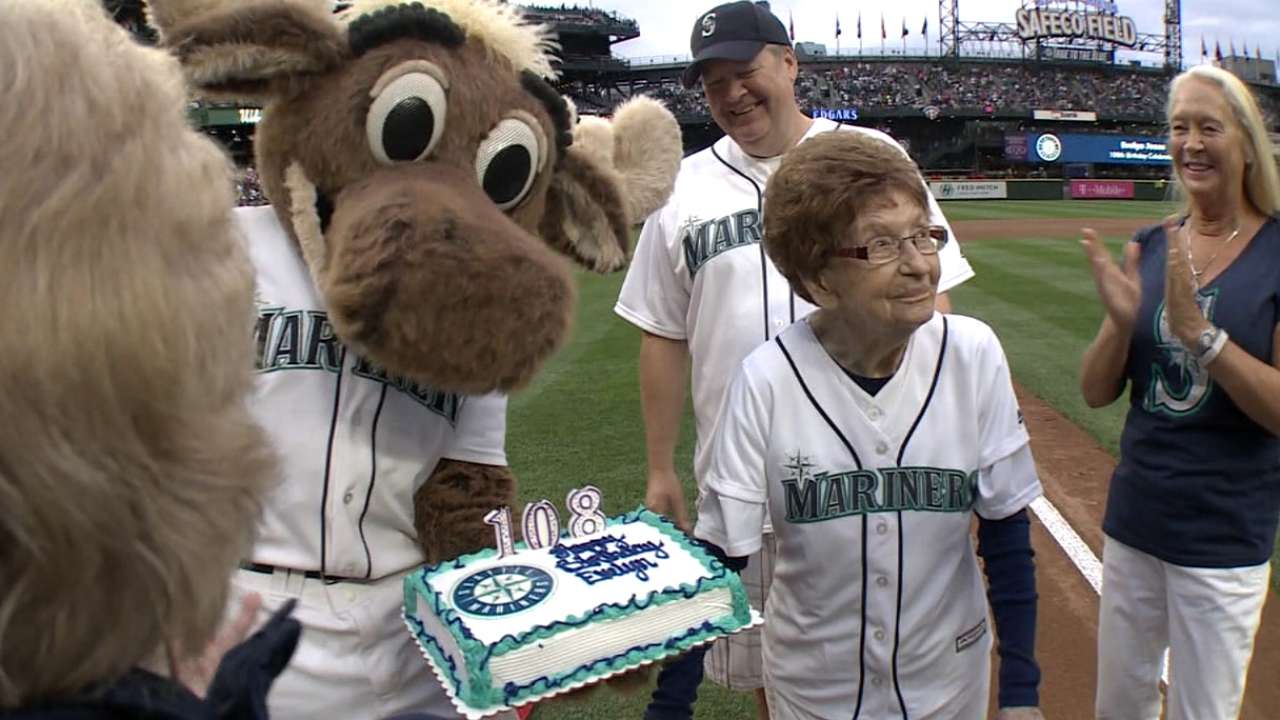 SEATTLE -- Evelyn Jones of Woodinville, Wash., became the oldest person to throw out a ceremonial first pitch before a Major League Baseball game on Saturday when she celebrated her 108th birthday by helping open the Mariners-Angels game at Safeco Field.
To put that in perspective, Evelyn was 5 the year Fenway Park opened and the Titanic sank on its maiden voyage. She was 7 when Babe Ruth made his debut, and she was 10 when America entered World War I.
The previous record holder for oldest to throw out a first pitch was Agnes McKee, who was 105 when she was honored before a Padres game at Petco Park on July 20, 2014.
The Safeco Field crowd rose to its feet as Jones -- wearing a Mariners jersey with "Jones 108" on the back -- was helped to the field on a red carpet, pushing a walker. She then made a short left-handed toss of the ball to Mariners ace Felix Hernandez, who raised his hands in celebration as the crowd roared.
Jones is an avid Mariners fan who lives in the Fairwinds-Brittany Park retirement center in Woodinville. She was born on July 11, 1907, in Eastern Washington and graduated from Brewster High School in 1925.
Jones was assisted out to the field by her daughter, Kay Vea, who is 84, and two of her grandchildren, Brad Vea and Robin Schifferman. Jones has six grandchildren, seven great-grandchildren and four great-great-grandchildren, many of whom watched Saturday's game with her in a Safeco Field suite.
"She's always been very adventurous," said Kay. "We think this is great."
"If they get into the playoffs, we're bringing her back," said Brad.
Jones said she watches every Mariners game, though she hasn't attended one for many years. Asked who was her favorite player, Jones didn't hesitate.
"All of them," she said with a smile.
Jones fills her time now by doing daily crossword puzzles, reading and watching her favorite shows, Jeopardy, Wheel of Fortune and the Mariners' broadcasts.
Jones' father lived to 95, her mother 89 and she had an uncle who lived to 104. Her family said she walked three miles per day up to age 96 and has always had a healthy diet.
Her advice on how to live such a long and healthy life?
"Keep having birthdays," Jones said.
Greg Johns is a reporter for MLB.com. Follow him on Twitter @GregJohnsMLB, read his Mariners Musings blog, and listen to his podcast. This story was not subject to the approval of Major League Baseball or its clubs.