MLB.com Columnist
Alyson Footer
FanFest Saturday honors 1990 Reds
Members of World Series championship team reunite, reminisce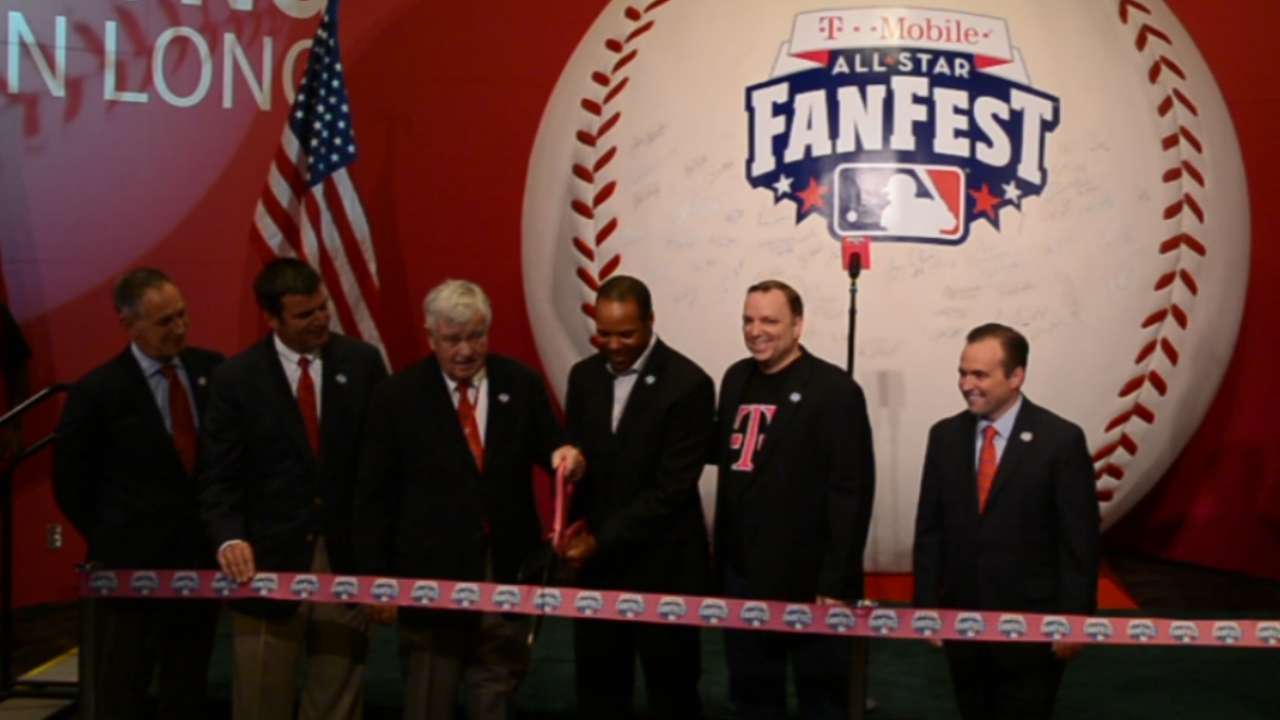 CINCINNATI -- Major League Baseball's All-Star FanFest presented by T-Mobile has a different theme for each of its five days of operation. Opening Day on Friday was Kids' Day, for example. Sunday will be Salute to Our Soldiers Day.
And on Saturday, FanFest was dedicated to the 1990 World Champion Reds, who just happen to be celebrating the 25th anniversary of their championship title in the same year that the Reds are hosting their first All-Star Game since 1988.
Eleven players and one coach -- Hall of Famer Tony Perez -- signed autographs, engaged fans during question-and-answer sessions and participated in a special one-hour sit-down at The Diamond area of FanFest, where they reminisced about the talented yet underrated 1990 team that went wire-to-wire through the season and swept the the powerful Oakland Athletics in the World Series.
The group included Chris Sabo, Danny Jackson, Tom Browning, Eric Davis, Randy Myers, Norm Charlton, Rob Dibble, Barry Larkin, Ron Oester, Joe Oliver and Hal Morris.
The stories were entertaining, and the players said that the camaraderie still exists today -- it's as strong as what they experienced in their careers. More than once throughout the day, one of them would mention what a night out was like for the Reds on the road.
"We'd have 20 players go to dinner together," Dibble remembered.
"We were a young team, a tight team," Morris said. "We'd go out and there would be 15 of us."
Winning, of course, made for some happy times inside the clubhouse walls, and in that respect, the Reds' party started early. They began that year 9-0 and never looked back, plowing through the National League West division to finish the regular season 91-71.
Even that mentally exhausting National League Championship Series against the Pirates -- a six-game set that many Reds said felt more like a World Series than the actual one they played against the A's -- didn't slow them down.
Davis, the unofficial captain of this group, set the tone early with a first-inning home run off Dave Stewart in Game 1 of the World Series.
"I said, 'If he throws me a first pitch fastball, it's going to be 2-0," Davis said. "And that's what he did. He threw me a first-pitch fastball, and it was 2-0."
Several key moments enabled the Reds to sweep the Series, some of which have been more celebrated over time than others. Jose Rijo's nearly flawless performance is one of those. Hatcher's seven hits in his first seven at-bats are another.
But few talk about Morris' role in Game 4, when he drove in the go-ahead run in the eighth inning with a sacrifice fly off Stewart that scored Herm Winningham and put the Reds up 2-1.
The Reds, by then, were playing short, having lost both Billy Hatcher and Davis to injuries.
"We were concerned," Morris said. "There was a lot of anxiety on the bench. We had to play the rest of the series without our outfielders. I took a step out of the box and just said, 'Get the ball up in the air, this is it.' With our bullpen, we knew it was over. I gathered my thoughts, tried to calm down."
Rijo pitched into the ninth before Randy Myers recorded the final two outs to seal the World Series championship for the Reds.
Several fans used their turn at the mic to thank the 1990 Reds for bringing the championship to Cincinnati, and for providing so many great memories for fans who still remember every moment from that postseason.
The players' perspective isn't much different from the fans.
"It was the most exhilarating time of my life," Morris said.
"I just remember the ticker tape parade," Charlton said. "The city of Cincinnati partied with us the way they did all season. We were in first place from the first day, all the way through. Glenn Braggs with that beautiful catch [in Game 6] that kept us from going to Game 7 with Pittsburgh. I think the biggest thing for me was coming home and seeing the excitement of the city and the parade. I'll never forget it."
At the end of the Q&A session, the players were presented with 1990 World Series championship commemorative watches, a gift from Major League Baseball.
During the All-Star Game presented by T-Mobile in Cincinnati on Tuesday, July 14, fans can once again visit MLB.com to submit their choice for the Ted Williams Most Valuable Player Award presented by Chevrolet. Voting exclusively at MLB.com, online and via their mobile devices in the 2015 All-Star Game MVP Vote presented by Chevrolet, the fans' collective voice will represent 20 percent of the overall vote that determines the recipient of the Arch Ward Trophy.
MLB.TV Premium subscribers will be able to live stream the All-Star Game via MLB.TV through FOX's participating video providers. Access will be available across more than 400 supported MLB.TV platforms, including the award-winning MLB.com At Bat app. MLB.com will provide extensive online coverage of the All-Star Week festivities, including the 2015 Gillette Home Run Derby presented by Head & Shoulders, part of Gatorade All-Star Workout Day on Monday, July 13. The Derby will feature a new format with brackets and timed rounds and will be broadcast live by ESPN and MLB.com beginning at 8 p.m. ET.
The 86th Midsummer Classic will be televised nationally by FOX Sports (coverage begins 7 p.m. ET), in Canada by Rogers Sportsnet and RDS, and worldwide by partners in more than 160 countries. ESPN Radio and ESPN Radio Deportes will provide exclusive national radio coverage of the All-Star Game. MLB Network and SiriusXM will also provide comprehensive All-Star Week coverage. For more information, please visit allstargame.com.
Alyson Footer is a national correspondent for MLB.com. Follow her on Twitter @alysonfooter. This story was not subject to the approval of Major League Baseball or its clubs.