MLB.com Columnist
Megan Zahneis
1990 Reds World Series victors honored at FanFest
Fans from around the US amazed by energy, events in Cincinnati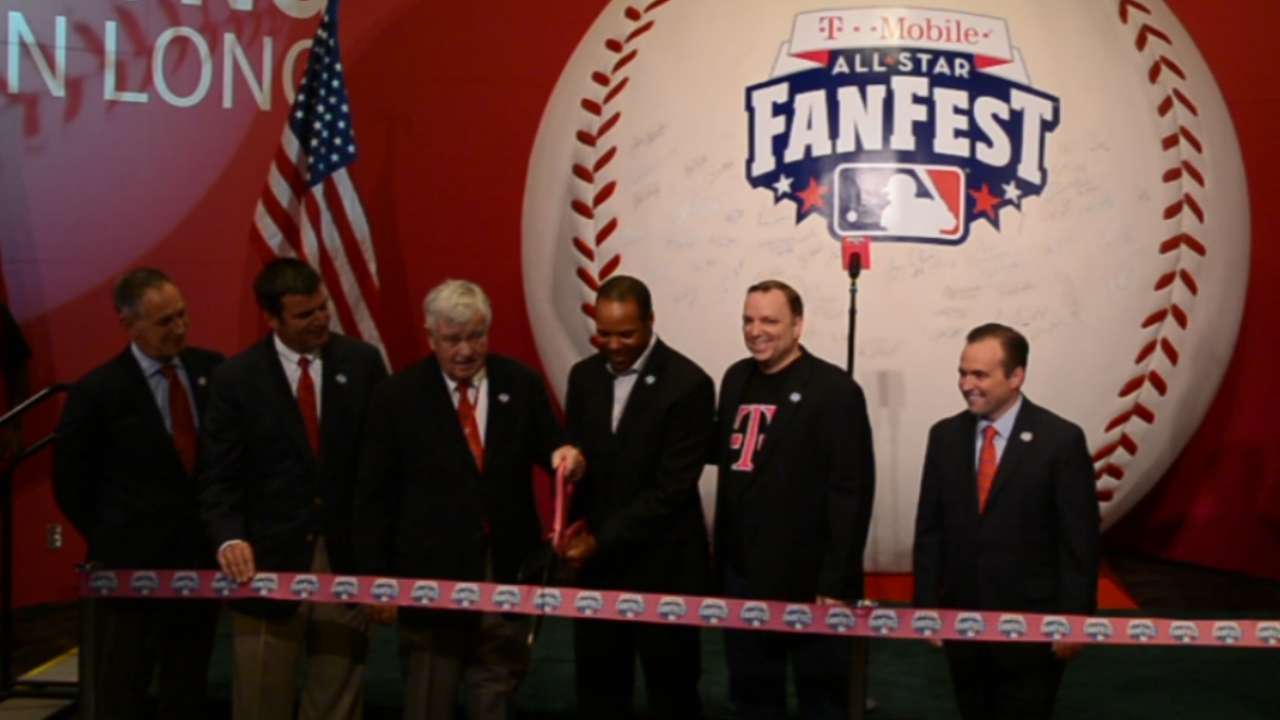 The fun at T-Mobile All-Star FanFest continued Saturday with a day devoted to commemorating the 25th anniversary of the 1990 Reds' World Series victory. But as usual, the ceremony honoring the "wire-to-wire" Cincinnati club was far from the only thing going on at the bustling Duke Energy Center.
There were clinics on the fundamentals of the game -- even a special session on "The Art of Playing Catch" -- taking place on one of FanFest's diamonds, home run derbies (both young fans and team mascots), and games to watch (as well as two Youth Academy Wiffle Ball Tournament semifinal matchups, there were exhibitions by a wheelchair baseball league and a PONY Shetland league).
Attendees had plenty of opportunity to get in the game themselves, too, whether a pick-up game for the youngsters or a round in the batting cages or on the mound for the adults.
And there was no shortage of MLB glitterati on hand, either -- many members of the 1990 Reds, such as newly minted Hall of Famer and All-Star spokesperson Barry Larkin and fan favorites Eric Davis and the bullpen "Nasty Boys," were available for Q&A, autograph and photo sessions. Joining them in the festivities were other notables Tony Perez, Tom Browning, Bert Campaneris, Vera and Luis Clemente (wife and son of late legend Roberto Clemente), Sharon Robinson (daughter of trailblazer Jackie Robinson and current MLB educational consultant), and members of the All-American Girls Professional Baseball League.
Fans like Chris Weglarz from Rochester, N.Y., welcomed the opportunity to get up close and personal with retired legends. A Pirates and Mets fan, Weglarz listed Campaneris, Rollie Fingers, Luis Tiant and Art Shamsky as a few of his favorite encounters.
The younger crowd at FanFest also relished the chance for a hands-on experience with baseball history. 10-year-old Matt Tronsdal said getting to look at priceless memorabilia was the highlight of a day spent at FanFest.
Matt's dad, Tom Tronsdal, said the family, which hails from Tucson, Ariz., made the trip to Cincinnati as their family vacation. Father and son, both decked out in Paul Goldschmidt jerseys, were amazed by the All-Star atmosphere.
"I can't believe how much Cincinnati loves baseball. Everywhere you look, it's Reds shirts and jerseys… I've never seen anything like it," Tom Tronsdal said.
Even Cincinnati locals, Reds season-ticket holders and lifelong fans Paul and Nancy Stamp were awed by FanFest.
"The Reds' Opening Day is a big deal, and of course [All-Star Week] is like [a bigger version of] Opening Day," Paul Stamp explained.
The Stamps will spend the next three days volunteering at FanFest, a decision Nancy Stamp said was an easy one.
"To give back and just to be part of all the excitement, the energy -- it's something we'll probably never have a chance to do again," she said. "It'll be a special memory."
Megan Zahneis is a reporter for MLB.com. This story was not subject to the approval of Major League Baseball or its clubs.