LeMahieu to start for NL at 2nd after Dee's injury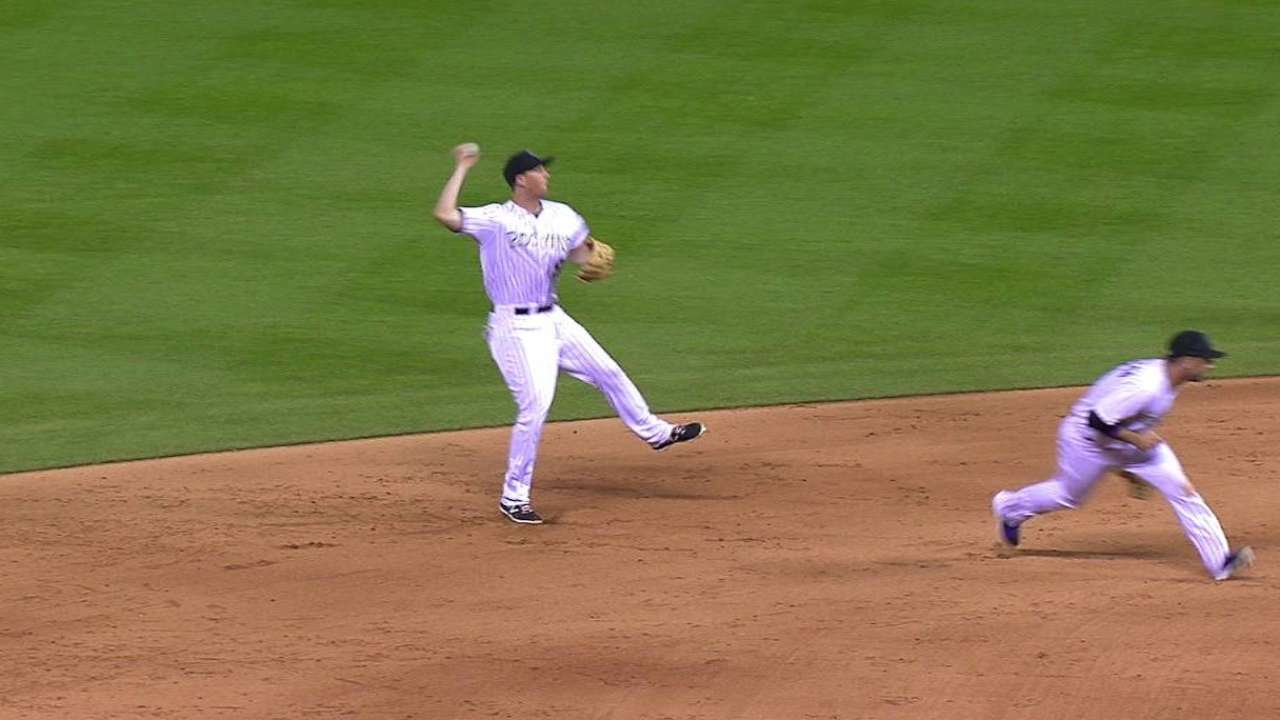 DENVER -- DJ LeMahieu has never been a man of many words or one to crave attention.
That didn't change after finding out he'll be replacing Dee Gordon as the National League's starting second basemen in Tuesday's All-Star Game. Gordon suffered a dislocated left thumb on Saturday, and NL manager Bruce Bochy said LeMahieu will get the starting nod since he won the players' vote.
"Not really," LeMahieu said calmly when asked if starting will mean anything more.
"I mean, it's awesome, but it's just cool being there. I'm just excited to be in the game, and starting is obviously cool. I'm just excited."
LeMahieu knew that Nolan Arenado would be joining him in Cincinnati, but he'll now have a second teammate accompanying him to Great American Ballpark. Troy Tulowitzki was selected as Gordon's roster replacement shortly after the Rockies' 3-2 win over the Braves on Saturday afternoon, signaling All-Star appearance No. 5 for the Rockies shortstop.
With LeMahieu now going as a starter, the likeness of a Colorado-dominated infield lessens, but the Rockies second basemen said he may try to do his best to change that.
"I might need to talk to Bochy about possibly getting all three of us out there at the same time," LeMahieu joked. "But I'm just really excited. Just excited to be there, and Tulo's been there a bunch of times. So it'll be good just talking to him, seeing what I need to do."
Tulo added to NL All-Star team, replaces Dee
During the All-Star Game presented by T-Mobile in Cincinnati on Tuesday, fans can once again visit MLB.com to submit their choice for the Ted Williams Most Valuable Player Award presented by Chevrolet. Voting exclusively at MLB.com, online and via their mobile devices in the 2015 All-Star Game MVP Vote presented by Chevrolet, the fans' collective voice will represent 20 percent of the overall vote that determines the recipient of the Arch Ward Trophy.
MLB.TV Premium subscribers will be able to live stream the All-Star Game via MLB.TV through FOX's participating video providers. Access will be available across more than 400 supported MLB.TV platforms, including the award-winning MLB.com At Bat app. MLB.com will provide extensive online coverage of the All-Star Week festivities, including the 2015 Gillette Home Run Derby presented by Head & Shoulders, part of Gatorade All-Star Workout Day on Monday. The Derby will feature a new format with brackets and timed rounds and will be broadcast live by ESPN and MLB.com beginning at 6 p.m. MT.
The 86th Midsummer Classic will be televised nationally by FOX Sports (coverage begins 5 p.m. MT), in Canada by Rogers Sportsnet and RDS, and worldwide by partners in more than 160 countries. ESPN Radio and ESPN Radio Deportes will provide exclusive national radio coverage of the All-Star Game. MLB Network and SiriusXM will also provide comprehensive All-Star Week coverage. For more information, please visit allstargame.com.
Dargan Southard is an associate reporter for MLB.com. This story was not subject to the approval of Major League Baseball or its clubs.