Gomez's 5 RBIs, Jungmann lift Brewers in LA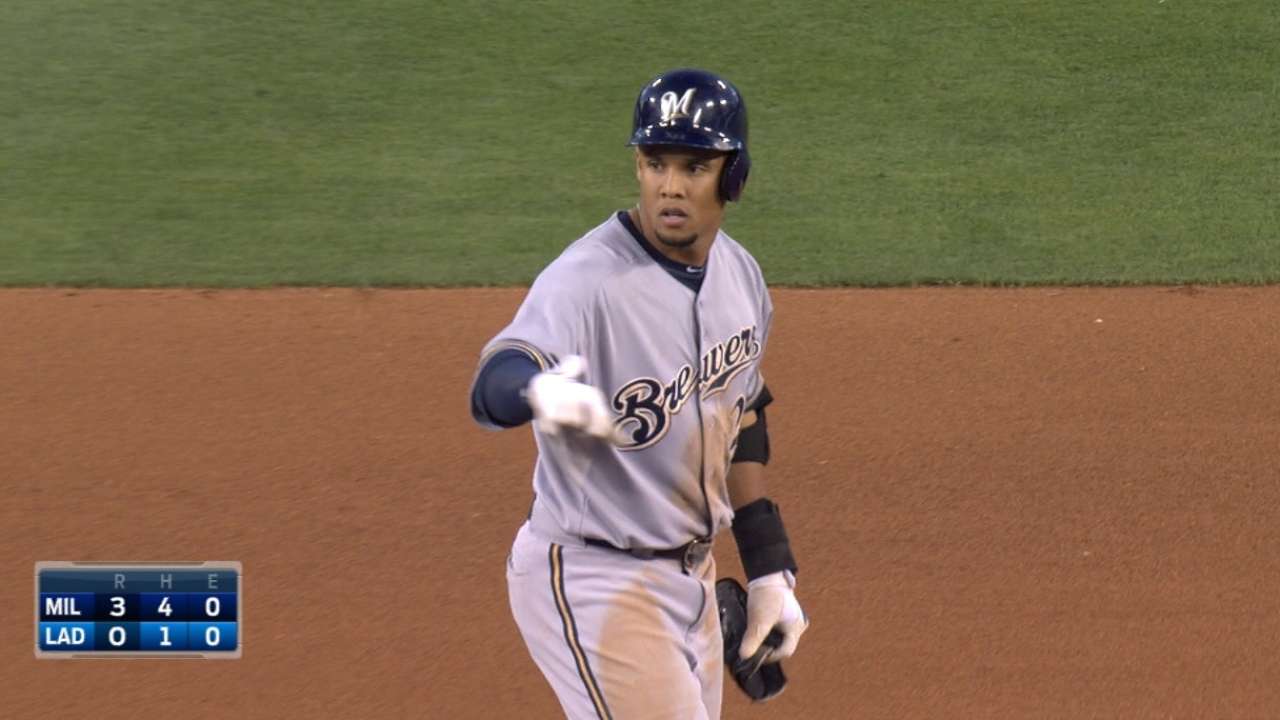 LOS ANGELES -- Carlos Gomez tied a season high with five RBIs and Taylor Jungmann pitched a gem to spoil Brandon Beachy's return in a 7-1 win for the Brewers at Dodger Stadium on Saturday night.
Jungmann (4-1) tossed a complete game -- the first of his career -- allowing just three hits and one run and striking out seven. Saturday marked the second straight start that Jungmann has allowed one run and gone at least eight innings. Gomez was 2-for-4 with a bases-clearing double in the third, one of his two run-scoring doubles.
"You want to be the last person out there," Jungmann said. "You don't want to leave it to somebody else to finish your own game. You always hear that from closers and guys like that: 'Finish your game.'"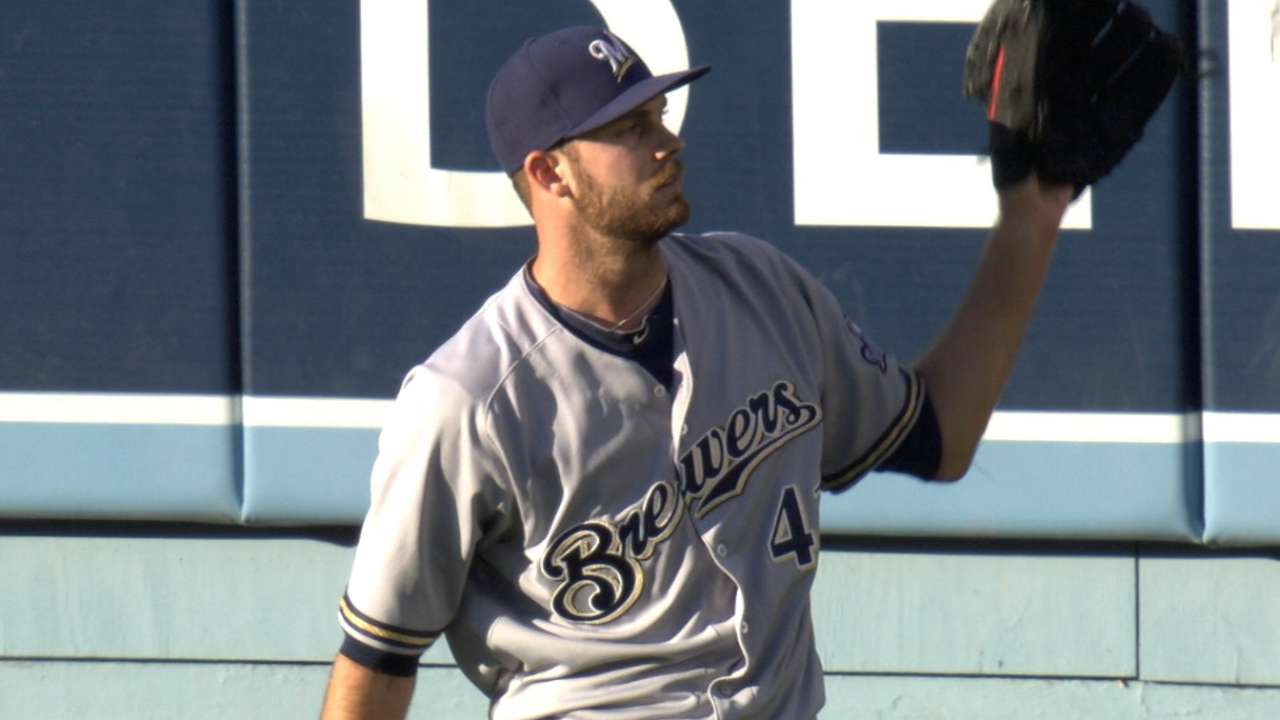 Beachy was making his first start in the Majors since Aug. 20, 2013, and it didn't go according to plan for Los Angeles. He allowed three runs on five hits in four innings before being relieved by Chin-hui Tsao. Beachy threw 78 pitches and took the loss. The lone run for the Dodgers came on a sacrifice fly in the eighth inning.
"[Beachy is] a guy that hadn't pitched in a while. His fastball command was in and out," Dodgers manager Don Mattingly said. "He's a little rusty, but you can see what's there if he gets his command where he needs it."
• Puig fires cannon for highlight-reel assist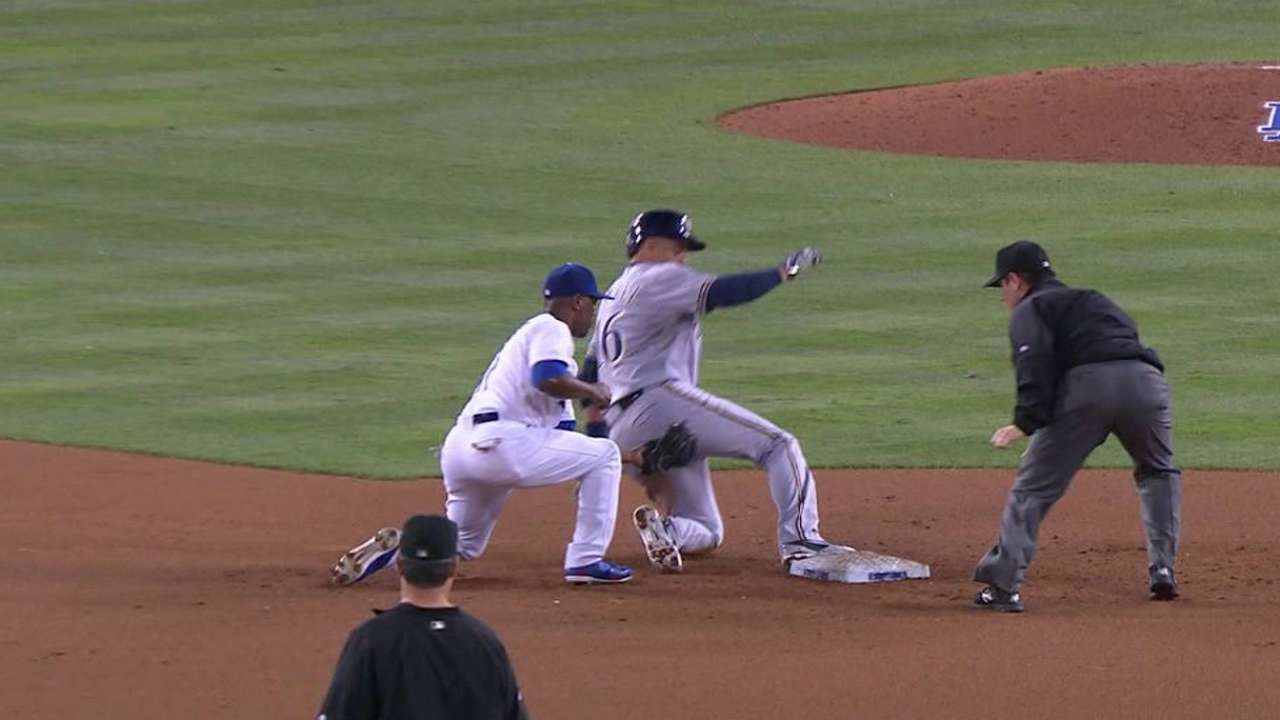 MOMENTS THAT MATTERED
Clearing the bases: Two batters after Ryan Braun narrowly missed hitting a two-run home run, Gomez stepped to the plate with the bases loaded, and promptly cleared them. He threw his bat as if in disgust after hitting a fly ball to left-center field, but the baseball carried all the way to the wall for a three-run double and a 3-0 Brewers lead.
"I was one pitch away a few times there," Beachy said. "The curveball to Braun and the slider to Gomez were another inch away of finish and extension from being good pitches and getting out of that."
Doubled off: The Dodgers couldn't get anything going offensively against Jungmann, but even when the club got baserunners on, they were quickly eliminated through double plays. The Brewers recorded three twin killings in the first four innings, including an outfield assist from Gomez to double off Yasmani Grandal on a fly out.
"Huge," Jungmann said. "Those are big moments when they happen, too. A couple times I was struggling a little bit with my command, and those double plays are huge."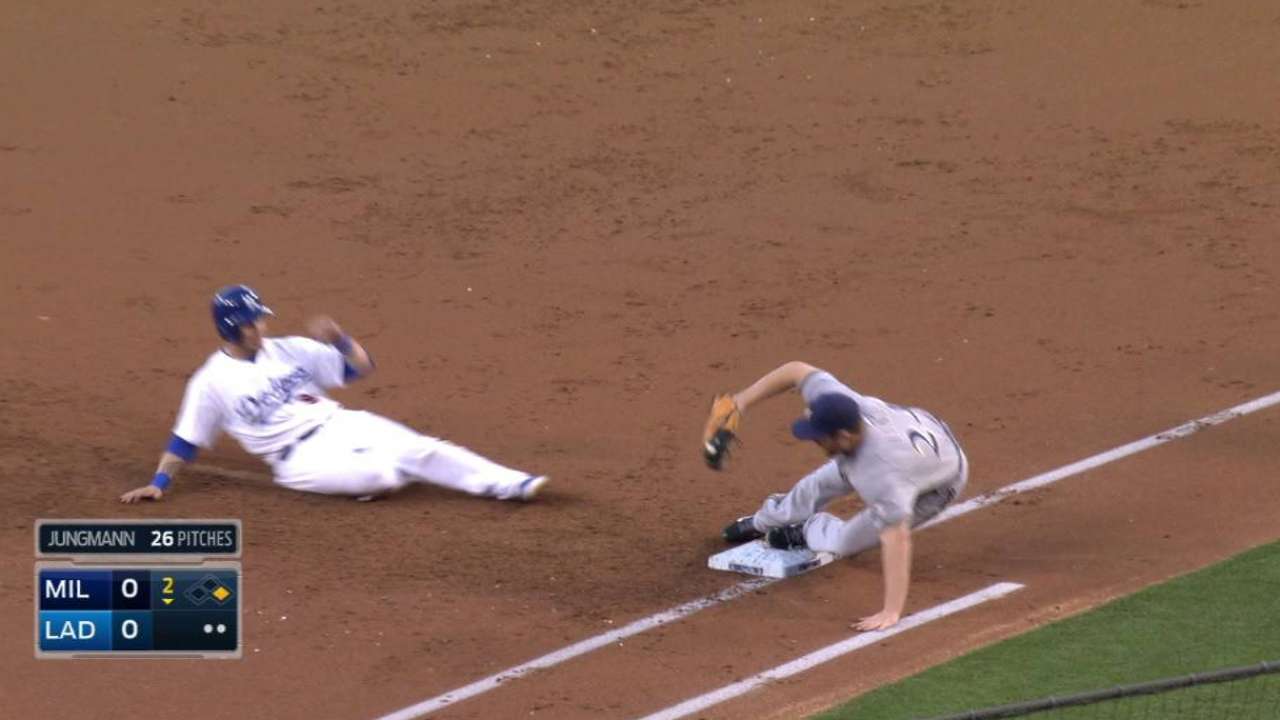 Trade bait: Brewers outfielder Gerardo Parra, mere months from free agency, continued to boost his trade value with a pair of RBIs. His seventh-inning home run sliced through the cool air and found the bleachers in right-center field, the first home run for either team in this series. An inning later, Parra smacked an RBI double off the left-center-field wall.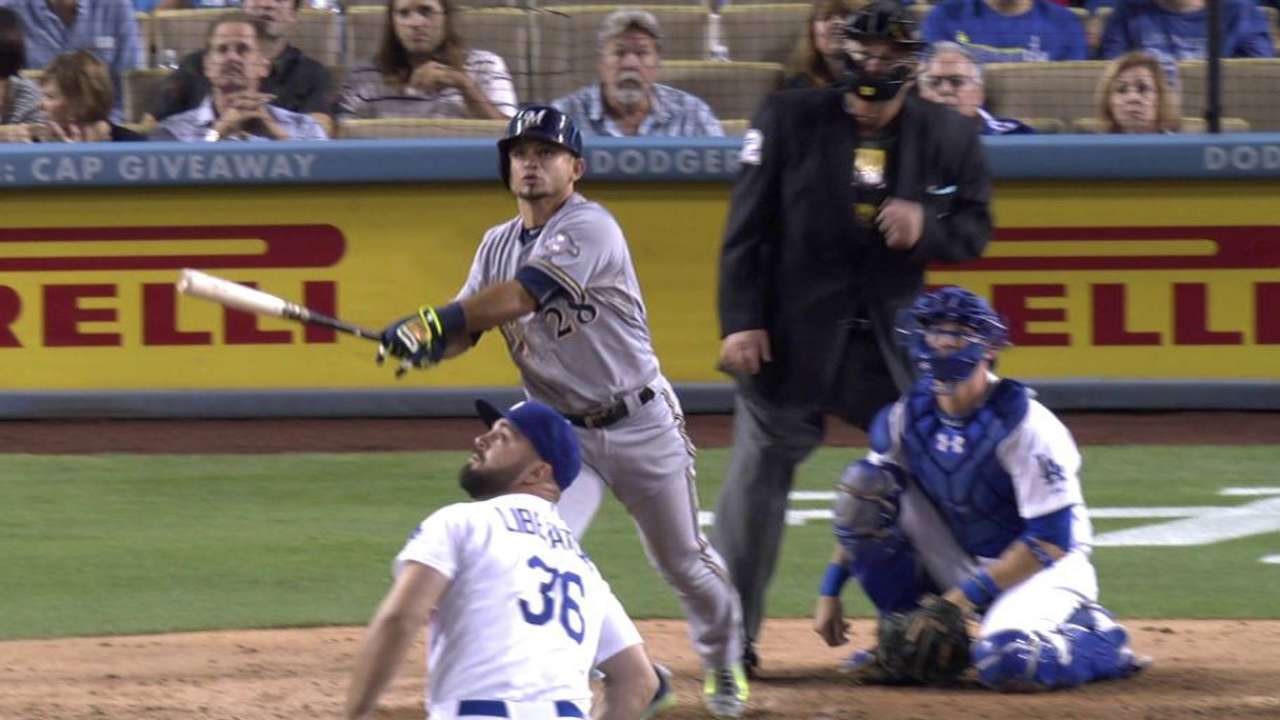 Extra bases: The Brewers pounded 12 hits as a team and all nine starters, including Jungmann, had a hit. The club had seven extra-base hits on the night: six doubles and Parra's solo homer.
UNDER FURTHER REVIEW
In the third inning, the umpires called for a crew chief review to see if Braun's double was actually a home run. Braun's hit went off the wall, hit the ground and deflected off Andre Ethier's knee and into the stands. The call was confirmed as a ground-rule double, and Brewers pitcher Taylor Jungmann, who had scampered from first to home, was returned to third base.
The key to the play was that the baseball hit the ground before Ethier unintentionally deflected it over the wall. The matter is covered under Rule 5.05(a)(8):
Any bounding fair ball is deflected by the fielder into the stands, or over or under a fence on fair or foul territory, in which case the batter and all runners shall be entitled to advance two bases.
"Joe [West, the crew chief] explained it right," Brewers manager Craig Counsell said, "that it's an automatic ground-rule double and there's no judgement of where you place the runners."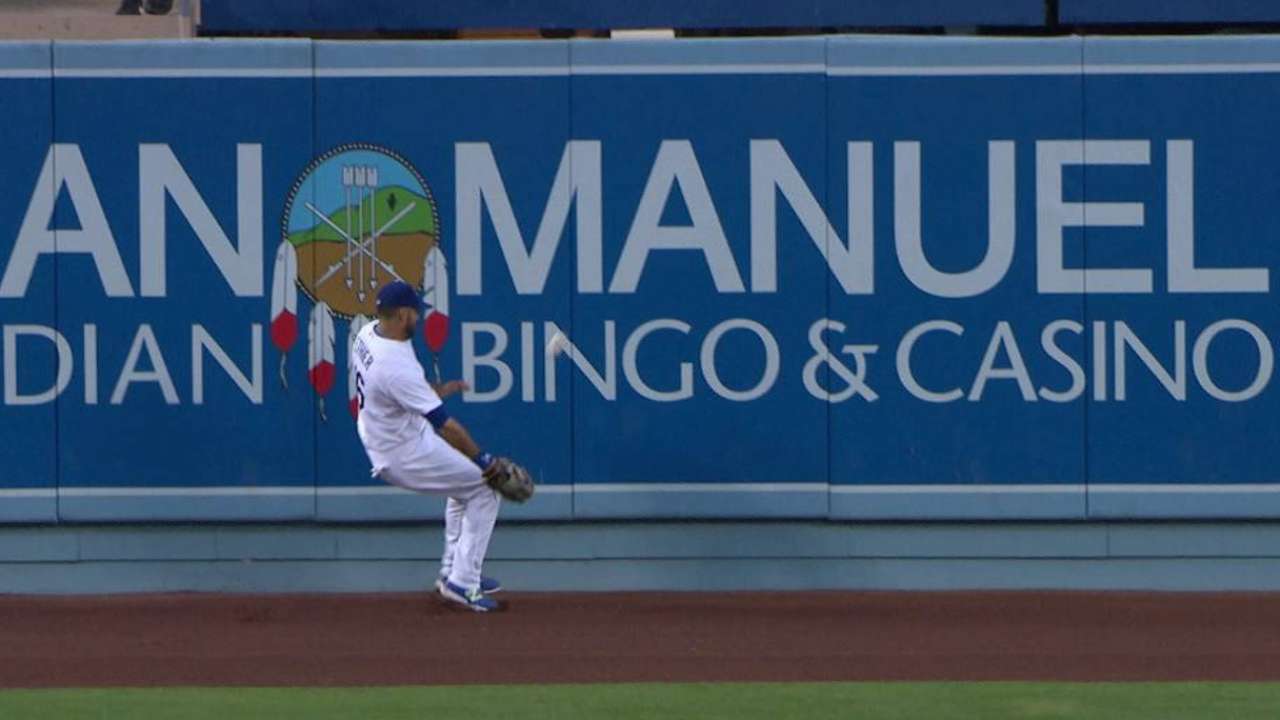 QUOTABLE
"He's ace material, for sure. There's no reason he couldn't be a dominant force on our staff for a while." -- Brewers catcher Jonathan Lucroy, on Jungmann
"I'd like to tell you I feel really accomplished, but in this moment, I didn't accomplish what I set out to do. I didn't set out to pitch in a big league game. I set out to dominate a big league game," -- Beachy, on his performance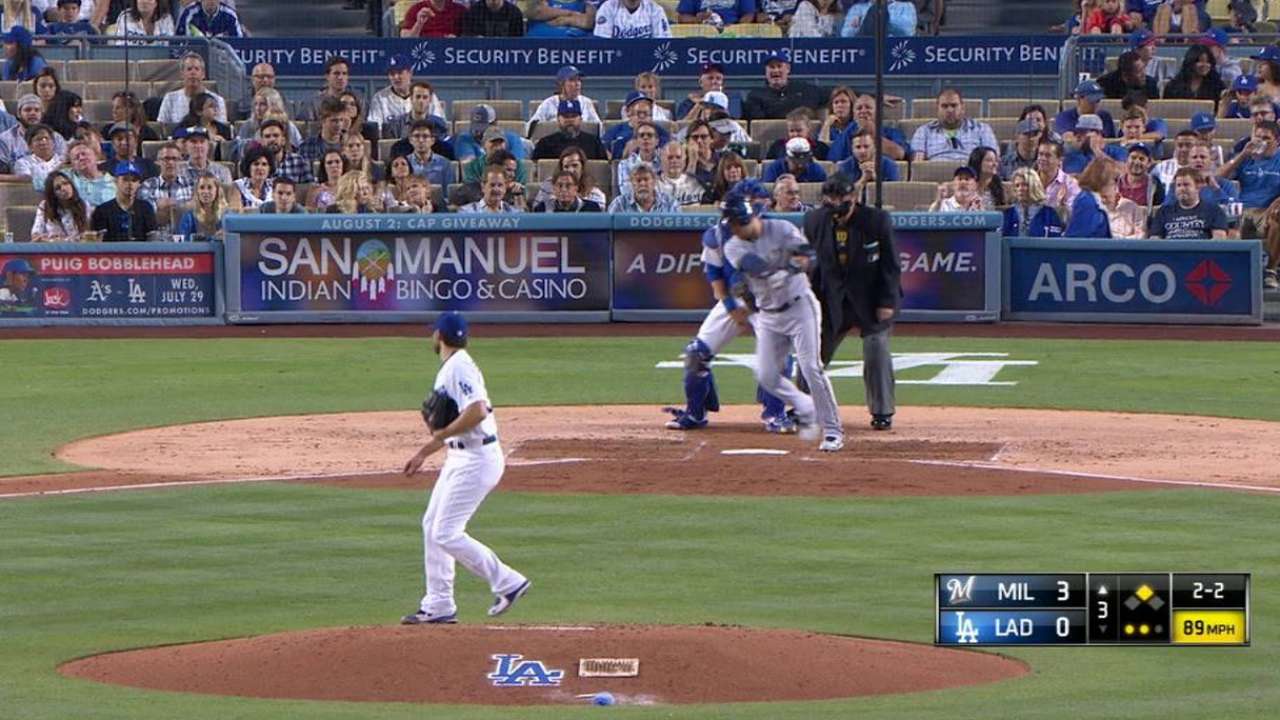 SOUND SMART WITH YOUR FRIENDS
Jungmann became the 15th Brewers pitcher to work a complete game within his first seven career starts, and the first since Don August pitched two of them in 1988. It was the Brewers' first complete game this season.
WHAT'S NEXT
Brewers: Kyle Lohse will close out a rough first half when he pitches the Brewers into the All-Star break on Sunday afternoon. After logging double-digit victories and ERAs of 3.54 or better in each of the past four seasons, Lohse enters his first-half finale 5-10 with a 6.29 ERA, and has only five quality starts in his first 18 games.
Dodgers: Brett Anderson will pitch Sunday's series finale at 1:10 PT. Anderson lost last time out to the Phillies, but he's been a productive cog in the rotation in the first half. Anderson is 5-5 with a 3.12 ERA and has already thrown more innings (101) than he has in any season since 2010 (112 1/3).
Watch every out-of-market regular-season game live on MLB.TV.
Steve Bourbon is an associate reporter for MLB.com. Adam McCalvy is a reporter for MLB.com. Follow him on Twitter @AdamMcCalvy, like him on Facebook and listen to his podcast. This story was not subject to the approval of Major League Baseball or its clubs.