Paxton's injury rehab is progressing slowly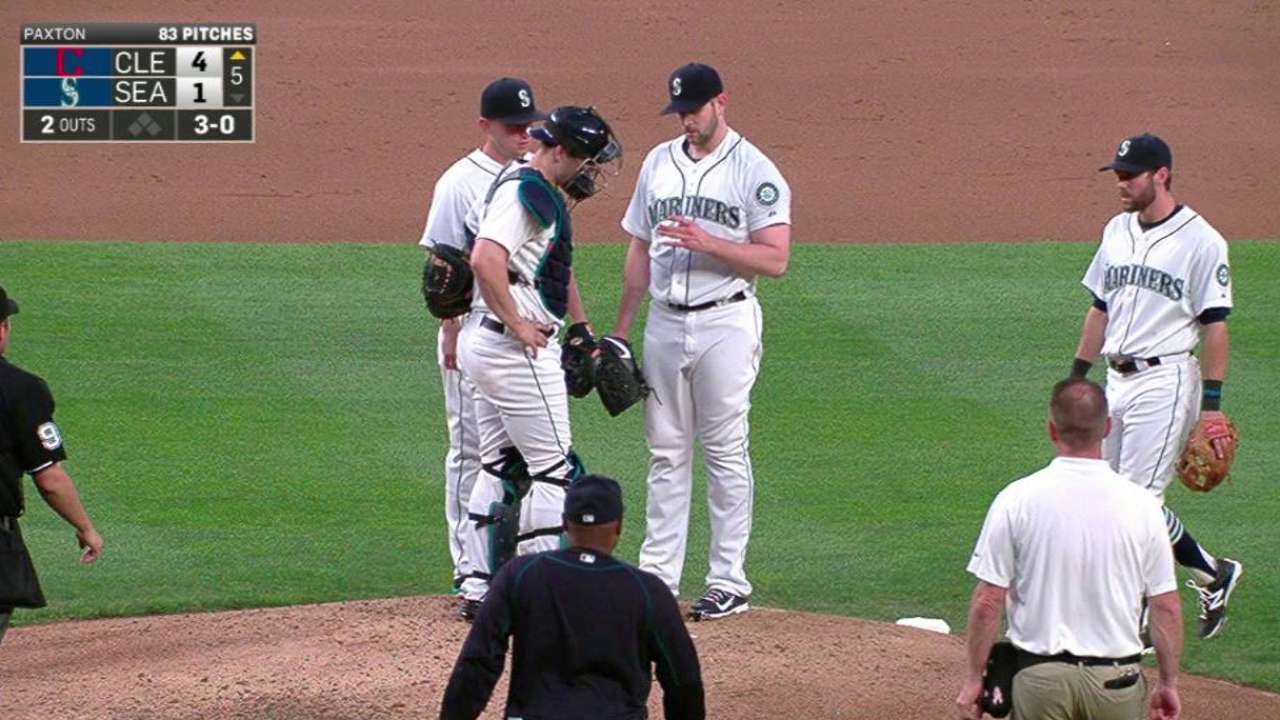 SEATTLE -- After six weeks on the disabled list, Mariners left-hander James Paxton still isn't close to returning as he works his way back from a strained left middle finger.
The 26-year-old is playing light catch this week, but still feeling enough soreness in the finger that there's no projection as to when he might be able to get back on a mound and start building up arm strength for his return.
Paxton opened the season as Seattle's No. 2 starter and was 3-3 with a 3.70 ERA in 10 starts before injuring the finger during a May 28 loss to the Indians.
The 6-foot-4 Canadian has been outstanding when healthy during his first three big league seasons (12-7, 3.05 ERA in 27 starts), but he was able to pitch just 13 games last year due to shoulder issues and he'll be severely limited this year by his finger problem.
"I'm just trying to stay positive," Paxton said on Saturday before the Mariners faced the Angels. "Obviously it's not fun to be hurt, but I'm just doing everything I can each day to get back as soon as possible and help myself be ready for when I am back."
At this point, that means working his lower body in the weight room, lifting weights in the pool for his upper body to keep the strain off his hand, doing cardio work, arm exercises, everything possible except gripping a baseball with the force required to throw full out.
"I'm throwing nice and easy right now at 75 feet, just kind of waiting it out at that distance until it feels completely better, then I'll start backing it up and go from there," he said. "There's just a little bit of soreness still, and that's what we're trying to get rid of so we can move forward. Once that happens, then we can start throwing harder and moving toward bullpens."
The Mariners aren't setting any timetable for Paxton's return at this point. But once he's cleared to throw in bullpen sessions, it'll likely be at least a month-long process to build him back up through simulated games and Minor League starts, which means it could be late August or September before he's back in the Mariners' rotation.
"It's a process," manager Lloyd McClendon said. "It's going to take a while."
Worth noting
• Center fielder Austin Jackson returned to the lineup on Saturday after sitting out two days with back spasms.
• Jesus Montero will continue to get playing time against left-handed pitchers and showed McClendon enough to be back at first base on Saturday after starting there Friday in his first game since being recalled from Triple-A Tacoma.
"He looked a lot more comfortable at the plate," McClendon said. "We'll see how it plays at this level. He's going to get an opportunity to play against some left-handers, and we'll see what happens."
• Notorious slow starter Dustin Ackley has hit .400 (12-for-30) in his last 15 games to raise his average to .222 going into Saturday's game. In his career, Ackley has batted .222 in April, May and June compared to .260 in the final three months.
"Nothing looks different, other than the results," McClendon said. "He's a little more aggressive. He leaves you scratching your head sometimes. Right now he's swinging the bat pretty good."
Greg Johns is a reporter for MLB.com. Follow him on Twitter @GregJohnsMLB, read his Mariners Musings blog, and listen to his podcast. This story was not subject to the approval of Major League Baseball or its clubs.