Tulo added to NL All-Star team, replaces Dee
Shortstop joins teammates Arenado and LeMahieu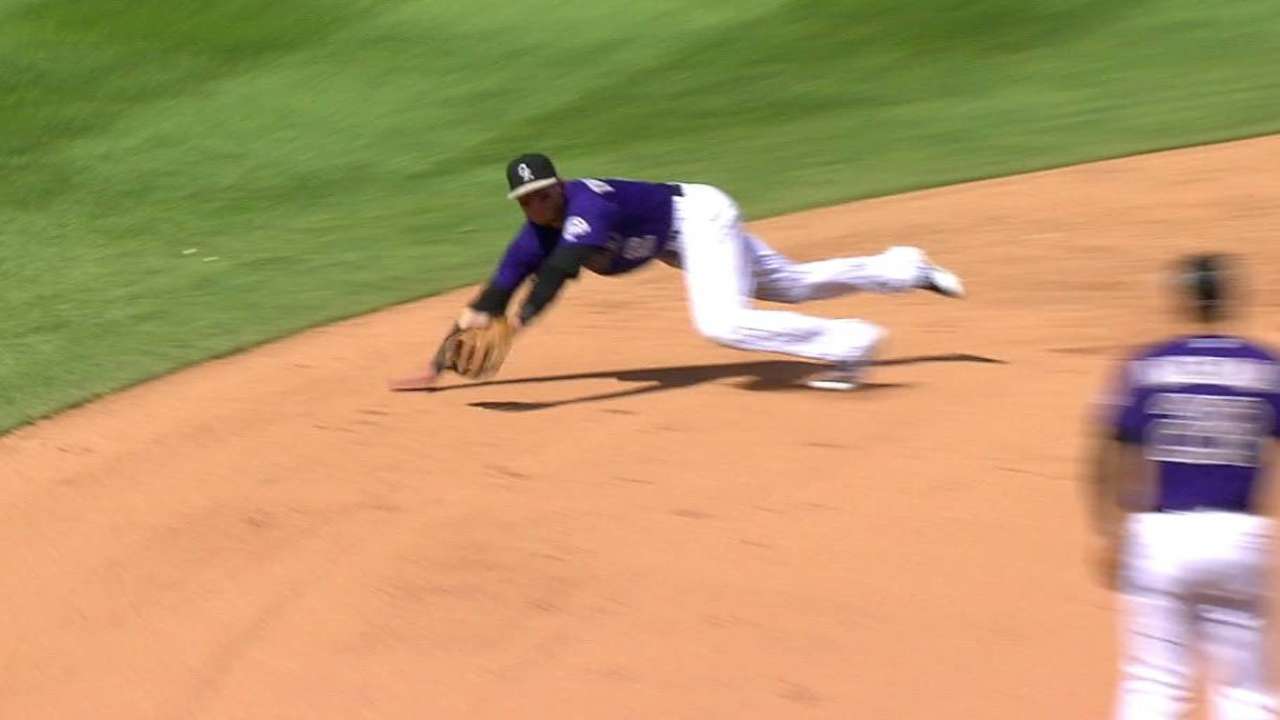 DENVER -- Just one day after falling short in the Esurance Final Vote, Troy Tulowitzki found an alternative route to Cincinnati.
Shortly after the Rockies' 3-2 win over Atlanta on Saturday afternoon, Colorado manager Walt Weiss announced that Tulowitzki will, in fact, be heading to Tuesday's All-Star Game presented by T-Mobile, replacing the injured Dee Gordon of the Marlins (dislocated left thumb).
"I hate to get in that way because it's at someone's expense, but at the same time, an All-Star Game is an All-Star Game," Tulowitzki said, who finished fourth in the NL Final Vote. "I'll enjoy it. I'll have fun. They're always a good time. It's an honor, and I definitely don't take it lightly."
This is Tulowitzki's third straight All-Star appearance and fifth of his career, tying him with Todd Helton for the most in Rockies franchise history. He's currently in the midst of a career-high 37-game on-base streak, which he extended on Saturday with a ninth-inning walk.
• LeMahieu named starter to replace Gordon
But even with all the accolades, this particular All-Star selection is special for Tulowitzki, given where he was a little less than 12 months ago.
"I look at it about this time last year -- going through hip surgery," said Tulowitzki, whose 2014 season ended on July 19. "What's going through my head [then] is, "Will I ever play this game again?" And to be sitting here making an All-Star team is definitely a need for me.
"I battled at the beginning of the year. I didn't have as many reps as I would've liked because my offseason wasn't the same. I didn't do any baseball work, so I was playing catch up a little bit. And I am hard on myself, but I think sometimes I do need to sit back and realize I'm still a decent player in this game."
Tulowitzki will join third baseman Nolan Arenado and second baseman DJ LeMahieu at Great American Ballpark -- the first time the Rockies have had three All-Star infielders in franchise history. LeMahieu also was named a starter on Saturday because of Gordon's injury.
With LeMahieu also named a starter, the trio likely won't be on the field at the same time. Still, Weiss relished the fact that the Colorado purple will be well represented in Cincinnati.
"It really speaks volumes about our infield," Weiss said. "We talk about our infielders a lot -- Gold Gloves all around. That's going to be exciting. Three pretty special players in my opinion."
During the All-Star Game presented by T-Mobile in Cincinnati on Tuesday, July 14, fans can once again visit MLB.com to submit their choice for the Ted Williams Most Valuable Player Award presented by Chevrolet. Voting exclusively at MLB.com, online and via their mobile devices in the 2015 All-Star Game MVP Vote presented by Chevrolet, the fans' collective voice will represent 20 percent of the overall vote that determines the recipient of the Arch Ward Trophy.
MLB.TV Premium subscribers will be able to live stream the All-Star Game via MLB.TV through FOX's participating video providers. Access will be available across more than 400 supported MLB.TV platforms, including the award-winning MLB.com At Bat app. MLB.com will provide extensive online coverage of the All-Star Week festivities, including the 2015 Gillette Home Run Derby presented by Head & Shoulders, part of Gatorade All-Star Workout Day on Monday, July 13. The Derby will feature a new format with brackets and timed rounds and will be broadcast live by ESPN and MLB.com beginning at 8 p.m. ET.
The 86th Midsummer Classic will be televised nationally by FOX Sports (coverage begins 7 p.m. ET), in Canada by Rogers Sportsnet and RDS, and worldwide by partners in more than 160 countries. ESPN Radio and ESPN Radio Deportes will provide exclusive national radio coverage of the All-Star Game. MLB Network and SiriusXM will also provide comprehensive All-Star Week coverage. For more information, please visit allstargame.com.
Dargan Southard is an associate reporter for MLB.com. This story was not subject to the approval of Major League Baseball or its clubs.