Solarte helps Padres 'come up big' in ninth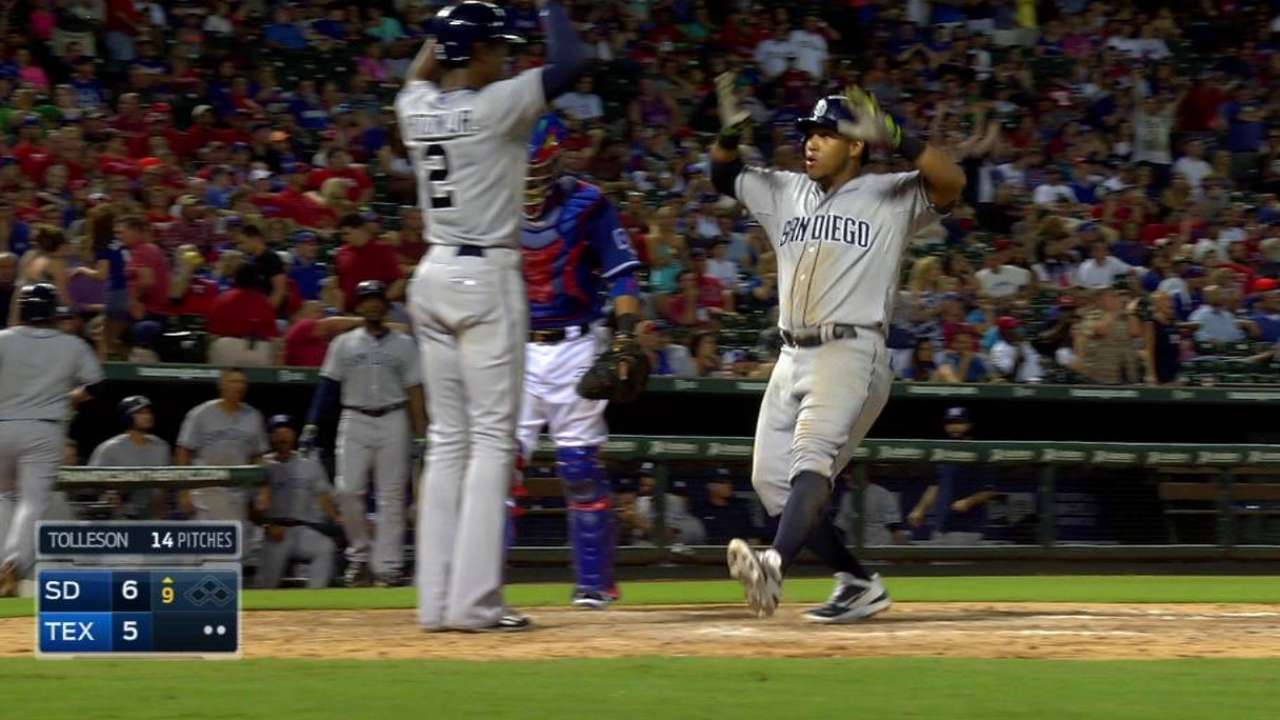 ARLINGTON -- It seemed as if the Padres were never going to get it right.
After finally getting some timely hitting in the form of three ninth-inning singles, Rangers left fielder Josh Hamilton threw out pinch-runner -- and pitcher -- Andrew Cashner as he tried to go first-to-third on a Melvin Upton Jr. RBI single.
The mistake brought up Yangervis Solarte with two outs and a runner on first, with his team down one. But Solarte dramatically changed the narrative of the game when he crushed a 1-1 fastball from Shawn Tolleson into the right field stands.
Padres 6, Rangers 5. Six-game losing streak snapped. Hope restored.
"What they did in the ninth, really important," Padres interim manager Pat Murphy said. "There's days you feel like you'll never win another game and nothing goes your way, every lineout, every call. You start being a victim. They owned that ninth inning, and that's what it's about -- taking ownership in your performance."
After Solarte's home run, Craig Kimbrel came in and did what he does best in the ninth -- he sent the Rangers down in order to get his first save since July 3.
Solarte's homer not only won the game, but it snapped what was about to become a seven-game losing streak that would have sent the Padres into last place in the National League West. It was only the second time in 44 chances that the Padres have won after trailing though eight innings.
"Great feeling for our guys," Murphy said. "They deserve it. They've played tough games. They've played everybody tough and come up short on the road."
The big hit improved Solarte to 15-for-35 (.429) in his last four games. Solarte finished the night 3-for-3 and also reached on a walk.
The home run was his fifth of the season, and it continued a trend that reveals Solarte coming up big in important moments. He is hitting .310 with runners in scoring position and .321 with runners in scoring position and two outs.
The Padres had lost their past six games by a combined nine runs, unable to get timely hitting or good breaks. Solarte's home run changed that for a night, though it felt long overdue.
"I was excited for our guys," Murphy said. "You think about it, they've been on the road for a long time. It was nice to come up big."
Cody Stavenhagen is an associate reporter for MLB.com. This story was not subject to the approval of Major League Baseball or its clubs.