Aybar thriving behind Trout and Pujols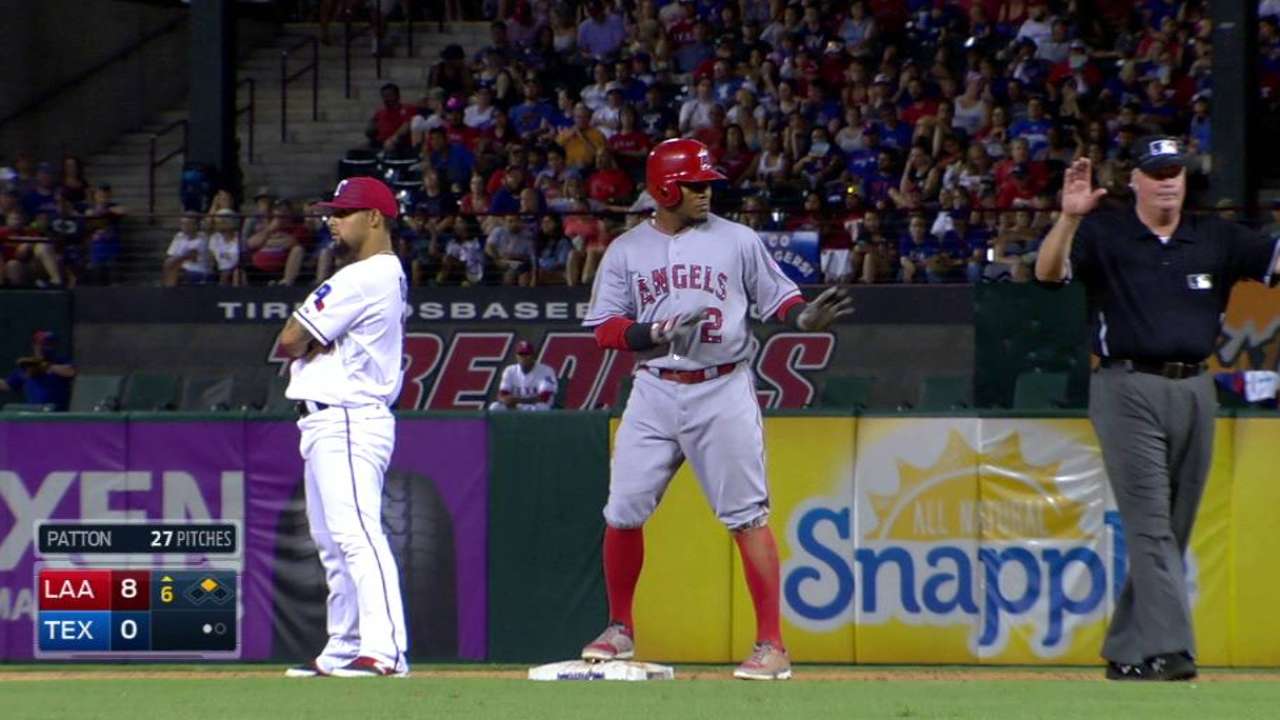 SEATTLE -- Erick Aybar isn't a typical leadoff hitter. He doesn't wait out pitchers and doesn't look to draw walks after working deep into counts. The 31-year-old Angels shortstop entered Saturday's game against the Mariners 81st in the American League in pitches per plate appearance.
In the shortstop's 35 games hitting leadoff this season, manager Mike Scioscia said Aybar was able to make the adjustment better than most, but a jump to the top of the lineup can cause an identity crisis at the plate for any hitter.
"He's not going to go up there and get an eight-pitch walk. It's just not his nature," Scioscia said. "When he tried to do that, he was in so many bad counts, he wasn't being productive."
Aybar hit just .206 in 141 at-bats as a leadoff hitter, but he's looked more comfortable and been more productive the last nine games while hitting in the No. 5 spot -- behind Mike Trout and Albert Pujols. Since making the move on June 30, Aybar is hitting .432 (16-for-37) with five doubles and five RBIs.
Scioscia said Aybar has done a better job lately of just trying to be himself at the plate, a "slasher" who puts the ball in play. It's a mentality that has yielded good results behind high on-base percentage hitters like Trout and Pujols.
"The numbers are the numbers," Scioscia said. "I just think Erick's very comfortable with guys on base. He's going to put the ball in play."
Since moving behind Trout and Pujols, Aybar had struck out just three times and the Angels were 7-2 entering Saturday.
"Everybody's played good. We've been pitching good, hitting good," Aybar said. "Everybody's sticking together right now. We'll see what happens in the second half."
Worth noting
• Jered Weaver threw a simulated game at Safeco Field on Saturday with hitters standing in the box but not swinging. The 32-year-old righty is 4-8 this season with a 4.75 ERA and has been on the disabled list since June 21 with left hip inflammation.
"We're all excited about the direction he's moving," Scioscia said. "He was much better today than he was when he was throwing in his last couple starts. He'll repeat it again on Thursday and we're going to evaluate where he is, but he got after it today."
• Pujols will host his second annual Baseball ProCamp from 9 a.m.-noon PT on Aug. 6 at Orange High School in Orange, Calif. Boys and girls grades 1-8 will be instructed in baseball fundamentals and will have the opportunity to meet with Pujols as well as high school and college coaches from the area.
Don't miss out on the Pujols Home Run! It's a non-race EVERYONE can participate in. I'm in, are you? Register now at http://t.co/KPzAgpiFQI

— Albert Pujols (@PujolsFive) July 3, 2015
Andrew Erickson is an associate reporter for MLB.com. This story was not subject to the approval of Major League Baseball or its clubs.