Cervelli, Hurdle ejected in second inning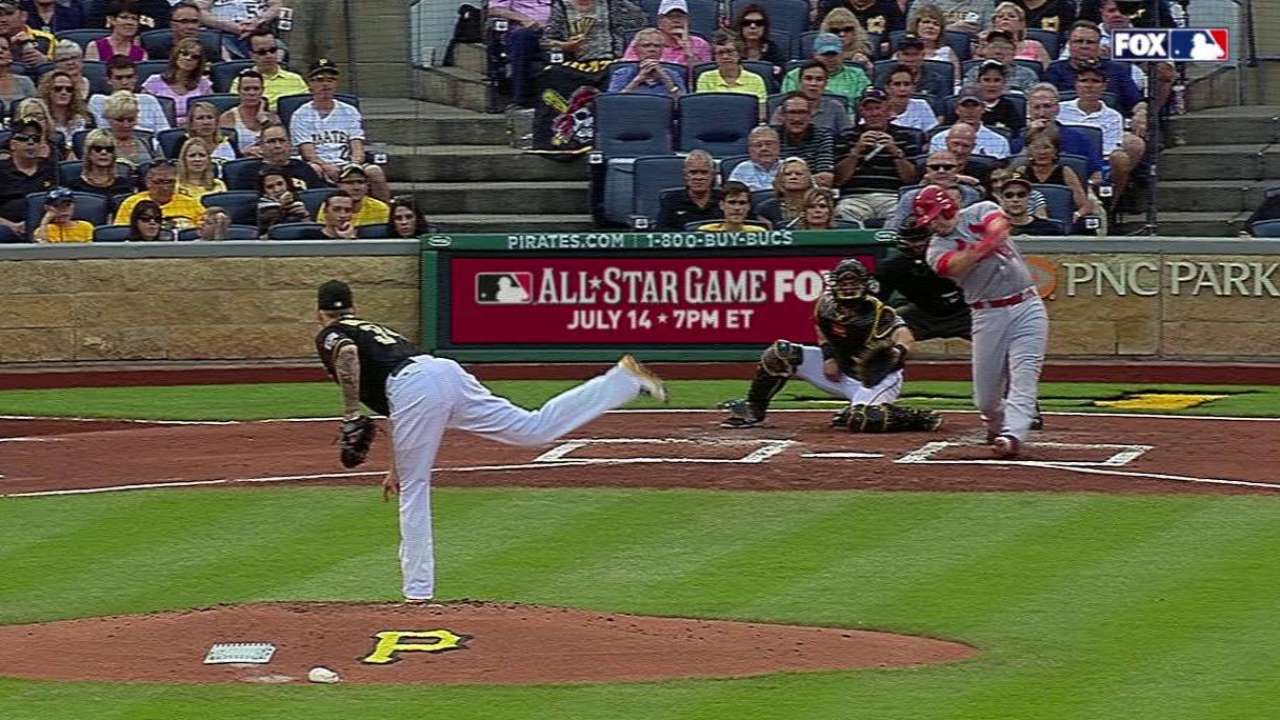 PITTSBURGH -- A two-pitch sequence in the second inning of the Pirates' 6-5 win over the Cardinals on Saturday gave St. Louis a one-run lead and cost Pittsburgh its starting catcher and manager.
After retiring the first five batters he faced, A.J. Burnett appeared to strike out Cardinals first baseman Mark Reynolds on a 1-2 curveball that dove into the dirt behind home plate.
Reynolds swung and missed at the pitch and didn't appear to make contact, seemingly ending the inning. But home-plate umpire Vic Carapazza called it a foul tip, clearly frustrating catcher Francisco Cervelli, and the inning continued.
Reynolds -- who said he heard the foul tip when he swung. -- lined the next pitch, a curveball, into the left-field seats.
"If you look at the video, it looks like I maybe got a seam on it. I heard something. Vic heard something, I guess," Reynolds said. "Gave me a foul ball and gave me another chance."
Cervelli walked to the mound after the home run, saying something to Carapazza as he went, and was immediately ejected.
Crew chief Larry Vanover, speaking for Carapazza, said Carapazza heard a foul tip and that the ejection was due to Cervelli's language. And that's what infuriated manager Clint Hurdle more than the call itself.
"The man's upset. Let him go. Just let him go," Hurdle said. "It was hard. It was wrong. [Carapazza] said [Cervelli] said something personal. You know what? We're professionals.
"You hear a foul tip that wasn't a foul tip, what'd he hear from him? I don't know if what he heard was right, what he thought he heard. The quick hook, it tilted me the wrong direction."
It also further fired up Cervelli, who continued to argue and at one point had to be restrained by coach Brad Fischer. Hurdle then went out to argue and was also ejected.
The Pirates had reason to be upset, as a nearly identical scenario unfolded in the eighth inning of Burnett's previous start. He appeared to strike out Padres catcher Derek Norris, again for the final out of the inning. Instead it was ruled a foul tip, and Norris went on to single.
The play is not reviewable.
"I think there'll be a lot of conversation this winter over it," Hurdle said.
But Burnett remained calm despite allowing a home run for the first time in seven starts and 48 innings. He settled down well enough to pitch 6 1/3 solid innings and even answered Reynolds' homer with one of his own.
"It's a test," Burnett said. "You just try to put all the drama beside you. There's enough drama with them in town. It's a big series, and these guys play us tough every time."
Adam Berry is a reporter for MLB.com. Follow him on Twitter at @adamdberry. This story was not subject to the approval of Major League Baseball or its clubs.