Latest win underscores Buehrle's consistency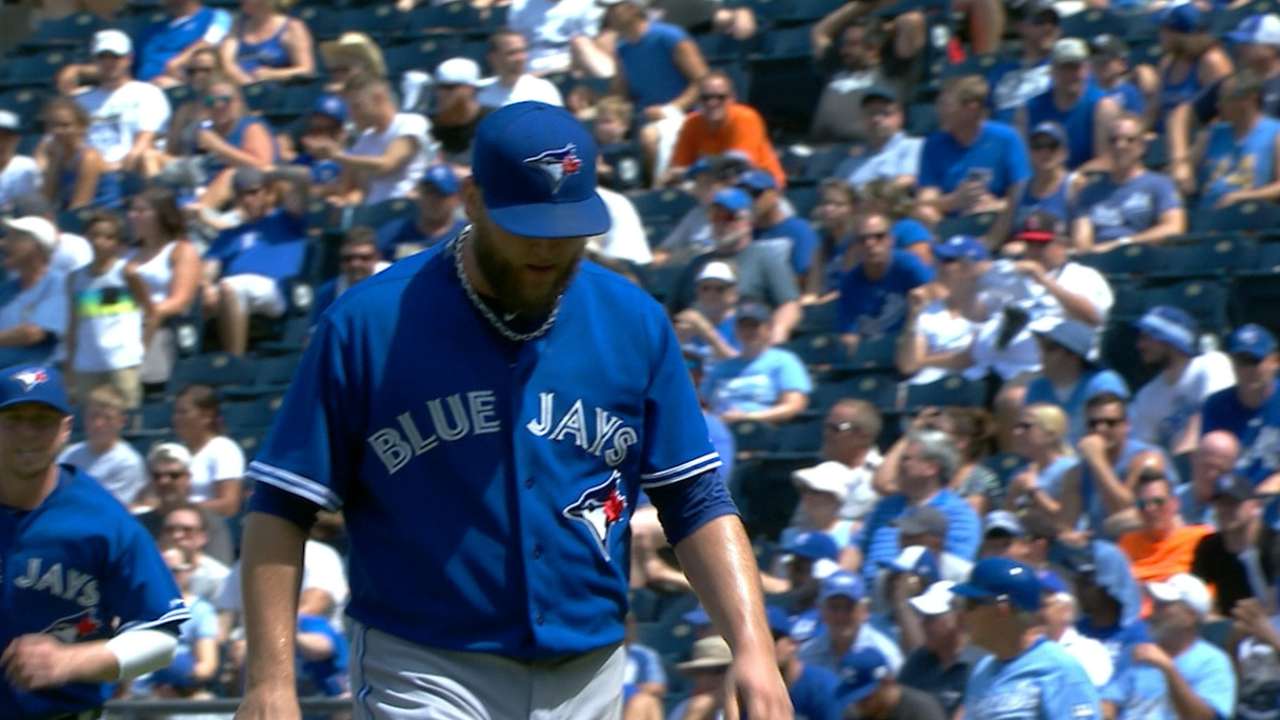 KANSAS CITY -- Mark Buehrle is sort of like "Old Man River." He just keeps rolling along.
It was typical Buehrle on Saturday, as the veteran left-hander cooled off the Royals in Toronto's 6-2 win at Kauffman Stadium to record his 10th win of the season and reach double figures in wins for the 15th consecutive time.
Buehrle needed just 85 pitches to get through seven innings, before handing the ball to the Toronto bullpen with a 3-2 lead. Sixty-five of those 85 pitches were strikes.
With a 10-5 record, a 3.34 ERA and 121 1/3 innings in his back pocket, Buehrle was asked if he might have sent a message to American League All-Star manager Ned Yost, who looked on from the Royals' dugout and has to cover his contingencies if a pitcher has to withdraw because of injury.
"I think my phone is going to be shut off from now until Tuesday night," Buehrle said. "I think there are guys who deserve to go over me. There are a couple of guys in the bullpen and a couple of starters who have better numbers than I do."
Buehrle gave up a run in the first and then worked around a jam in the second, when the Royals had runners at second and third with one out. Kansas City showed its respect for Buehrle by choosing to lay down sacrifice bunts in the first and second innings.
The humble Buehrle noted that the Royals didn't have normal right-handed-hitting starters Lorenzo Cain and Salvador Perez in the lineup on Saturday, as Yost chose to rest them in a day game that followed a night game.
"A lot of this game is luck -- and to have Cain and Perez out of the lineup, that's getting pretty lucky," Buehrle said. "It's no slap to [Drew] Butera or [Paulo] Orlando, but there were some situations that came up where it could have been those [regular starters] up there."
Edwin Encarnacion's two-run homer and an RBI single by Jose Reyes gave Buehrle a 3-1 lead, which the veteran made hold up until his heat-induced departure after seven innings.
"Buehrle is amazing," said third baseman Danny Valencia, who provided breathing room with a three-run homer in the ninth. "He's the ultimate professional."
Reyes echoed those sentiments.
"He's one of my favorite pitchers to play behind," Reyes said of Buehrle. "He keeps you in the game. He just gets the ball and works fast, so you're going to have a lot of ground balls. He has had an amazing career."
Robert Falkoff is a contributor to MLB.com. This story was not subject to the approval of Major League Baseball or its clubs.