Play Ball's Wiffle ball tourney gets All-Star treatment
CINCINNATI -- The bats may have been skinny and yellow, and balls were plastic with holes in them, but the games were under the lights in front of a crowd with cameras and an announcer. Most importantly, there were kids on the field enjoying themselves in an All-Star setting.
On Saturday at the Duke Energy Convention Center with the T-Mobile All-Star Fanfest as the backdrop, kids were playing the semifinals of the first Play Ball All-Star Wiffle Ball Tournament. With teams made up of local chapters from the Greater Cincinnati Boys & Girls Clubs, it's part of an eight-team single-elimination competition being held during All-Star Week.
"It's good. It's not all about winning. It's just about the game and getting to participate," Patience Miller, a 9-year-old girl from Newport, Ky., said from the bench between innings just before going back on the field.
Launched just last month, Play Ball is a new initiative of Major League Baseball and USA Baseball created to encourage participation in different forms of baseball for all ages, especially kids. It highlights that baseball can be played in non-traditional forms -- like stickball and Wiffle ball, skills competitions like "Pitch, Hit and Run," or simply playing catch.
All the kids in this tournament ranged from ages 9-12. As the Clem and Ann Buenger Boys & Girls Club faced the U.S. Bank Boys & Girls Club on Saturday morning, Justin Rogers was watching from just outside the fence. Rogers has been the health and physical education coordinator for the Greater Cincinnati Boys & Girls Clubs the past five years.
"It's a fun experience, especially here at this location with all the glitz and glamour," Rogers said. "They're on center stage and getting their names announced. It's an experience they don't usually get and a once-in-a-lifetime opportunity."
Several of the players have already had a fun-filled All-Star week. Many participated in the World's Largest Game of Catch on Thursday at the MLB Urban Youth Academy and a youth clinic for players on Wednesday.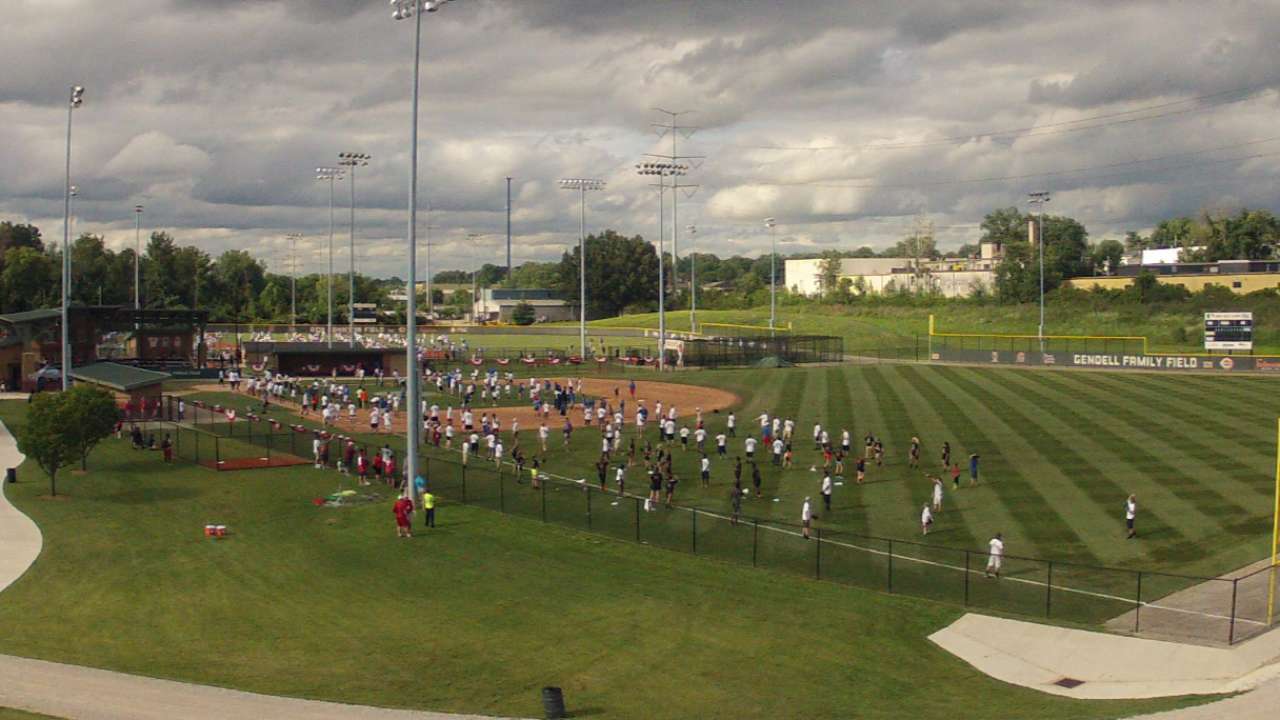 "The kids are having a blast," Rogers said. "We've been all over the city."
Cameron Kelly, a 9-year-old boy from the Avondale section of Cincinnati, was taking it all in.
"I like it. I like when somebody hits a home run and have to keep running to get to home plate," said Kelly, who will be a fourth-grader this fall.
All four teams that played on Saturday had advanced from the quarterfinals that were held on Friday at the Urban Youth Academy. Learning the ins and outs of Wiffle ball took some work for the kids.
"Hitting was the biggest adjustment," Rogers said. "You can make a Wiffle ball do some crazy things depending on how you throw. We've been practicing for about a month. They're actually putting on a good show."
The Clem and Ann Buenger team won the morning game, while Marge Schott Boys & Girls Club defeated the LeBlond Boys & Girls Club in the afternoon game. The two winners will meet in the Wiffle ball tournament finals, scheduled for 2 p.m. ET on Sunday at Great American Ball Park. The teams will receive special prizes, a meet and greet with a Reds legend and tickets to All-Star Sunday events.
"We do a variety of different sports throughout the year -- basketball, flag football, Tee-ball, but nothing on a stage quite like this," Rogers said. "With baseball, it's more difficult to get kids to play recently, but Wiffle ball has got them more interested. A couple of kids are talking about signing for baseball. It's good to see."
Mark Sheldon is a reporter for MLB.com. Read his blog, Mark My Word, follow him on Twitter @m_sheldon and Facebook and listen to his podcast. This story was not subject to the approval of Major League Baseball or its clubs.