McAllister now a key part of Indians' bullpen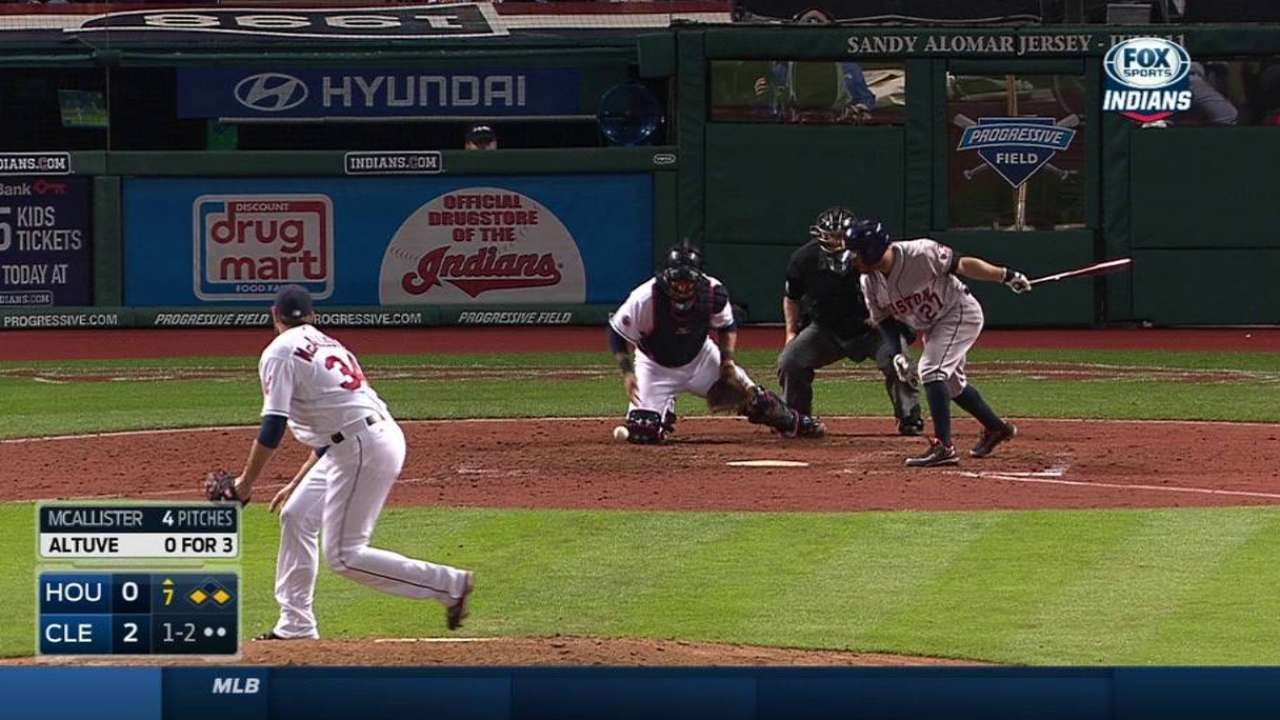 CLEVELAND -- Take a look around Major League Baseball in 2015, and many of the game's most dominant relief pitchers were starting pitchers once upon a time.
Kansas City's Wade Davis. Trevor Rosenthal in St. Louis. The dynamic one-two punch of Yankees relief aces Dellin Betances and Andrew Miller.
All share a common bond in that they came up through the Minor Leagues as starting pitchers before struggling, but ultimately finding a new home in the back end of Major League bullpens as dynamic relief weapons.
In what's something of a growing trend, the Indians may be able to add a name of their own to the list in Zach McAllister. While McAllister hasn't quite posted the same kind of the eye-popping numbers as Davis and Betances, he isn't far off.
Consider these figures: McAllister first appeared as a reliever last season, and has since thrown 51 1/3 innings out of the bullpen. In those innings, he's posted a 2.28 ERA, striking out nearly 11 batters per nine innings while limiting his walks to just 2.3 per nine. His strikeout to walk differential ranks 16th out of 188 relievers with more than 50 innings pitched, and his 2.03 FIP stands ninth, ahead of proven closers such as Craig Kimbrel and Greg Holland.
"That's how we envisioned it over the winter," Indians manager Terry Francona said. "I told Zach in Spring Training, 'You may very well have earned a spot here to start, but this is how valuable we think you can be.'"
It's nearly universal when a starter transitions to the bullpen that he gains a tick or two in velocity, and the same is true for McAllister. As a starter in 2013, his fastball averaged 92 mph. It now sits 96, topping out at 99. His cutter and curveball have both seen an increase since 2013 as well, but just by two ticks rather than four, creating a greater differential between his hard and offspeed pitches.
"His offspeed is stuff is playing up because of the velo," pitching coach Mickey Callaway said. "When he's throwing 96-to-98, that breaking ball becomes a major weapon."
There's also a residual effect as a result of McAllister's success, in that it's lessened the once-extreme workloads of closer Cody Allen and set-up man Bryan Shaw.
Allen appeared in a league-high 153 games from 2013-14, with Shaw not far behind at 150. Last season, Shaw threw on zero days' rest a league-high 27 times, with Allen making 23 such outings. Past the midway point this year, both are posting some of the best numbers of their careers while being used in a much more efficient fashion. Shaw has pitched consecutive nights just seven times and Allen nine, thanks largely to McAllister's 16 multi-inning relief outings -- tied for the second-most in baseball.
"You don't have to worry about the left/right split and when he's going good, he can continue," Francona said. "That's one of the main reasons why Shaw and Cody probably have a lesser workload, because of Zach. That's really, really good."
August Fagerstrom is an associate reporter for MLB.com. This story was not subject to the approval of Major League Baseball or its clubs.