He's bat man: Harvey's first HR is winner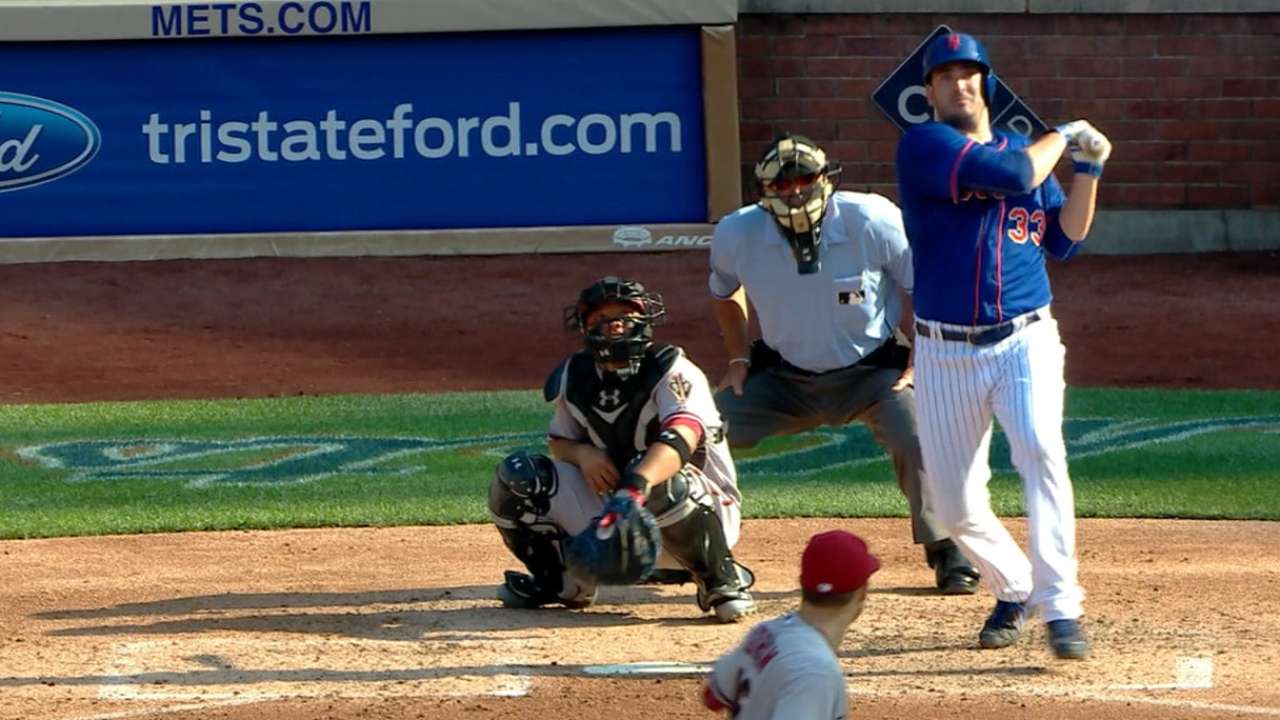 NEW YORK -- Matt Harvey felt left out.
The right-hander joined Noah Syndergaard as the second Mets pitcher to homer this season when his two-run shot -- the first homer of his career -- gave New York a one-run lead over Arizona in the bottom of the fifth inning Saturday in a game the Mets won, 4-2.
"The big thing going around now is that we can rake," Harvey said, referring to New York's pitching staff. "I wasn't doing my job very well. I think that might have helped the cause a little bit."
Mets pitchers rank second in the National League in hitting and first (by a mile) with 15 RBIs.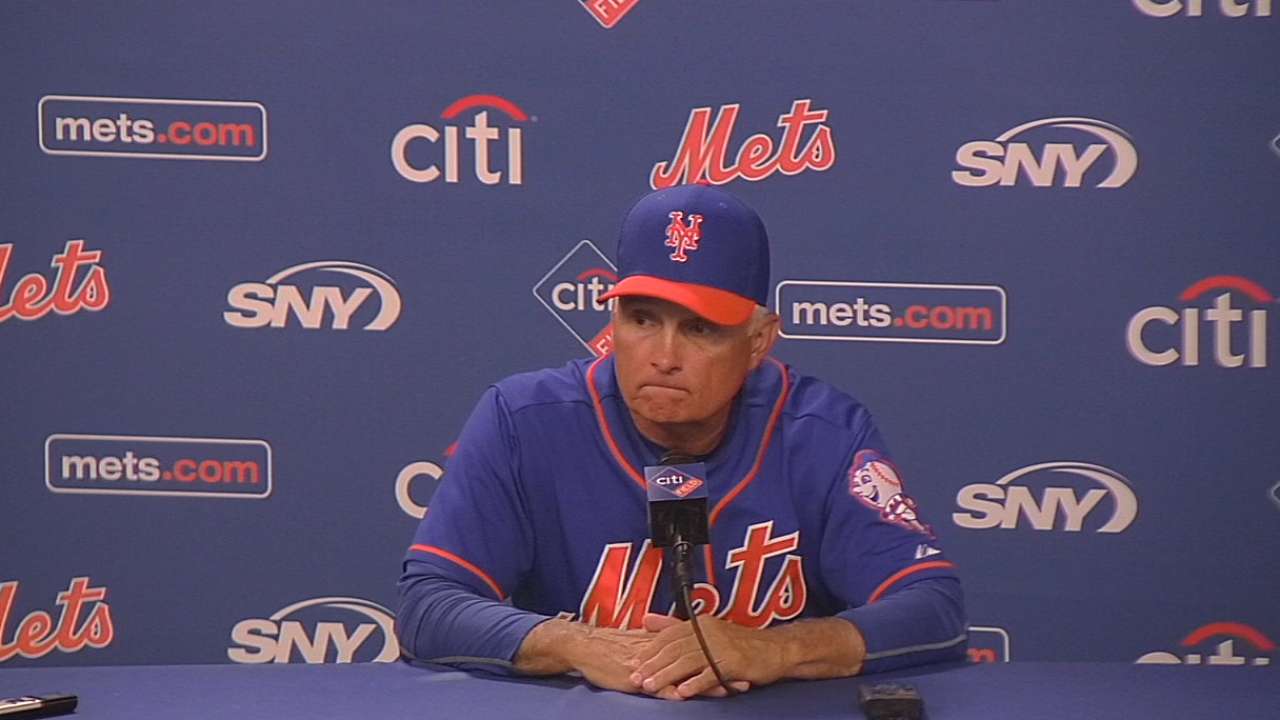 But Harvey hadn't been a part of much of that before he launched a first-pitch fastball from D-backs starter Patrick Corbin. Harvey's line-drive shot landed in a fan's glove just beyond the left-center-field wall. There was a crew chief review of one minute, 49 seconds for potential fan interference, but the call was confirmed.
That allowed the Citi Field faithful to continue chanting Harvey's name, just as they did as the righty returned to a dugout erupting with helmet slaps and two-handed high-fives.
The Mets were able to retrieve the baseball, which Harvey said he plans to give to his father.
"He's a hitting coach, so that probably made him pretty proud," said Harvey, who earned his eighth win. "I also gave him the ball from my first career win."
Harvey was one of the best hitters on the Mets' staff when he debuted in 2012. That's not the case anymore, as he's taken a considerable backseat to former position players Jacob deGrom and Syndergaard, who are exceptional with the stick. Even compared to Bartolo Colon, whose at-bats are widely viewed as entertainment-only, Harvey's .094 average entering Saturday didn't hold up (Colon is hitting .125; Harvey is now up to .118).
But having allowed an early two-run homer himself, Harvey approached the plate in the fifth trailing, 2-1, and determined to help erase the deficit. He told himself to swing at Corbin's first pitch -- probably a fastball -- no matter what.
The blast was the first by a Mets pitcher since Syndergaard homered May 27. It also triggered the first season since 1997 in which multiple Mets pitchers homered in the same year.
"Our pitchers have done a tremendous job swinging the bats," said Mets manager Terry Collins, who often bats them eighth in the order (though Harvey hit ninth on Saturday).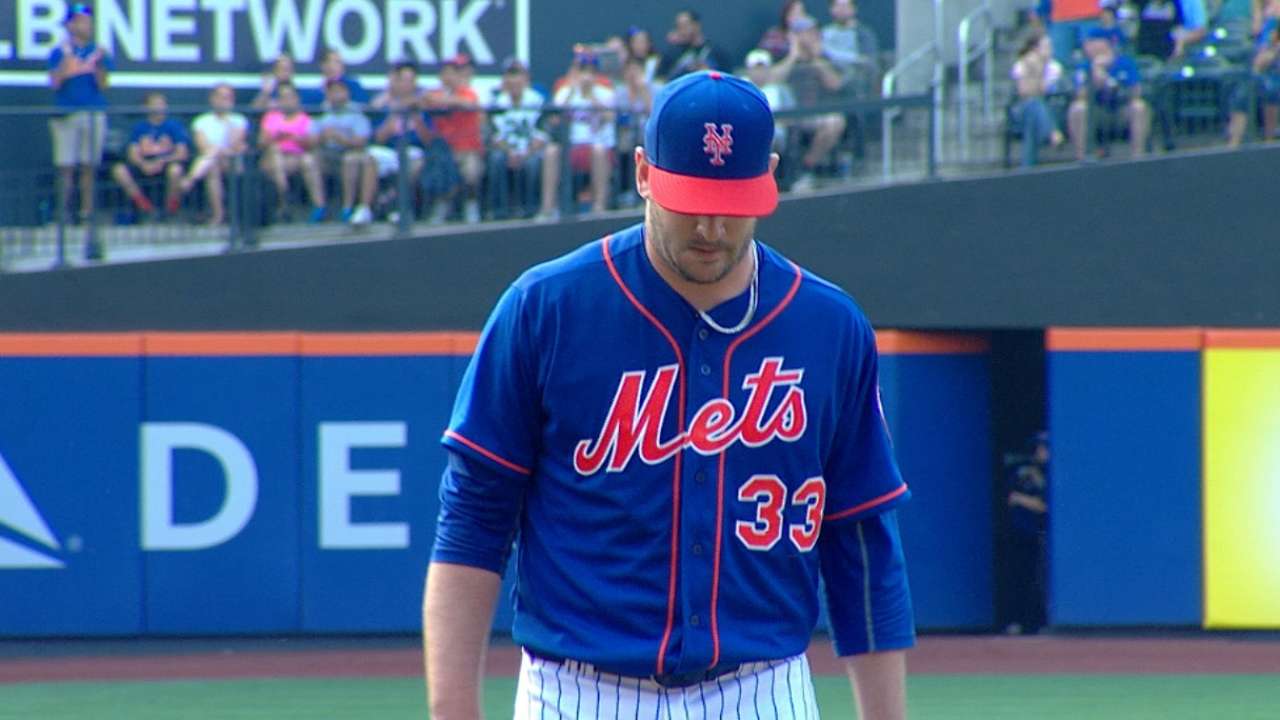 Harvey's homer eliminated the possibly that Saturday would be remembered as another day the righty struggled with his two recent kryptonites: walks and homers. It easily could have turned out that way. Despite his max-effort brilliance on the mound - nine strikeouts, five hits and just two earned runs over seven innings - Harvey did walk four. The only runs against him came on a home run, his 14th allowed in 17 starts.
He's walked nine in his last two starts, after just 17 in his first 15. Those statistics are all part of what Harvey (8-6, 3.07 ERA) called a first half he wants to "flush." The first 3 1/2 months of the season featured some of Harvey's best career starts and some of his worst, all while the righty readjusted after Tommy John surgery.
"There were ups and downs," Harvey said. "After the hot start, there were more ups and downs than I expected or ever wanted."
Joe Trezza is an associate reporter for MLB.com. This story was not subject to the approval of Major League Baseball or its clubs.