MLB.com Columnist
Marty Noble
Let's play 'What if' game at first base for Mets
Duda couldn't start double play. How about others in club history?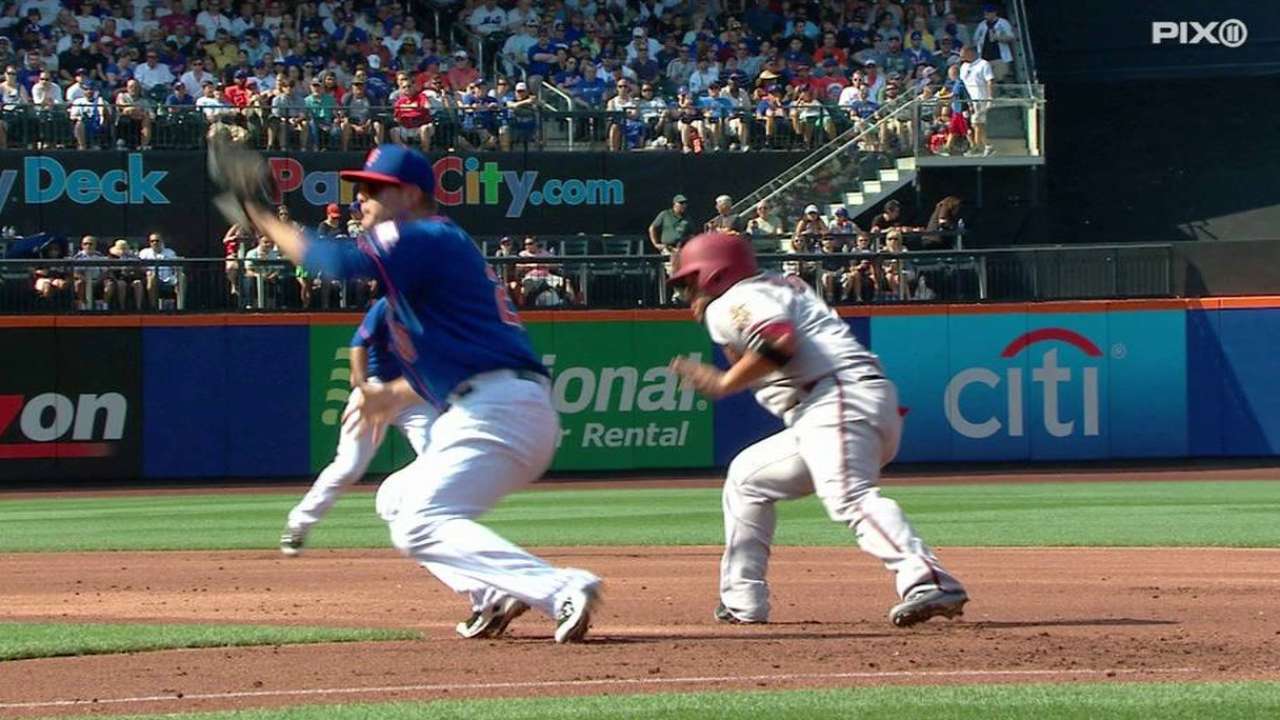 NEW YORK -- The fastball, a 95-mile-per-hour offering from Matt Harvey, was hit sharply to the right side. The D-backs already had a runner on first base, and, as the ball left Chris Owings' bat, they had a chance to have two on with none out in the second inning on Saturday.
Lucas Duda, who had held Welington Castillo close at first, quickly moved to his right as Harvey delivered, and then further to his right to handle Owings' ball.
But Duda was handcuffed, and the ball bounced away even farther. The Mets' left-handed first baseman scrambled, retrieved the ball, recognized a chance for a rare 3-1 double play and reached to tag Castillo.
However, there were two problems.
Duda reached with his glove, though the ball was in his left hand. And he missed the tag anyway. Quick reactions and an accurate throw to second achieved a force out, which was the likely outcome had Duda handled the ball cleanly at first.
A 3-6-3 double play would have required precise execution. And 3-6-1 double plays are challenging for most infields.
Duda did well to achieve one out. His play was a small factor in the Mets' 4-2 victory. But it did prompt this question in the Citi Field press box: How would other prominent Mets first basemen have handled identical circumstances?
Eigthty-one others appeared at first base in at least 10 games for the Mets. What follows are 37 answers in something resembling chronological order until the end.
Presenting, 'Ifs at first':
Gil Hodges: He was as sure-handed as he was right-handed. He would have made the play. But Elio Chacon was the Mets' shortstop when Hodges played for the 1962 Mets. They get the 3-6 and no more.
Marv Throneberry: Chacon never gets to touch the ball. Neiher does the Marvelous one. First and second, none out, three-run home run pending.
Ed Kranepool: If Roy McMillan or Buddy Harrelson was the shortstop, and the pitcher covered first properly, the double play would be completed. If Tom Seaver, Jerry Koosman, Nolan Ryan or Jon Matlack had been pitching, the question is moot regardless of the pitcher. Owings would have struck out.
Dick Stuart: The play ends with Owings on third and Castillo in the dugout, having scored on the throwing error by Dr. Strangeglove -- if he even handled the ball cleanly in the first place.
Ron Swoboda: He'd get the force . . . maybe.
Cleon Jones: Yes, he played first base. But he was better equipped to play left. He probably would have handled the ball and tried to get Owings at first base.
Donn Clendenon: Maybe a 3-6. But if it were 1969, he would have compensated for any defensive misplay with a three-run home run.
Willie Mays: He played 27 games at first base for the Mets in 1972 and '73. At 41 and 42, he would have achieved an out, even if it meant he had to chase Castillo to second.
Mike Jorgensen: A neatly executed 3-6-3. Jorgy could play the position.
John Milner: If he had been in the lineup -- a daily question with the Hammer -- he probably would have made the proper play. A chance for two existed.
Dave Kingman: See Dick Stuart.
Joe Torre: He was better suited to hit into double plays, but a 3-6-1 could have happened if Harrelson were playing short and Cardinals-taught Ray Sadecki was covering.
John Stearns: The Bad Dude played 50 games at first. No question, he would have sacked Castillo for a big loss and shoved Owings out of bounds.
Bobby Valentine: He would have made the play and continued re-inventing first base defense thereafter.
Willie Montanez: He would have made the play, 3-6-3 or 3-6-1, with no problem and with plenty of pizzaz.
Lee Mazzilli: Maz, an ambidextrous switch-hitter, might have made the play, throwing left-handed.
Rusty Staub: A 3-6, probably. Manager Torre on Staub, the first baseman: "As a first baseman, Rusty's a great hitter."
Keith Hernandez: One out was a lock; he would have made the play routinely. A 3-6-3 certainly would be possible. If Roger McDowell was the pitcher, a 3-6-1 was likely. Had Sid Fernandez been the pitcher and Hernandez couldn't get back, Raffy Santana would have put the ball in his pocket.
Gary Carter: Kid tried, and he had infield experience. A 3-6.
Dave Magadan: A 3-6 would be likely. If Kevin Elster were the shortstop and McDowell were covering, a 3-6-1 was possible.
Kelvin Torve: No one would have noticed whether or not he made the play. All they would have wanted to know is "Why's that guy wearing Willie's 24?"
Eddie Murray: A 3-6 would have been more than likely. A 3-6-1 was a maybe. But as a Met, Murray didn't always put his foot on the bag. A 3-6-3 might have been a challenge.
Rico Brogna: See Jorgensen. So smooth.
David Segui: See Brogna. UItra smooth.
Bobby Bonilla: He seldom wandered far from the sack. Base hit.
Butch Huskey: He had some Clendenon in him. A 3-6 is the best you could expect.
John Olerud: Good hands, great arm. He would have made the perfect throw, Rey Ordonez would have completed the double play and prompted 'ooooo's and ahs'.
Doug Mientkiewicz: He had a good glove and would have had 15 excuses if he hadn't made the play.
Todd Zeile: The 3-6 would have occurred. More than that? Only occasionally.
Jorge Toca: Sorry Omar. No chance. Base hit.
Mo Vaughn: He could play the position until his knees said "No mas." A 3-6 for sure. Maybe more.
Jason Phillips: He lumbered to his left and to his right. Base hit.
Carlos Delgado: He would have watched the base hit, arms folded on his chest.
Daniel Murphy : He would have done his best. The best result possible -- a 3-6.
Ike Davis : He was great at the dugout fence and pretty talented around first. With Jose Reyes' arm at shorstop, they get two.
Justin Turner : An infield nomad who made plays at all positions with the Mets. He gets the out at second in this scenario. (And, maybe, had he been re-signed, he'd be a 2015 regular, based on his hitting.).
Mike Piazza: If he could have reached the ball, he would have gone to his knees to block it. See Staub for comparison and give Owings an untouched base hit.
Note: Gregg Jefferies never played first base with the Mets or shortstop in the big leagues. Thank goodness.
Marty Noble is a reporter for MLB.com. This story was not subject to the approval of Major League Baseball or its clubs.