Latos dealing with bruised toes after fluke accident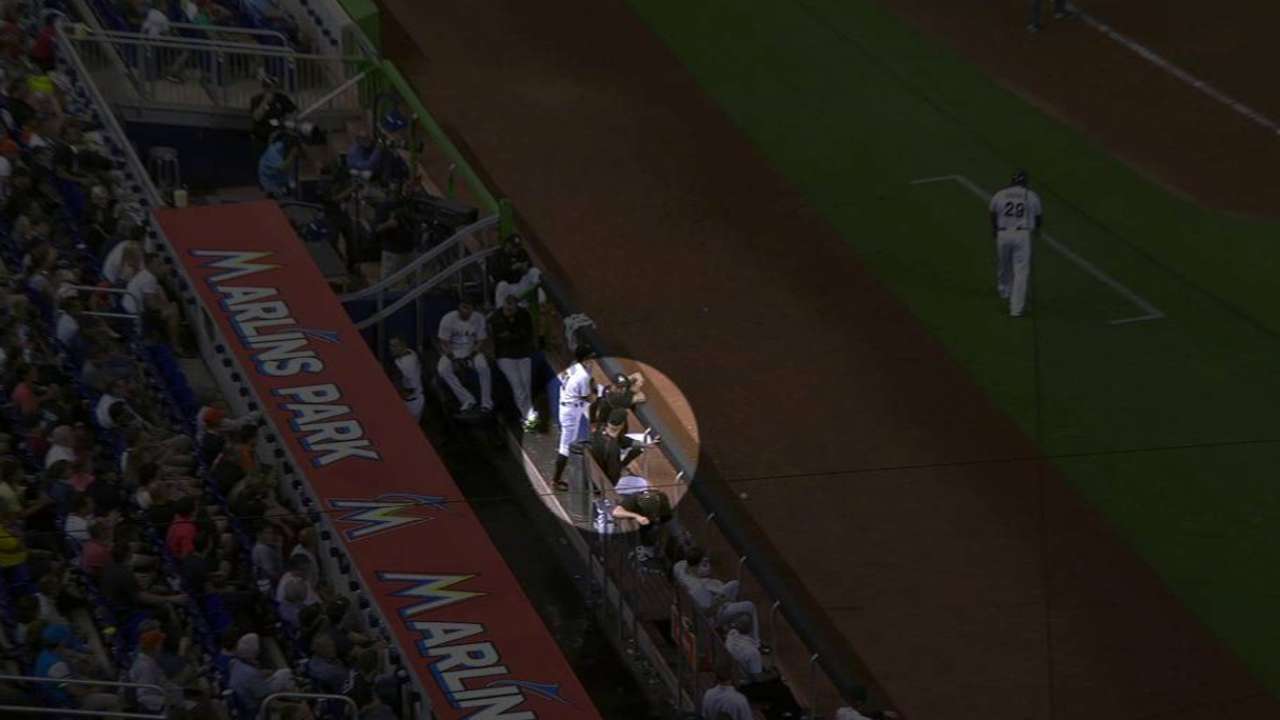 MIAMI -- None of Mat Latos' right toes are broken, but the Marlins right-hander did receive a tough break when his right foot was clipped by a foul ball on Thursday night.
The incident resulted in two bruised toes, which prompted Miami to scratch Latos from facing the Reds on Saturday at Marlins Park. Left-hander Adam Conley, called up from Triple-A New Orleans, made the emergency start.
"It hurts to walk," Latos said. "They're swollen. There's nothing I can do."
The Marlins are hopeful Latos will be ready to rejoin the rotation after the All-Star break. An X-ray was taken, and it came back negative.
"Nothing is broken, so it's nothing serious," Latos said. "It's just a matter of letting the swelling go down. It has today, but not enough. I can't walk normally and get the flexion in my toes. If I can't walk, I can't pitch.
"It takes a lot for me not to be able to pitch in a ballgame. This is one thing that really [stinks]."
Latos was injured in a fluky way. He was sitting on the top step in the dugout on Thursday, with his feet resting beneath the protective netting. Christian Yelich whistled a foul ball that struck Latos' foot.
"It's actually kind of comical when you look at it," Latos said. "I'm in the dugout watching a ballgame and I get hit with a line drive on my toes. What else can I do other than stay in here or wrap myself in bubble wrap and sit in the dugout?"
Latos bruised the third and fourth toes on his foot.
"I think he's just tender," manager Dan Jennings said. "Yeli hit the ball pretty well -- got him right off the foot. Why take the risk of a guy hurting his arm? If he's got a bad foot, he alters his delivery and potentially hurts himself. It's not worth that."
Latos, 3-6 with a 4.90 ERA in 14 starts this season, is maintaining a sense of humor over the freak injury.
"I got hit in the toes," Latos said. "It sounds stupid just to say it, but it is what it is."
Joe Frisaro is a reporter for MLB.com. He writes a blog, called The Fish Pond. Follow him on Twitter @JoeFrisaro and listen to his podcast. This story was not subject to the approval of Major League Baseball or its clubs.