Springer not one to sit out
Outfielder isn't rushing healing process, but eager to get back on field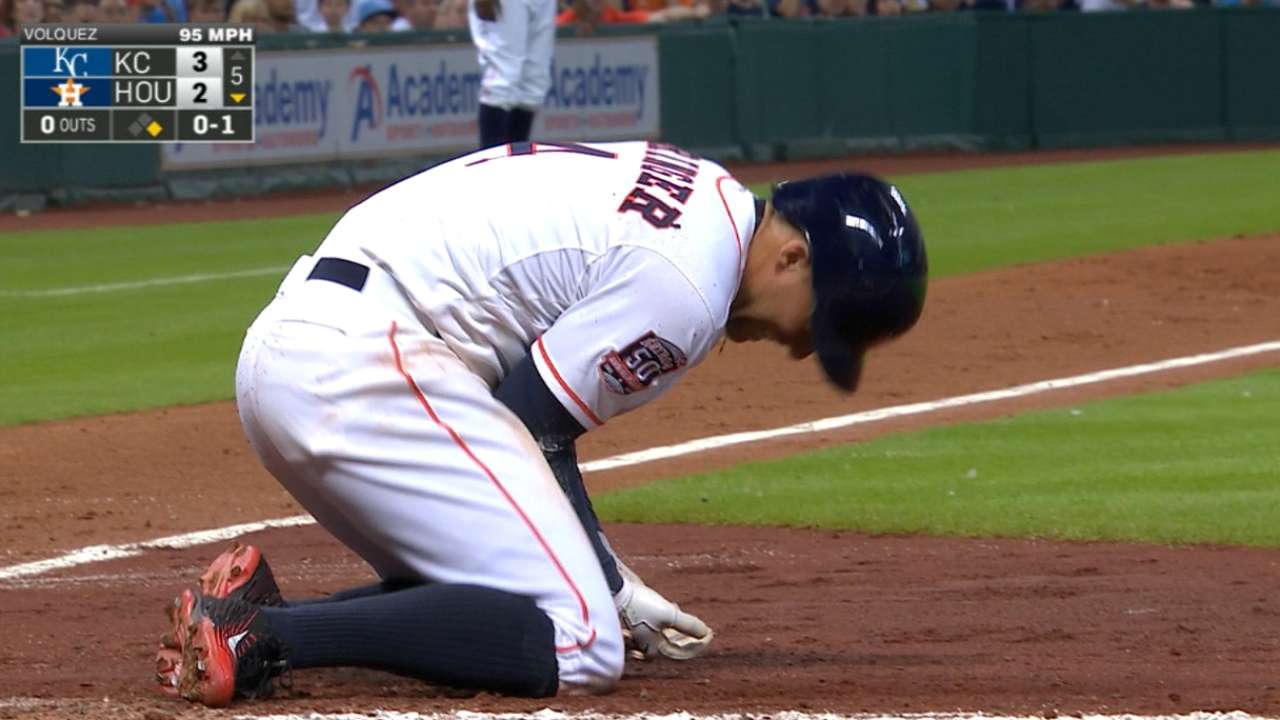 ST. PETERSBURG -- Astros outfielder George Springer spent most of the second half of last season watching from the dugout while he nursed a left quad strain, and he ended up not playing the final two months. Springer is expected to return for the stretch drive this year after fracturing his right wrist 10 days ago, but having to watch isn't in his nature.
Springer expects to have his wrist evaluated over the All-Star break, which would be the two-week mark since he was struck by a pitch and fractured the wrist July 1. He's wearing a protective brace on the wrist and hasn't been able to do any activities except cheer on his teammates.
"I've been in this stupid thing for a week or something like that," Springer said. "I want to put it in the trash and go play. I understand I have to be patient and kind of let it heal."
Springer is expected to be out another four weeks at least, and the Astros have struggled without him. They entered Saturday 2-6 in the days since he was injured, and they have struggled to score runs during a four-game losing streak they carried into Saturday. Springer was hitting .264 with a .365 on-base percentage, 13 homers, 29 RBIs and 14 steals in 75 games.
"We're not a compete team without the guys we expected to be here at this point with George and Jed [Lowrie] and [Scott] Feldman," manager A.J. Hinch said. "Those are tough losses. When we went through this earlier in the season with George in the lineup, he was actually swinging the bat pretty well when we had a tough stretch through Toronto and Chicago.
"There's no doubt he's a catalyst on this team, but he's not here and he's not going to be. There's a mental thought process we need to have as a team to overcome it. We miss the caliber of player that George is, but that doesn't mean the people that are replacing him or the people that are getting more playing time don't have the ability to contribute the way George was."
Springer said he's going to unwind and relax in Houston during the break, because there's not much else he can do at this point.
"Last year was hard, but I tried everything I could to push through it, to go and play," Springer said. "I understand this isn't anything I can rush or hurry up, because the goal is to get back as fast as I can. I need to let this do what it has to do to heal and get back out there."
Brian McTaggart is a reporter for MLB.com and writes an MLBlog, Tag's Lines. Follow @brianmctaggart on Twitter and listen to his podcast. This story was not subject to the approval of Major League Baseball or its clubs.