Braves reveal post-All-Star break rotation plans
Miller to get extra rest, Perez set for more rehab starts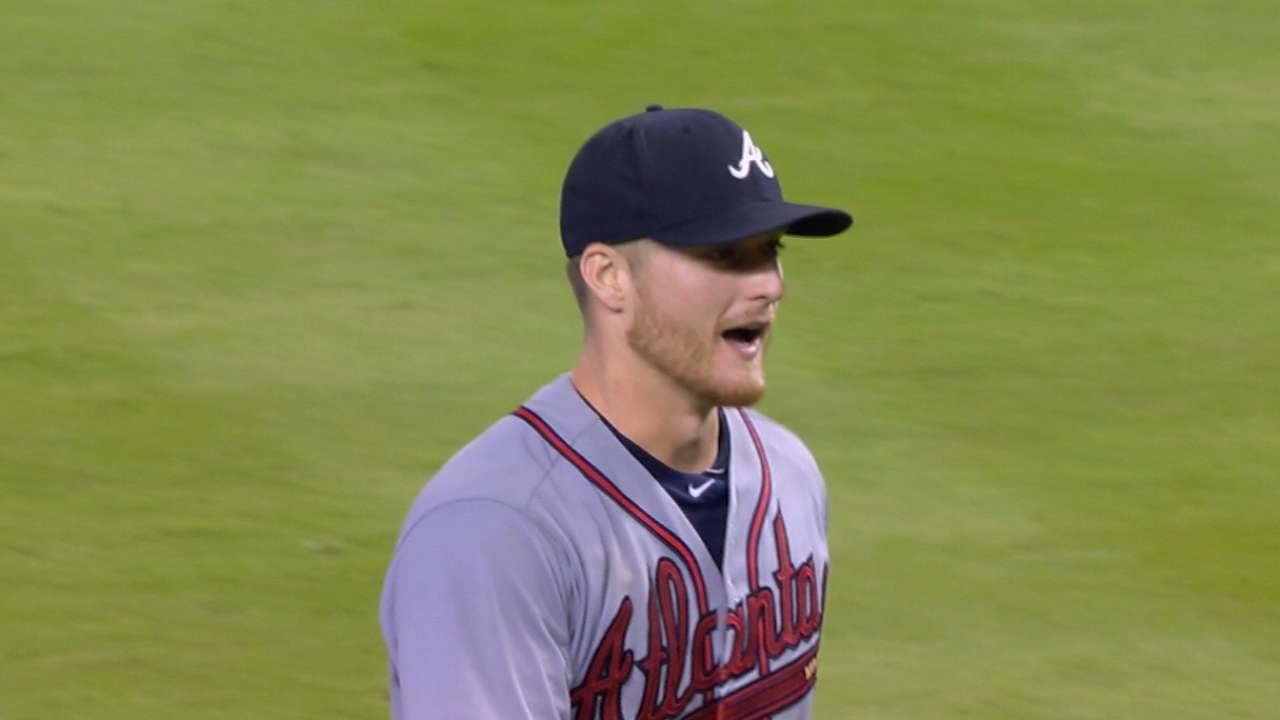 DENVER -- Shelby Miller will receive a couple of extra days to rest, Manny Banuelos will make at least one more start and Williams Perez will make a couple of rehab starts before coming off the disabled list.
Braves manager Fredi Gonzalez revealed these three tidbits on Saturday afternoon, while revealing his rotation plans coming out of the All-Star break.
The Braves have received clear indication that Miller will be scheduled to complete at least one inning during Tuesday night's All-Star Game. Thus, the right-hander will not make his first start after the break until next Sunday's game against the Cubs.
Gonzalez plans to use Julio Teheran (Friday), Banuelos (Saturday) and Miller as his starting pitchers during next weekend's series against the Cubs. Matt Wisler will start the July 20 series opener against the Dodgers and Alex Wood will take the mound the following day.
The Braves want to give Wood a couple of extra days, given he will start the final game before the All-Star break.
Perez posted a 2.27 ERA in eight starts before he was placed on the disabled list with a bruised left foot suffered on June 26 at Pittsburgh. Gonzalez said the rookie right-hander will make at least two rehab starts before being activated.
The Braves have not decided whether Perez will definitely return to the rotation. But there should soon be a spot available because Banuelos is nearing the innings limit that was necessitated because of the fact he threw just 76 1/3 innings while returning from Tommy John surgery last year.
Banuelos has combined to complete 94 2/3 innings between Triple-A Gwinnett and Atlanta this year. There is a chance he could spend the season's final two months in Atlanta's bullpen. But the Braves are not expected to have him total much more than 130 innings this year.
While the Braves still seem intent on allowing Mike Foltynewicz to serve as a starting pitcher after the break, there is a chance they will have him fill this role with Gwinnett. But Foltynewicz will likely remain in Atlanta's bullpen at least until Andrew McKirahan returns. McKirahan will be eligible to return from his 80-game performance-enhancing drug suspension on July 20. Because the rookie left-hander was selected in December's Rule 5 Draft, the Braves will have to immediately place him on their Major League roster or offer him back to the Cubs for $25,000.
Mark Bowman is a reporter for MLB.com. Listen to his podcast. This story was not subject to the approval of Major League Baseball or its clubs.