MLB.com Columnist
Jonathan Mayo
Futures Game will feature Minors' best tools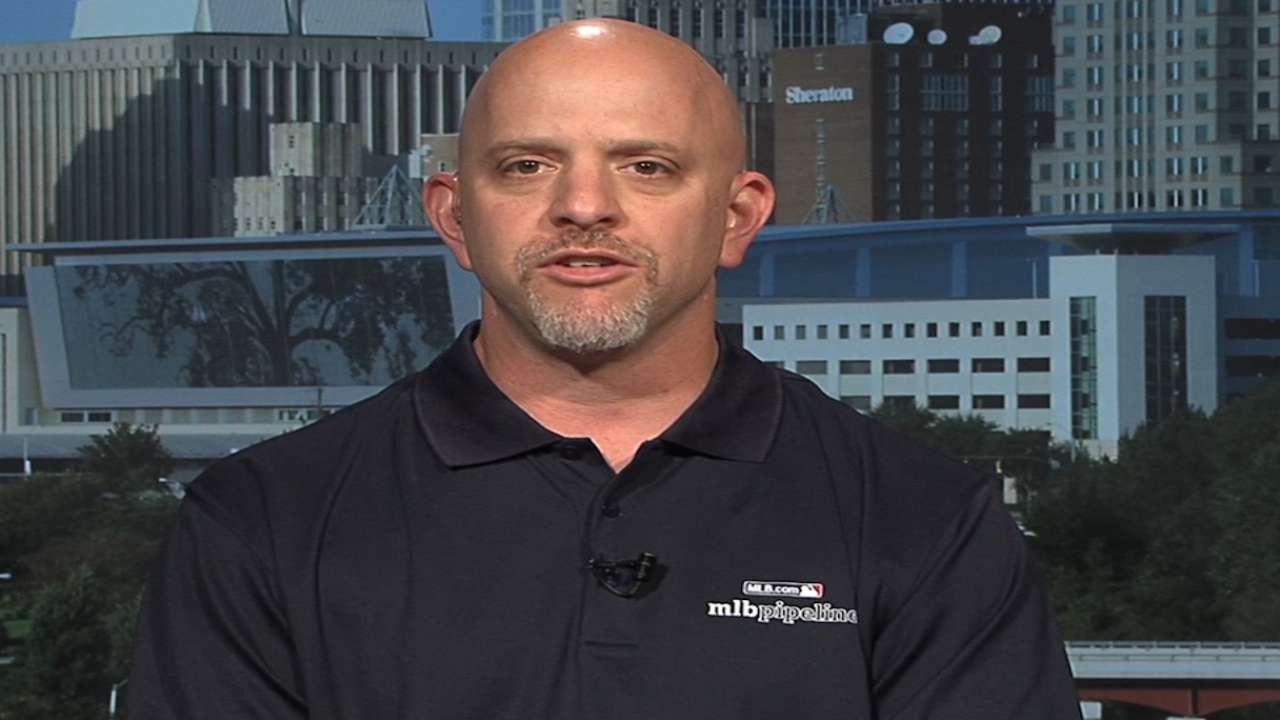 CINCINNATI -- Since its inception in 1999, the SiriusXM All-Star Futures Game has given fans a glimpse of what's coming next in Major League Baseball. From last year's rosters, 18 players have already played in the big leagues.
Kris Bryant went from 2014 Futures Gamer to 2015 big league All-Star, a not uncommon stepping stone. More than 120 former Futures Gamers have gone on to appear in at least one Major League All-Star Game. Thirty of this year's All-Stars are alumni of the Futures Game.
All of this information points to one simple conclusion: It's best to tune into this year's version of the Futures Game to find out what lies ahead. The 17th annual Futures Game takes place Sunday at 3 p.m. ET on All-Star Sunday at Great American Ball Park in Cincinnati, and it can be seen live on MLB Network and MLB.com and can be followed live on MLB.com's Gameday. In addition, SiriiusXM Radio will broadcast play-by-play coverage of the event live on MLB Network Radio (XM channel 89; Sirius channel 209). MLB.com will also provide complete coverage before, during and after the game. Fans can stay updated by following @MLBPipeline on Twitter and can send/receive tweets to/from the U.S. and World Team dugouts during the game by tagging tweets with the hashtags #USDugout and #WorldDugout.
Evaluating young talent, of course, is all about the tools, and they will be plentiful on Sunday. As a primer, here is a breakdown of the top tools that will be on display at Great American Ball Park (grades on the 20-80 scouting scale in parentheses).
Hit
U.S.: Josh Bell, 1B, Pirates (60). The switch-hitter comes to the Futures Game with a .312/.380/.431 line in Double-A, and he is now hitting .302 with a .364 on-base percentage in his career.
World: Manuel Margot, OF, Red Sox (60). Just 20 years old, Margot is hitting .281/.330/.415 with an advanced enough approach to have been bumped to Double-A this season after just 46 games in the Carolina League.
Power
U.S.: Kyle Schwarber, C, Cubs (65). There are others with similar raw power, but Schwarber's excellent hit tool allows him to tap into his power as consistently as anyone in this game, as his .613 slugging percentage in his brief Minor League career attests.
World: Nomar Mazara, OF, Rangers (65). Just 20 years old and in Double-A, Mazara has double-digit home runs already in the Texas League a year after he hit 22 homers and 28 doubles as a teenager in 2014.
Speed
U.S.: Trea Turner, SS, Nationals (75). The 2014 first-rounder has played 153 professional games. He's stolen 40 bases in that time, and it is the kind of total we can expect from Turner in the future.
World: Ozzie Albies, SS, Braves (70). The Curacao native is just 18 and has already swiped 25 bags this year in his full-season debut, giving him 47 steals in just 137 professional games.
Arm
U.S.: Aaron Judge, OF, Yankees (60). The 6-foot-7 outfielder fits the profile of the prototypical corner outfielder, from his offensive power profile to his hose in right field.
World: Raul Adalberto Mondesi, SS, Royals (60). He inherited his strong arm from his dad, but rather than use it in an outfield corner, he shows he can make all the throws from short.
Field
U.S.: J.P. Crawford, SS, Phillies (65). With great hands, outstanding range, good instincts and a strong arm, Crawford is the best defensive shortstop prospect still in the Minors.
World: Orlando Arcia, SS, Brewers (60). The World Team has several very solid defensive shortstops, with Arcia having as good -- if not better -- range, hands and arm as any of them.
Fastball
U.S.: Lucas Giolito, Nationals (80). With all of the velocity that will be on display, Giolito has the only 80 fastball, an upper-90s (you might see triple digits) heater that stands out even more because of his abilty to command it.
World: Frankie Montas, White Sox (70). Montas has touched triple digits and could do so again on Sunday in his short stint, with many feeling he might belong in the bullpen long-term.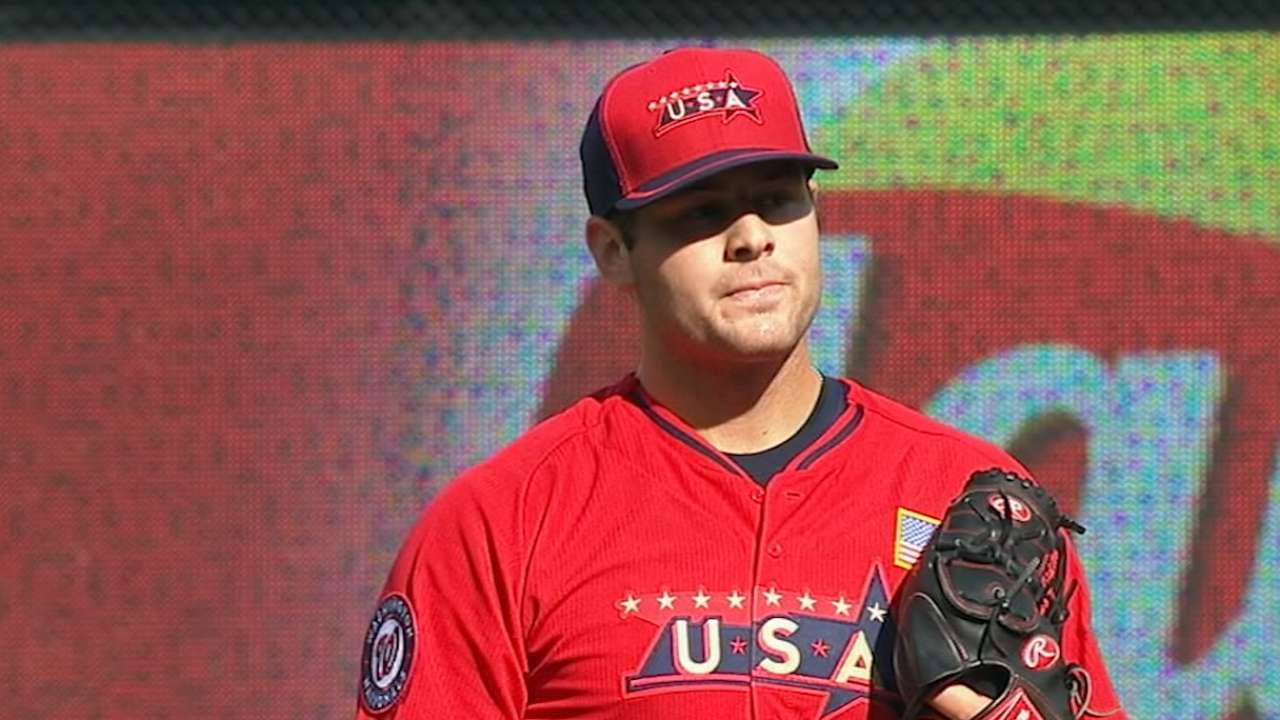 Curve
U.S.: Giolito (70). That's right, the guy with the 80 fastball also has a plus curve. No wonder he's the game's top pitching prospect.
World: Jose Berrios, Twins (55). The scary thing is that Berrios's breaking ball, a hard slurvy-type curve that he can vary the velocity on to give different looks, is his third-best pitch.
Slider
U.S.: Mark Appel, Astros (65). The former No. 1 overall pick is still learning to use his outstanding overall stuff consistently. His slider can elicit a lot of swings and misses when he's on his game.
World: Montas (60). Seeing Montas as a future closer isn't tough if the starting thing doesn't work out. He has a plus fastball and a nasty slider that touches the upper-80s.
Changeup
U.S.: Zach Davies, Orioles (65). Davies might have the best changeup in all of the Minor Leagues, and given that his other stuff is average across the board, it stands out even more.
World: Berrios (55). The future Twins starter throws his changeup with a ton of sink and plenty of deception, giving him a very effective pitch against left-handed hitters.
Control
U.S.: Aaron Nola, Phillies (60). In his one year of pro ball, spanning 29 outings, the 2014 first-rounder has a 1.4 BB/9 ratio, walking just 26 in 161 2/3 innings.
World: Jarlin Garcia, Marlins (55). Garcia is still more control over command, with more room for improvement within the strike zone. Still, he's walked just 2.1 per nine in his career in the Minors.
Jonathan Mayo is a reporter for MLBPipeline.com and writes a blog, B3. Follow @JonathanMayo on Twitter. This story was not subject to the approval of Major League Baseball or its clubs.