'Nasty Boys' get Color Run started in Cincy
Myers, Dibble and Charlton team up again, 25 years after World Series title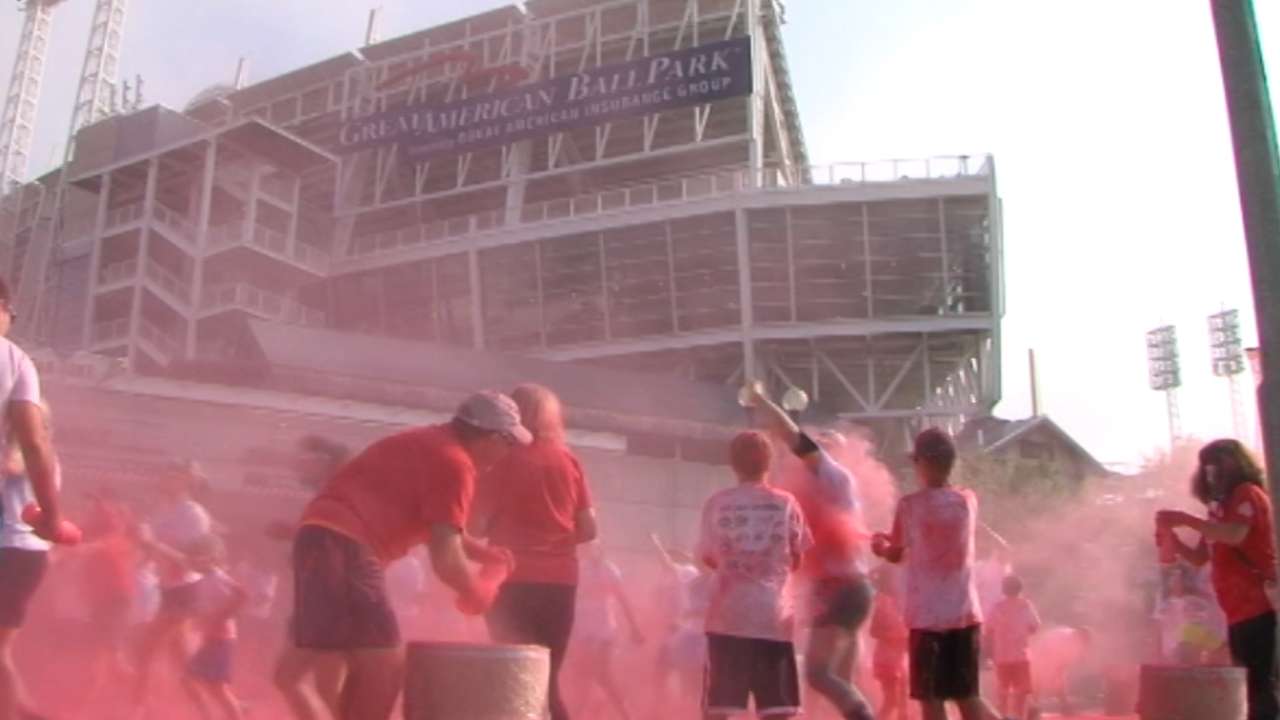 CINCINNATI -- Do you remember the time Norm Charlton bowled over Dodgers catcher Mike Scioscia to get back for an injury to teammate Eric Davis the night before? Or the time Rob Dibble threw a ball from the mound over the center-field wall and hit a first-grade teacher before signing pictures for each of her students? Or the time Randy Myers tased Reds manager Lou Piniella just for fun?
Do you remember the time Charlton, Dibble and Myers invented the modern Major League Baseball bullpen, featuring three guys who could each throw 95 mph and virtually assured that "this one belongs to the Reds"? Do you remember how it felt when "The Nasty Boys" brought the spirit and intimidation of Cincinnati baseball to Riverfront Stadium as the Reds swept the heavily-favored A's in the 1990 World Series?
If you didn't, then you probably have been told the stories in these parts -- especially if you were one of the 15,000 participants in The Color Run MLB All-Star 5K Presented by Nike on Saturday morning at Sawyer Point Park. The highlight of this year's annual run, an official All-Star Week event, was not just being blasted with blues and magentas, but also the thought of "red" and the chance to pose for countless pictures with -- and cheer wildly for -- one of the most famous trios in the history of MLB's original franchise.
• Color Run MLB All-Star 5K photo gallery
"We try to separate it as much as we can, but people won't let us grow apart," Dibble said, standing in the middle of The Nasty Boys, each wearing his 1990 World Series ring. "We're like Siamese triplets."
The Nasty Boys helped start participants on an idyllic morning, appearing along with MLB Chief Operating Officer Tony Petitti, Reds COO Phil Castellini and a slew of MLB mascots. MLB contributed funds to the Boys & Girls Clubs of America and the Reds Community Fund. The Color Run also is making a donation to its official charity, the Tri-State Bleeding Disorder Fund.
"It's a pretty neat deal for Cincinnati," Charlton said. "It's been a big year for them -- 25th-year reunion of our '90 team winning it. The Opening Day parade was something we got to see for the first time. You saw the excitement that really happens in Cincinnati. What a great turnout this is."
"It's the oldest team in baseball," Dibble said. "The tradition started in Cincinnati, so this is where the All-Star Game should be every year."
"I kind of like it," Myers added. "These are the kinds of things, like the Fun Run, that we never saw as players, because we're always on the other side of the field. That's one of the things that make it exciting to come back -- being able to see the fans and not just the turf on the side of the field, but this side, which is great."
They mostly spoke in order of how they usually would enter a game, depending on the situation and Piniella's mindset that day or night: Charlton in the seventh, Dibble in the eighth and Myers in the ninth. The sheer ability to customize their matchups from game to game is what made them unbeatable.
"The nice thing about it is, we were the first actual bullpen where each guy was throwing over 95 and being able to actually shorten games to six innings," Myers said.
"Now that's the formula around Major League Baseball -- a great bullpen will go backwards," Dibble said. "It used to be different. We were just there for emergency. Now you got eight guys in the bullpen, so it's changed the game. ... if you don't throw 95 now, you're back in some little city."
"We're very proud of being the first guys with three closers in our bullpen to shape things in that manner," added Charlton, the three-major grad from Rice who they called "The Genius" in the bullpen because, "I was the only sane one."
Yeah, they were crazy. They were wild. They caused a lot of brawls. And they won games.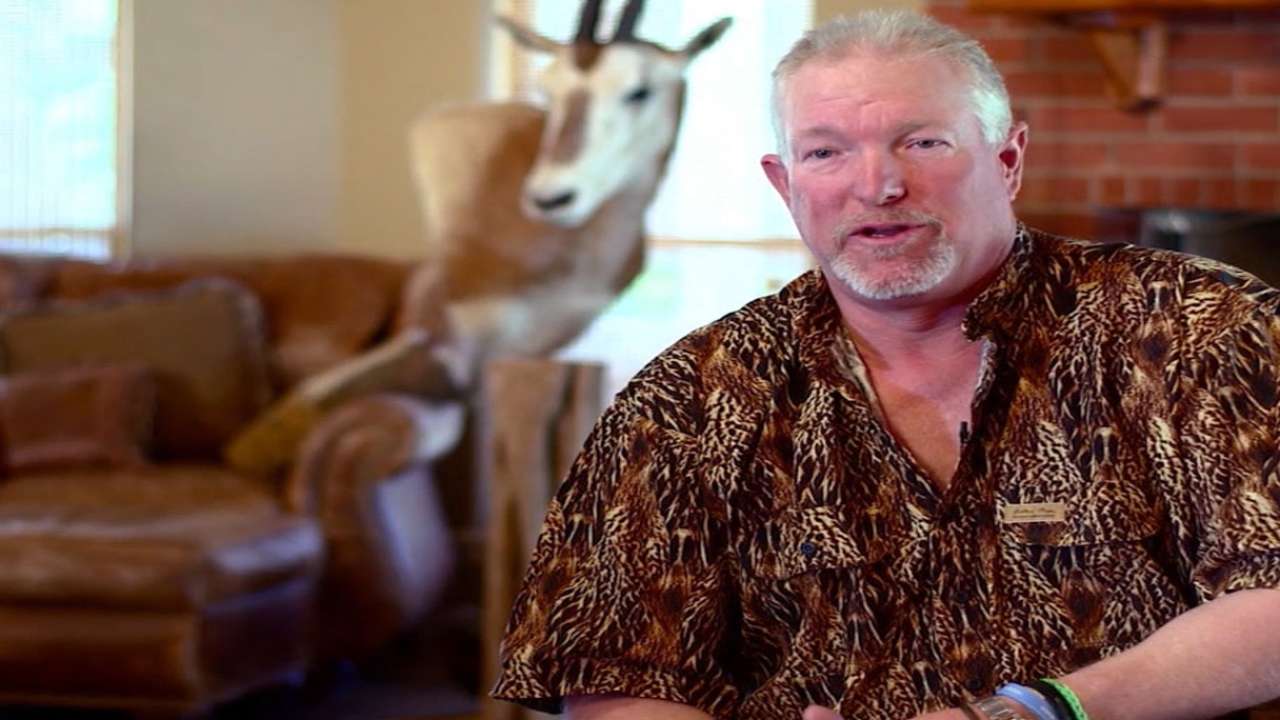 Now, all those memories come flooding back, like so many white-shirted runners who prepared to be hit with colors out on the course. Dibble still wanted to hit someone.
"I'm just upset we don't get to throw stuff on people," Dibble said. "We're not going to run the race, because we are going over to FanFest after this."
It should also be noted that the three former relievers were not only cornerstones on a World Series championship team, but there were also All-Stars in their own right. Myers was an All-Star in 1990, '94-95 and '97, Dibble in '90-91, and Charlton in '92.
"It was awesome for me," Charlton said. "Randy went to another team, and then Dibs got hurt in Spring Training and gave me a chance to finally close some games. For me, the All-Star Game was like my first day in the big leagues. I got to walk into that locker room with the rest of those All-Stars and thought, 'Do I really belong here? Yeah, I guess I do.'"
They belonged here, in this All-Star Week.
"You still see how much people in Cincinnati love that team and love those guys," Petitti said. "The Color Run is a great way to bring so many people together who may not get a chance to go the game, but they have a chance to really feel like a part of All-Star Weekend, which is a really great thing."
Mark Newman is enterprise editor of MLB.com. Read and join other baseball fans on his MLB.com community blog. This story was not subject to the approval of Major League Baseball or its clubs.