Giants pile up hits, runs against Philly
Pence slugs grand slam in eight-run fourth; Maxwell, Duffy, Panik notch four hits each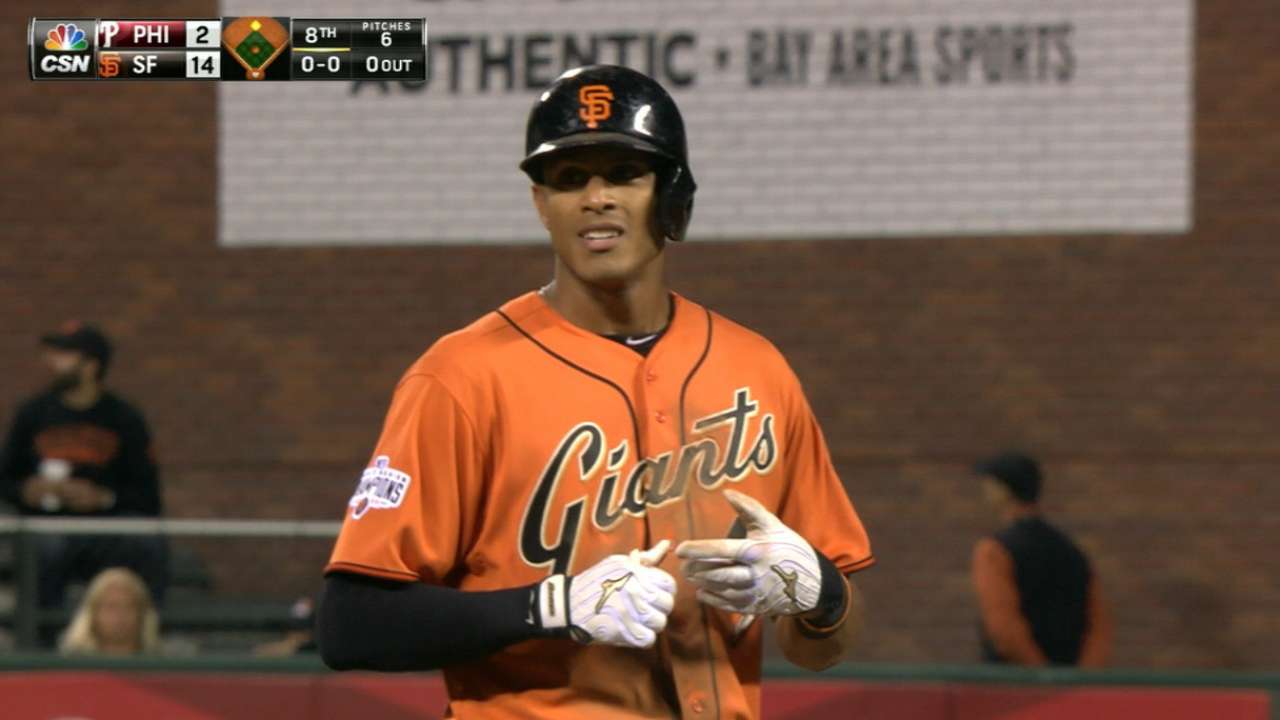 SAN FRANCISCO -- Asked what the Giants might do for an encore after Friday night's 15-2 victory over the Philadelphia Phillies that included many standard-setting and record-breaking performances, Angel Pagan said, "We go back to the gym and get ready for the next game."
Hunter Pence, whose grand slam fueled an eight-run, fourth-inning outburst, was among the Giants who celebrated their lopsided triumph with a little weightlifting. So did Justin Maxwell, who went 4-for-4 and scored three runs.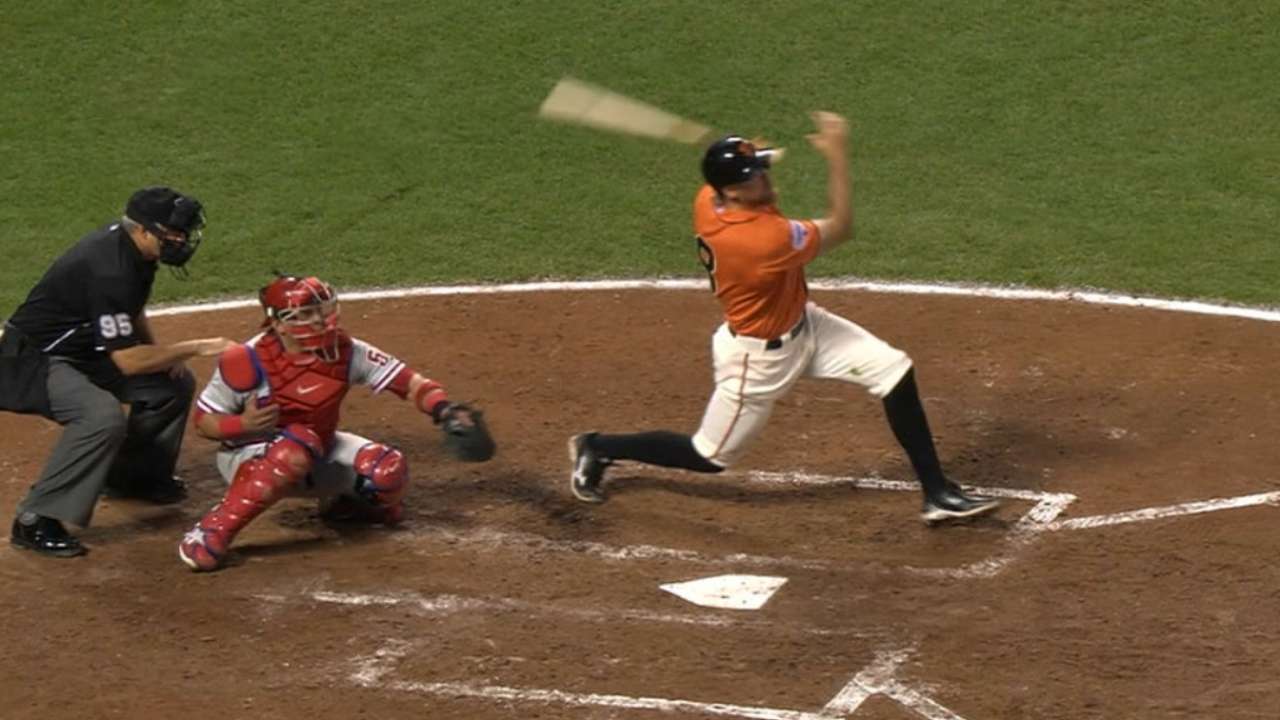 Obviously, the Giants weren't about to lapse into satisfaction. Not after mustering 13 runs in their previous seven games. But they did derive considerable confidence after establishing season highs in runs and hits (22). The latter total was the highest by the Giants in AT&T Park history, as well as the most the club has accumulated in a nine-inning home game since the franchise moved to San Francisco in 1958.
"That just goes to show, up and down the lineup, the focus was there and the effort was there," said Giants second baseman Joe Panik, who joined the four-hit contingent along with Maxwell and Matt Duffy. "We know that we're capable of doing big things."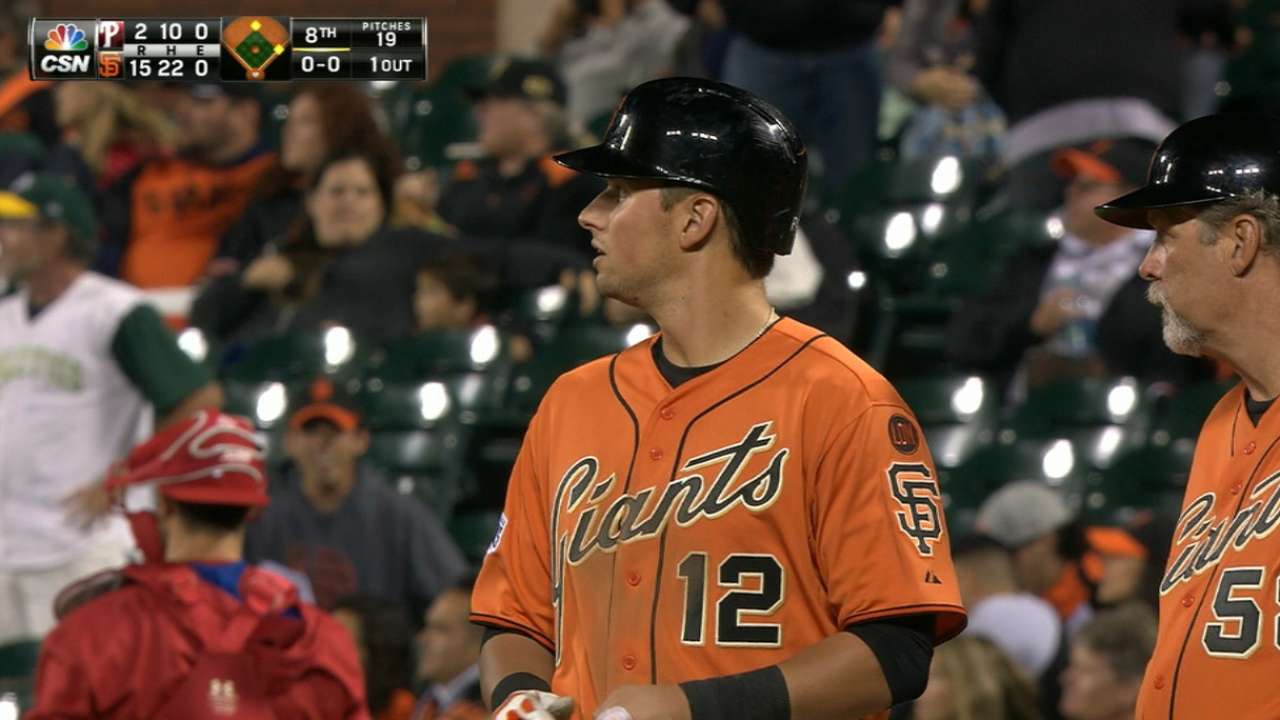 The big things ballooned in the fourth, when seven consecutive Giants reached base safely with one out. Pence redirected a 2-1 delivery from Phillies ace Cole Hamels onto the right-field arcade, marking only the 18th time that a Giants right-handed batter recorded an opposite-field homer at AT&T Patk. Pence's fifth career grand slam hiked his RBI total to 20 in 21 games this season.
"He can light up a building with one play, like he did the other night -- and tonight with his grand slam," said Panik, referring to the double play Pence generated with his diving catch and searing throw home against the Mets on Tuesday.
Center fielder Angel Pagan, who entered the game in a 1-for-13 skid, began the fourth-inning scoring with a two-run single. That resulted in his first multiple-RBI game since Opening Night, April 6 at Arizona. He also rapped three hits for the first time since May 12 at Houston and scored a season-high three runs.
Pagan attributed his success to extra batting practice and advice he received from hitting coach Hensley Meulens and guest instructor Will Clark.
Said Panik of Pagan, "He's a big part of our lineup. If he can get going, you can see what this lineup can do."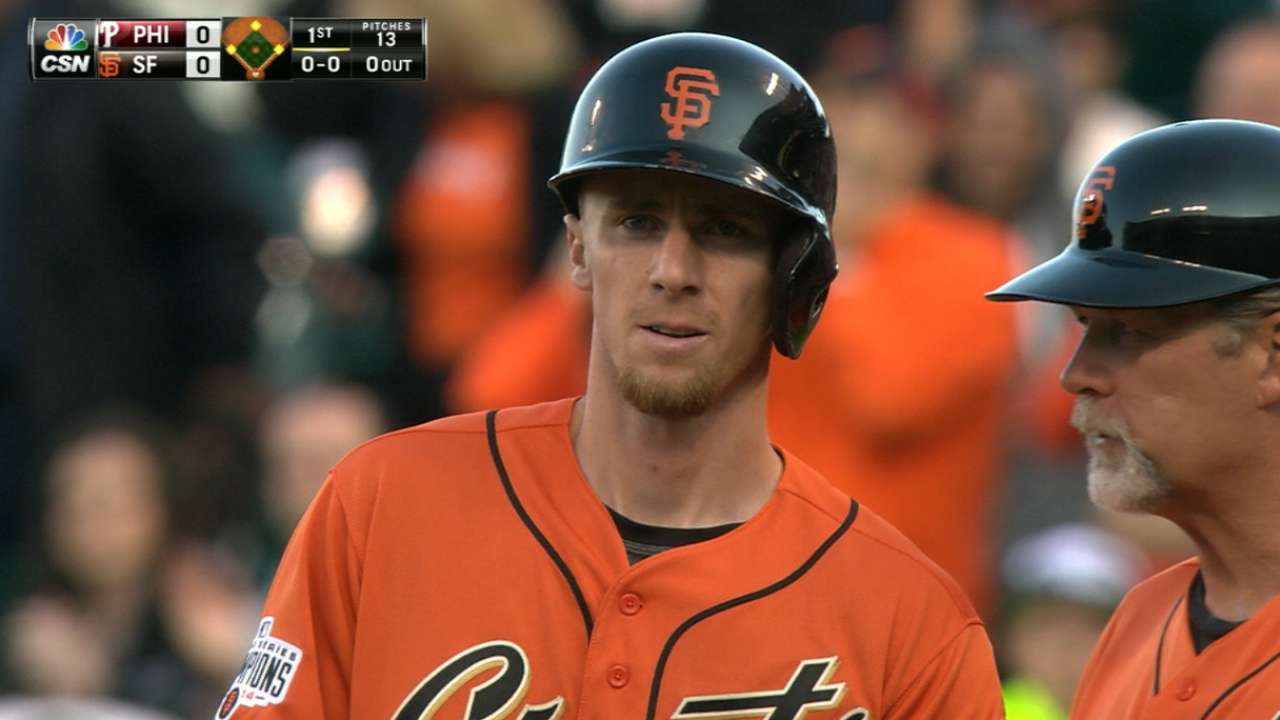 Other Giants produced handsomely. According to the Elias Sports Bureau, Panik, Maxwell and Duffy became the first trio of Giants to collect four hits in a game since Tom Haller, Hal Lanier and Jesus Alou on May 22, 1965, at Houston.
"We swung the bats as well as we can swing them," said left-hander Madison Bumgarner, whose two hits -- a bonanza for most pitchers -- were virtually overlooked. "We say it all the time: We know what kind of team we have and what we're capable of."
Chris Haft is a reporter for MLB.com. Read his blog, Haft-Baked Ideas, follow him on Twitter at @sfgiantsbeat and listen to his podcast. This story was not subject to the approval of Major League Baseball or its clubs.