Estrada's gutsy effort goes for naught
Right-hander allows two runs over 6 2/3 innings in loss to Royals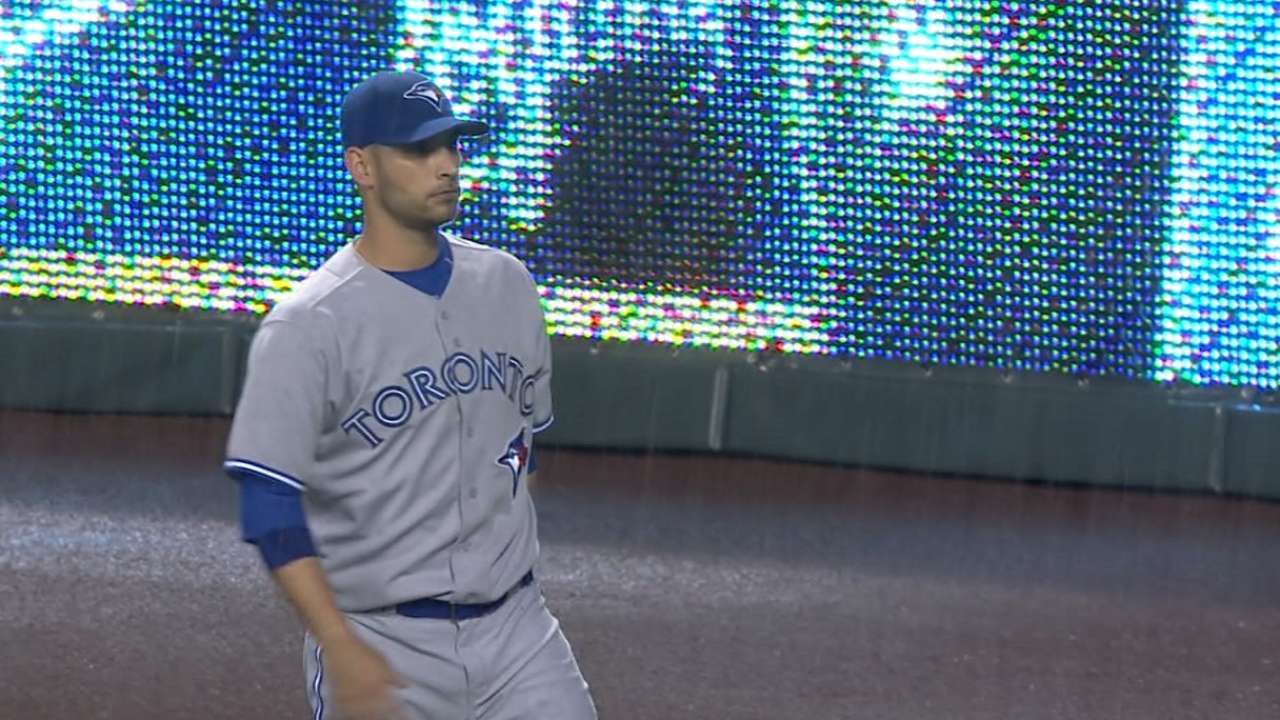 KANSAS CITY -- For the longest time, the Blue Jays were receiving robust hitting but couldn't get the pitching to go with it. And now, it's just the opposite.
Toronto wasted a quality start and gutsy effort by right-hander Marco Estrada Friday night in a 3-0 loss to the Royals. Despite being hit on the right shin by a Eric Hosmer liner in the first inning, Estrada hung tough and delivered 6 2/3 innings while allowing just two runs. The silver lining in Toronto's third consecutive loss was that Estrada continued to show signs of emerging as a consistent starter.
While the numbers were good for Estrada, the fortitude was even better. Estrada took the body blow from Hosmer, but was determined to stay on the mound and save the Blue Jays' bullpen from a full night of duty.
"He did a nice job and he has basically done that every time he has gone out there," Blue Jays manager John Gibbons said.
Estrada can use the upcoming All-Star break to allow his bruised shin additional recovery time.
"I'm just glad I was able to get through it and give the guys some innings," said Estrada, who now has three consecutive quality starts. "On the mound, I could feel it, but it wasn't too bad. I didn't want to come out. Gibby said 'either you can or you can't.' And I said I was going to do it."
Estrada allowed a run-scoring double to Alex Rios in the second inning, and an RBI single to Alcides Escobar in the fourth. That was all Kansas City could muster against him after coming off a four-game sweep of Tampa Bay in which the Royals scored 33 runs.
Estrada got the third out of the inning one pitch after Hosmer's shot caromed off the right-hander's leg.
"That helped a lot because I was able to wrap it right away," Estrada said.
It wasn't long ago that a Toronto starter allowing just two runs over 6 2/3 innings would have felt relatively secure about getting a victory. But the Blue Jays' offense has been dormant lately with a 24-inning scoreless streak.
"Every team goes through these things," Estrada said. "Sometimes your pitching is there and the hitting isn't. And vice versa. But I think we're fine. When everything comes together, we're a very dangerous team."
Estrada was particularly encouraged on Friday about his changeup.
"It was better," Estrada said. "I felt like my arm action was better, but I still left a few [pitches] up. It's a long season, and I know there will be times when it feels like the changeup is not there. You just have to fight through it, work hard and get it back to what it should be."
Robert Falkoff is a contributor to MLB.com. This story was not subject to the approval of Major League Baseball or its clubs.