MLB.com Columnist
Jonathan Mayo
Young stars set for high school homer derby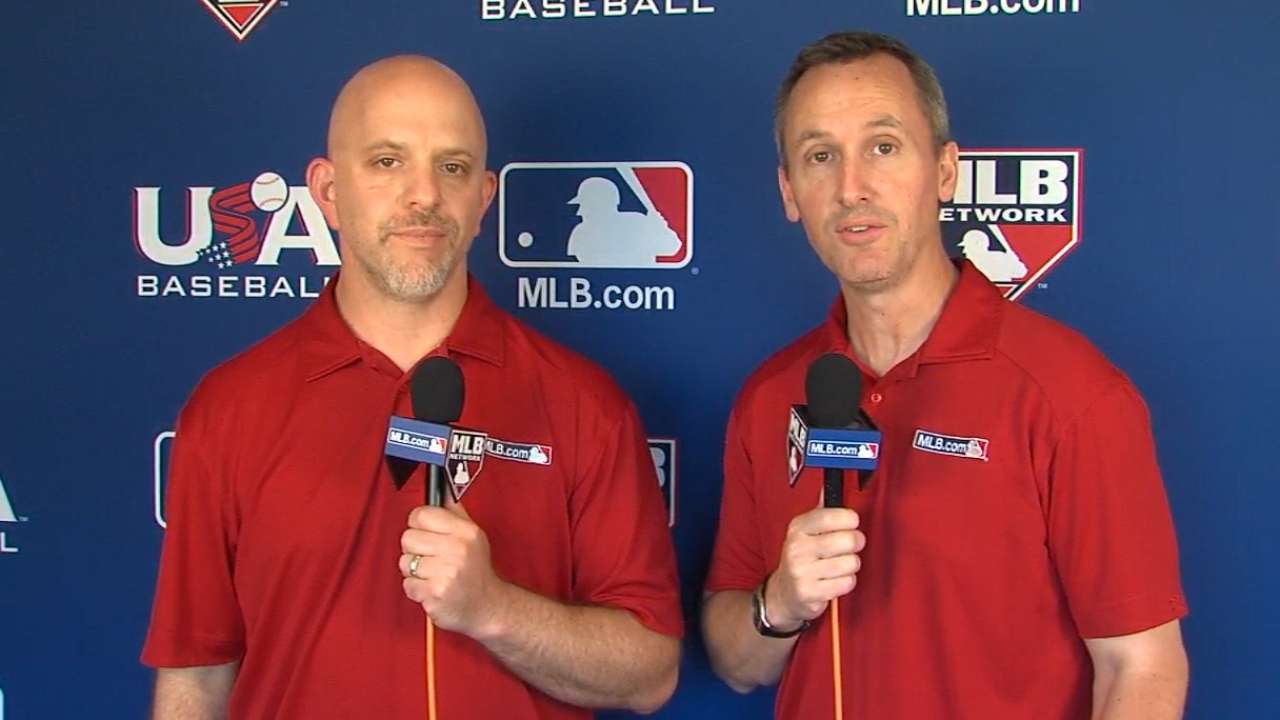 CINCINNATI -- In 2013, Jacob Gatewood made some noise as a high schooler who made big leaguers "ooh and ahh" during his turn in the Home Run Derby.
Last year in Minneapolis, it was Luken Baker besting Josh Naylor (a 2015 first-round pick) as part of the Monday Derby festivities.
• Complete Home Run Derby coverage
Who will be the two high schoolers to emerge from this year's High School Select Home Run Derby with an opportunity to participate in Monday's big league Gillette Home Run Derby presented by Head & Shoulders? Tune in to MLB.com on Sunday at 7:30 a.m. ET to find out.
Watch the High School Select Home Run Derby live at 7:30 a.m. ET
The High School Select Home Run Derby, which started in 2013 as a Sunday morning opener of sorts to All-Star Week, brings some of the best high school hitters together on one Major League field. A total of eight high school sluggers -- selected by Major League Baseball, USA Baseball and Major League Baseball International -- will participate in this year's field as a morning lead-in to the SiriusXM All-Star Futures Game.
Last year's field included first-rounder Naylor, taken No. 12 overall (Marlins), second-round pick Chris Betts (Rays) and fifth-rounder Jason Heinrich (Orioles). Baker, who bested Naylor in last year's Monday finale, went in the 37th round, but he only dropped that low because he sent a letter to teams saying he planned to attend Texas Christian University.
This year's contingnent includes players from the United States, Canada and Puerto Rico, many of whom have been making a name for themselves, particularly during the early stages of the summer showcase circuit.
• Free download: Home Run Derby 15 game
Five of the players participated in USA Baseball's Tournament of Stars in late June: William Benson, Carlos Cortes, Nicholas Quintana, Ron Washington Jr. and Joseph Wentz. Benson, Cortes and Quintana all made the 40-man U.S. Trials team, with Benson and Quintana making the cut when the squad was trimmed to 28 on July 4. All but Benson, Washington and TJ Collettt showed their stuff at the Perfect Game National Showcase in Fort Myers, Fla., in June.
Andrew Yerzey is a catcher from Toronto who has experience on the Canadian Junior National Team. He's also one of three catchers in this year's event, along with Collett from Terre Haute, Ind., and Puerto Rico's Mario Feliciano, who represents the Carlos Beltran Baseball Academy. All are incoming high school seniors except for Washington, who is slated to graduate in 2017.
Benson, Wentz and Yerzy will get another shot on a big league field when they play in the Under Armour All-America Game at Wrigley Field on Aug. 15. And it should surprise no one to hear some of these names called as Perfect Game All-American Classic participants when those rosters are announced Monday on the MLB.com stage at All-Star FanFest.
Jonathan Mayo is a reporter for MLBPipeline.com and writes a blog, B3. Follow @JonathanMayo on Twitter. This story was not subject to the approval of Major League Baseball or its clubs.