Santiago ends All-Star-caliber 1st half with gem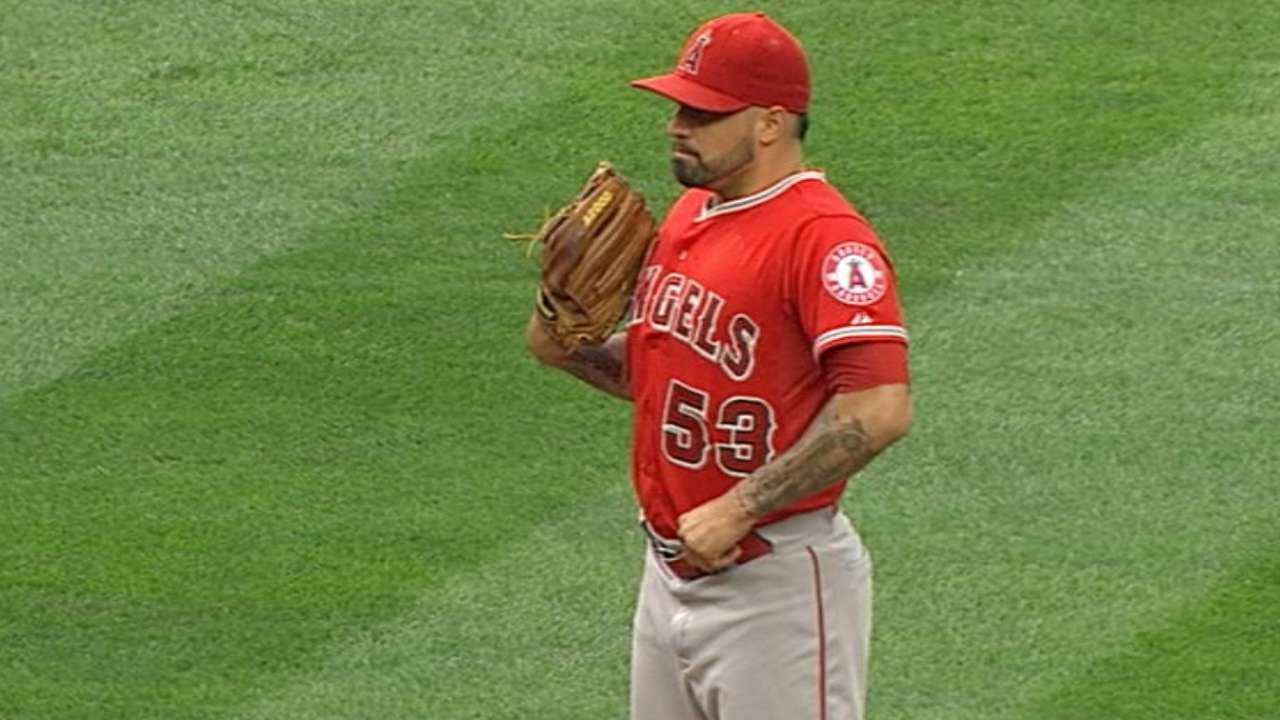 SEATTLE -- Hector Santiago didn't mince his words when asked what was working for him in a seven-inning, one-run performance in the Angels' 7-3 win over the Mariners on Friday night.
"Everything, man," Santiago said. "Overall everything was good today. Fastball was live, I got my cutter back, some good curveballs, some good sliders."
Santiago said he was even able to add an extra pitch to his repertoire to keep Seattle's hitters off balance.
"I threw about six screwballs today. I don't know if Chris [Iannetta] knows that, but I did," Santiago said with a laugh. "Just mixing it up all around."
The 27-year-old continued his recent stretch of success, putting up zeros against a Mariners offense that posted a season-high 19 hits the night before. He has now lasted six or more innings while allowing one earned run or fewer in each of his last four starts. He improved to 6-4 on the season and lowered his ERA to 2.33, ranking him third in the American League.
Both Santiago and Angels manager Mike Scioscia said the key to Santiago's success on Friday was his ability to pound the strike zone and get ahead in counts, throwing first-pitch strikes to 22 of the 28 hitters he faced.
"That might've been the best game he's pitched all year. The first-pitch strikes were off the charts," Scioscia said. "Everything he wanted to do he did. You saw him pitch inside, change speeds, use his breaking ball, really that's a terrific job from Hector."
The question now becomes whether Santiago's recent dominance will earn him an All-Star nod, with Oakland's Sonny Gray slated to start on Sunday, making him unavailable to pitch in Tuesday's Midsummer Classic.
When asked about whether he would push for Santiago to be added to the All-Star roster in the event of an opening, Scioscia didn't commit to any campaigning.
"We've talked about it," Scioscia said. "It is what it is."
Santiago was a little more open to the idea when asked whether he would have his phone by him over the next several days. Whether he gets the invitation to join Mike Trout and Albert Pujols in Cincinnati, he said he will enjoy his All-Star break.
"I think I did my job today, and like I said, my All-Star break starts today," Santiago said. "If the phone rings and something happens, hoo-yah, but if not I'll go home and get a nice little tan in the Arizona 120-degree weather, then relax and get ready to go back for the second half."
Andrew Erickson is an associate reporter for MLB.com. This story was not subject to the approval of Major League Baseball or its clubs.