Verlander's 1st win waits after rocky relief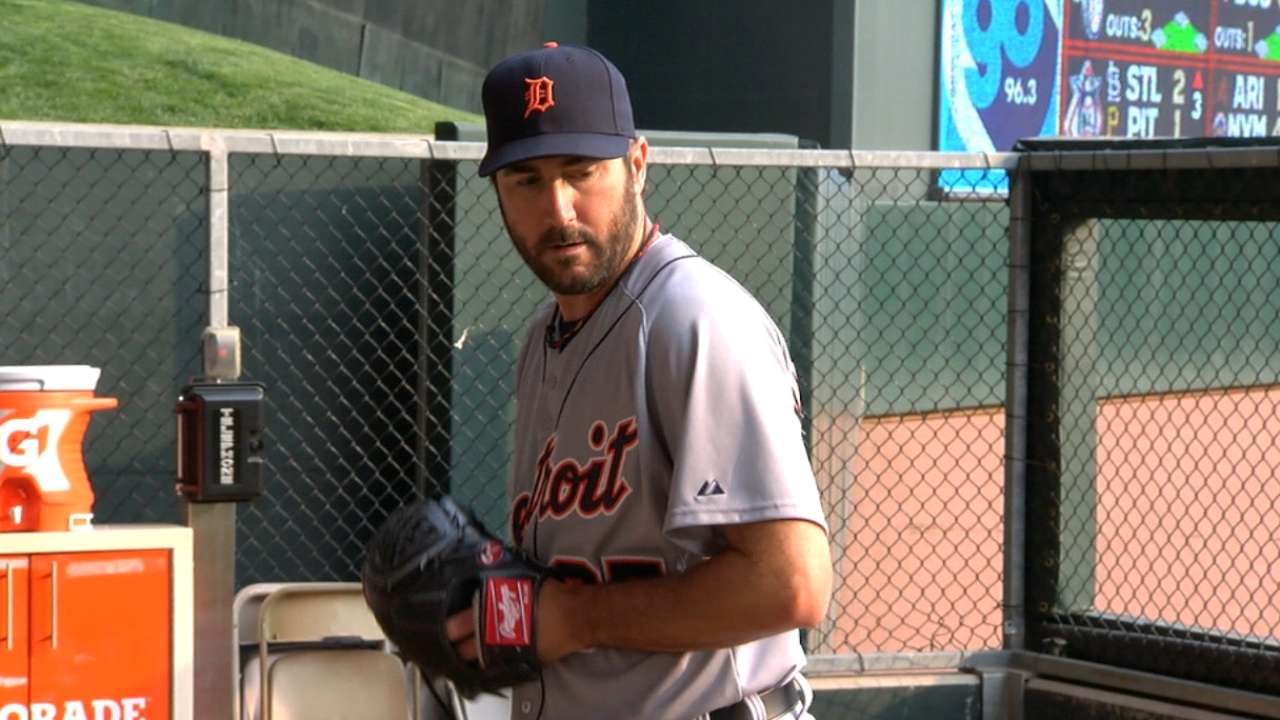 MINNEAPOLIS -- For the Tigers to be competitive for the rest of the season, they'll need more outings from Justin Verlander such as the one he delivered in Friday's 8-6 loss to the Twins. They'll also need fewer outings from their bullpen such as the one it delivered in the loss.
Verlander, in search of his first win of the season, did everything in his power to get it, mixing speeds well, getting his fastball up to 97 mph at one point and using both his slider and curveball well.
Then the bullpen melted down, giving up seven runs in the ninth inning, a rally capped by Brian Dozier's three-run walk-off homer off closer Joakim Soria.
"A ground ball, we're out of the inning. The game's over," manager Brad Ausmus said. "We're not in the dugout fearing doom. We have confidence when Soria's on the mound."
Being so close to what looked like a sure victory is just a fraction of what made Friday's loss so tough. When Ausmus was asked whether losses get worse than that, he offered a blunt response.
"No. That one stunk," he said. "We can't pout about it. We've got another game tomorrow."
After using Soria the past two days, Ausmus was hoping to stay away from him on Friday, but he didn't have that luxury. Bruce Rondon entered in relief of Verlander with two outs in the eighth. He got the third out easily but had trouble throwing strikes in the ninth.
"[Rondon] just couldn't get ahead of guys. A little wild," catcher Alex Avila said. "Tried to mix in some offspeed pitches to get him back over the plate and just left some pitches up."
With Rondon struggling, Ausmus was forced to get Soria up quickly, but Soria was quick not to use that as an excuse.
"You have to be ready for the game in any situation. I mean, whatever the score is, you have to mentally be ready for the game," Soria said, adding that he felt badly because Verlander had pitched well.
Verlander was looking for his first win after coming back from an injury in June. He gave up just two hits in the first seven innings, bouncing back from a five-inning, seven-run performance against Toronto.
"My last start, I told you guys, 'Hey, I felt like my stuff's much better.' Really just came down to a couple pitches here and there and the little final bit of rust to knock off," Verlander said. "I felt like I was really close, and tonight was much better than last time. I was able to get into a rhythm and maintain it."
Ausmus said that if Verlander pitches that way the rest of the season, the team would be in great shape. But despite the solid performance, Verlander was left without a mark in the "W" column.
"You want him to get a win, but this is a team. It's not about one person," Ausmus said. "This hits everyone hard."
Betsy Helfand is an associate reporter for MLB.com. This story was not subject to the approval of Major League Baseball or its clubs.