Nelson flirts with no-hitter in painful loss
Brewers starter takes blame after Perez's error allows three runs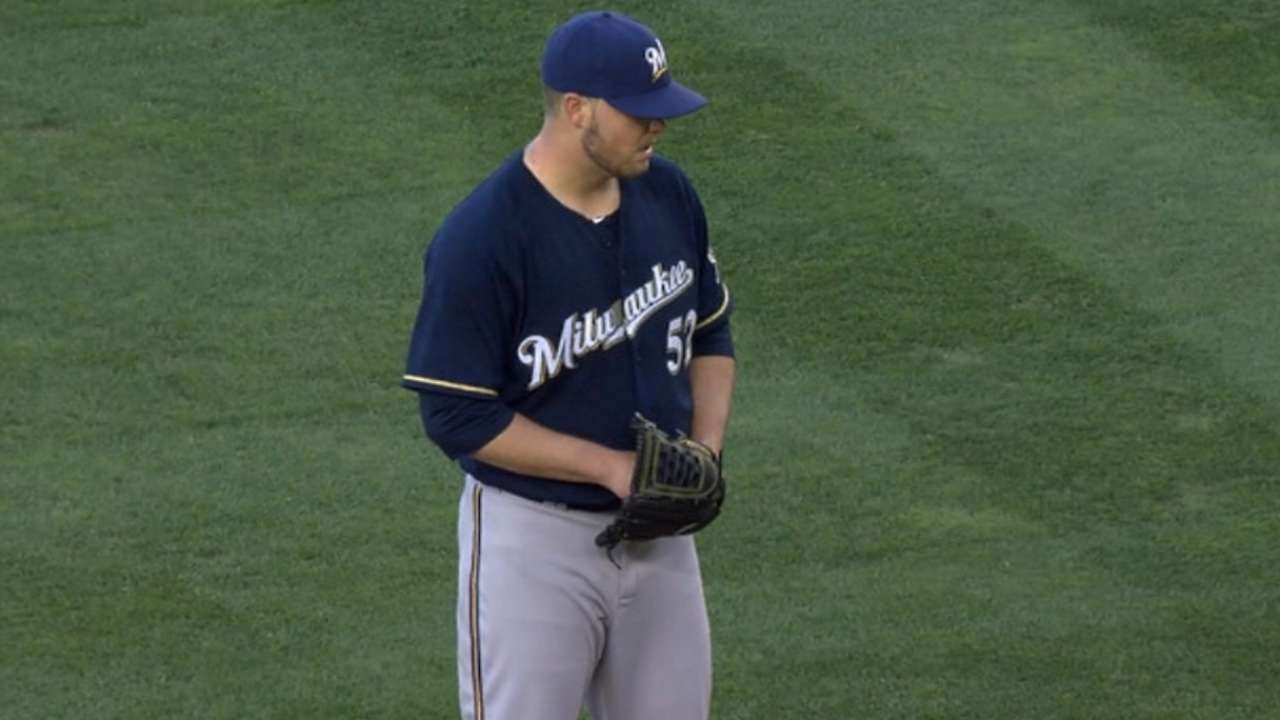 LOS ANGELES -- Jimmy Nelson did his part, a defensive replacement did not, and the Brewers were left to lament a 3-2 loss to the Dodgers on Friday that stung as sharply as any of Milwaukee's 51 losses this season.
"It just got away," Brewers manager Craig Counsell said. "We had a play to make."
That play came with two outs in the seventh inning and Nelson holding a 2-0 lead, still cruising after losing a no-hit bid only an inning earlier. He induced a Alex Guerrero grounder to third baseman Hernan Perez, who had just entered the game for defense. Perez botched the play, and the Dodgers turned his error into a three-run rally that decided the game.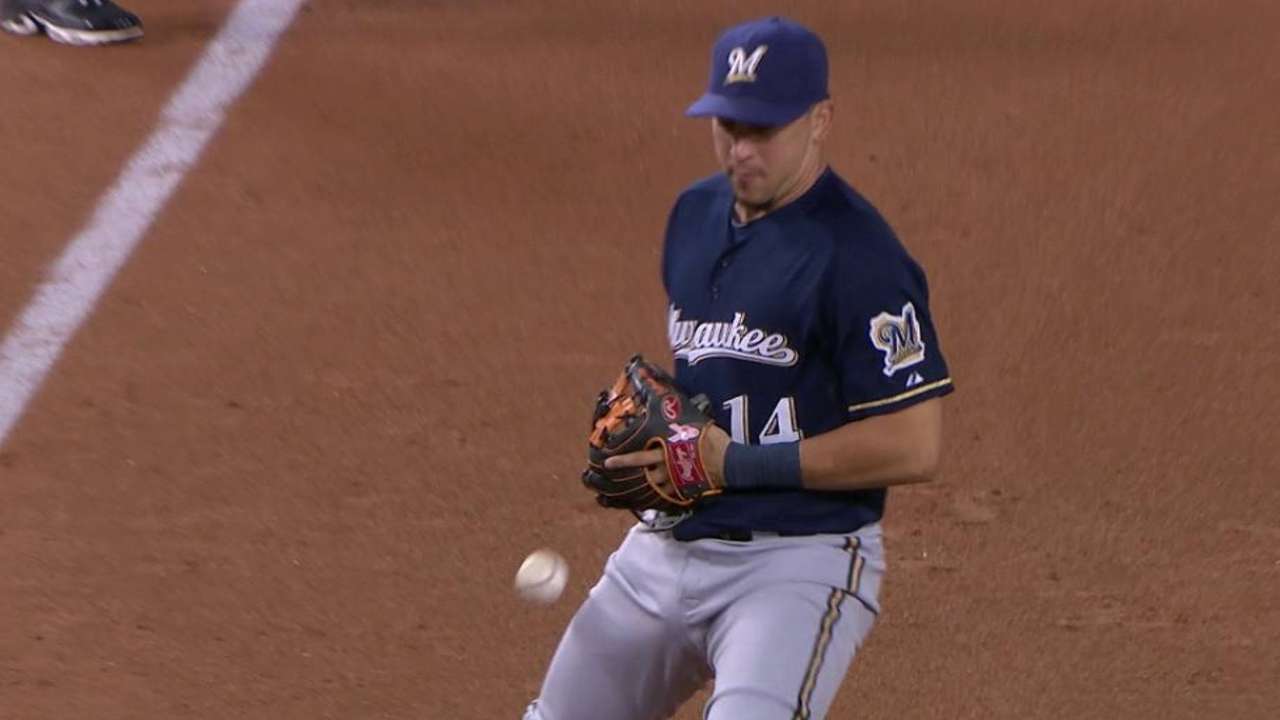 The next three Dodgers batters collected hits. Jimmy Rollins singled and stole second base to put the tying run in scoring position for pinch-hitter Andre Ethier, who cashed in with a single that tied the game at 2. Joc Pederson followed with a double off the base of the left-field wall to score the winning run.
The loss snapped Milwaukee's seven-game road winning streak, and Nelson's streak of three winning starts.
"I wanted to make the play," Perez said. "I tried to throw the ball from my glove to my hand, so I missed the grip. I didn't have the ball. I feel bad because [Nelson] threw a great game. That's part of the game, you know?"
Said Nelson: "That's tough, but there were two outs. I had a couple of hitters after that to still get out with no runs. I know [Perez] is probably being pretty hard on himself right now, but there's no excuse for me not getting one of the next two guys. I feel bad about that part."
Counsell, however, expressed no regret about sticking with Nelson throughout the sequence. Nelson entered the inning at 76 pitches and had surrendered only two Dodgers hits -- a Pederson single in the sixth inning that dropped in front of a cautious right fielder Ryan Braun (both Counsell and Nelson contended Braun did not have a chance to make a play), and a Howie Kendrick infield single that deflected off Nelson's glove.
After Rollins' single in the seventh put runners at the corners with two outs, Counsell did consider a change to left-handed reliever Will Smith, who was warming in the bullpen, to face the left-handed-hitting Ethier.
"I stuck with Jimmy," Counsell said. "That's as good as he's pitched this year. I thought he was excellent. He was in total control. He did a nice job. It's a shame."
Nelson's final line: Seven innings, three runs (none earned), five hits, two walks, six strikeouts and a hit batsman. He was aware he had a no-hitter working into the sixth, aided by second baseman Scooter Gennett's excellent play on a Justin Turner grounder in the fourth inning.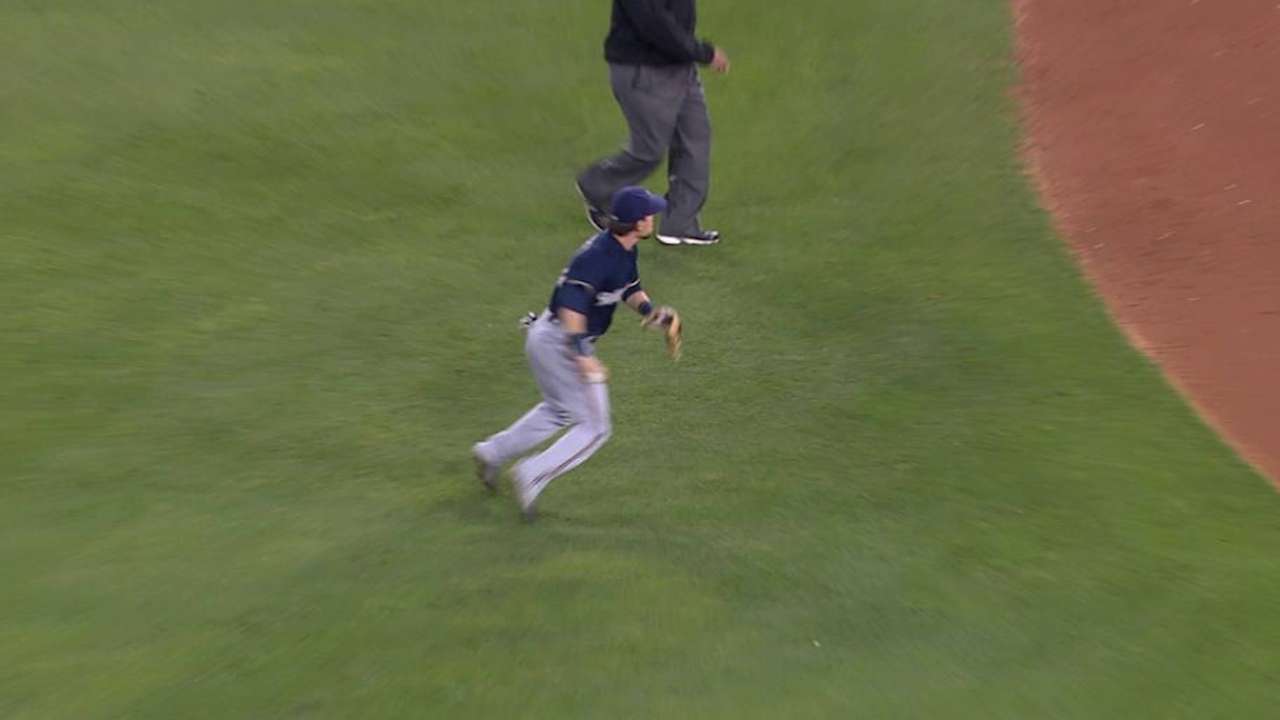 "It was mainly execution," Nelson said. "I've had days where I had better stuff than I had today, but I was getting ahead of guys a little bit better tonight."
Adam McCalvy is a reporter for MLB.com. Follow him on Twitter @AdamMcCalvy, like him on Facebook and listen to his podcast. This story was not subject to the approval of Major League Baseball or its clubs.