Luck aligns for Dodgers in comeback win
Ethier, Pederson deliver after Brewers' miscue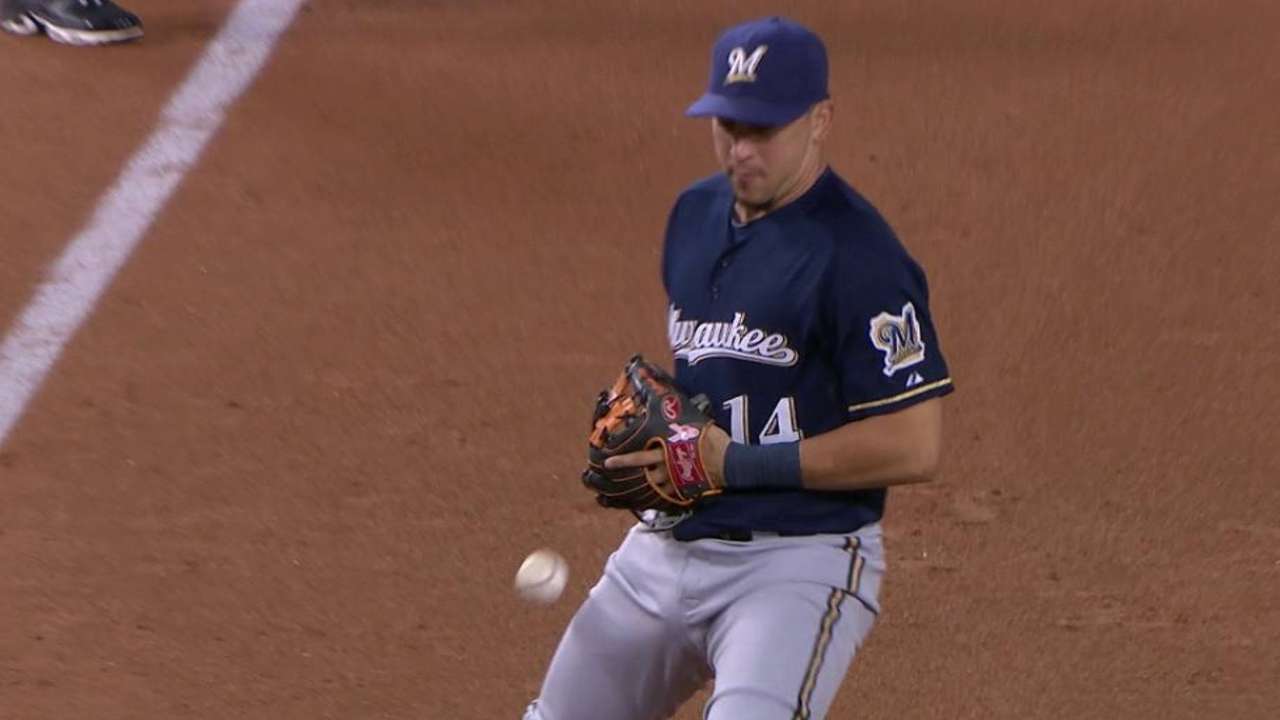 LOS ANGELES -- The Dodgers hitters were stymied for much of the game against Jimmy Nelson and the Brewers, but a Brewers' defensive miscue sparked a Dodgers comeback Friday night.
With two outs in the seventh, third basema Hernan Perez bobbled a grounder that could have ended the inning. That seemed to awaken the Dodgers' bats, as they followed with three straight hits, holding on for a 3-2 win at Dodger Stadium.
"An error, a solid hit and a bloop gets the win for you," said Andre Ethier, who had the game-tying single as a pinch-hitter. "I've seen innings with three hard-hit -- a hard grounder, a lineout and a flyout to the warning track -- with nothing to show for it. That's how the game works sometimes."
Perez was brought into the game defensively in the seventh inning, but it was his error that allowed the Dodgers to overcome a two-run deficit. He bobbled Guerrero's grounder, then his low throw couldn't be handled by first baseman Adam Lind. That opened the floodgates as Jimmy Rollins followed with a single, then stole second base. Ethier, who was given the day off because of general soreness, drove in the tying runs with a bloop single to left-center. Joc Pederson followed with a double off the wall to the opposite field that was mere inches from a home run to drive home Ethier.
That was all the Dodgers needed as J.P. Howell worked around a Ryan Braun single in the eighth and Kenley Jansen pitched a perfect ninth for his 15th save of the season.
"So many little things that happen in the game and sometimes that doesn't cost you," manager Don Mattingly said. "But you never know what it is going to turn into the next thing. You want your guys to not give up any outs because any extra outs you get could turn into something big."
The Dodgers couldn't hit Nelson for much of the night as the 6-foot-6 right-hander took a no-hitter into the sixth inning. It looked as if Nelson was going to sail through the seventh inning, ending the frame on Guerrero's grounder, but Perez couldn't come up with the play. Despite seven innings without allowing an earned run, Nelson took the loss.
Pederson was 2-for-4 on the night, which helped him bust out of a slump as the All-Star center fielder was hitting .074 in July before Friday night's game.
Los Angeles was just 1-for-7 with runners in scoring position on the night and had only two hits before the game-clinching rally in the seventh.
"You could see how the momentum of that inning kind of piled and allowed us to score three runs there," Ethier said. "That's why you can't ever count yourself out of the game, even if you only have one or two hits. You've got to play all 27 outs and that's something this team has done a good job of this year."
Steve Bourbon is an associate reporter for MLB.com. This story was not subject to the approval of Major League Baseball or its clubs.