A Twin-credible rally: Dozier's HR gives Twins final word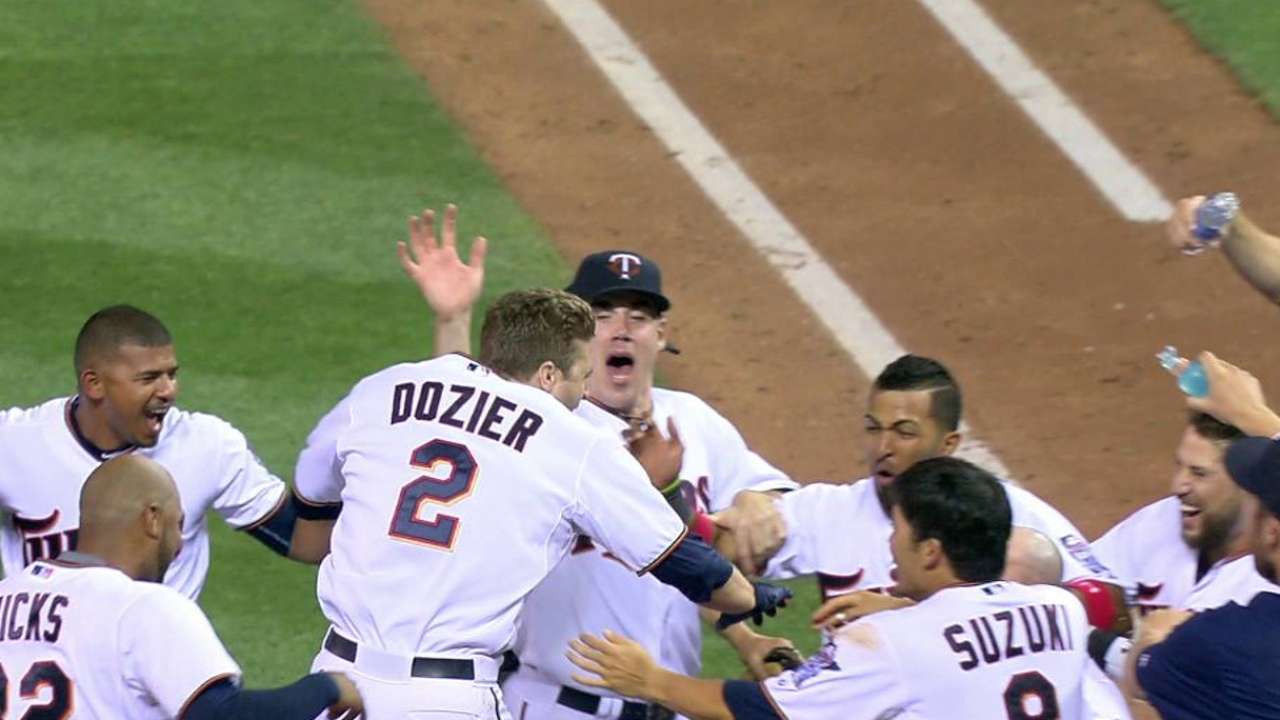 MINNEAPOLIS -- Brian Dozier insisted after the Twins' stirring 8-6 win over the Tigers on Friday that he hasn't been trying to make any statements about being left off the American League roster for the 2015 All-Star Game.
But on Monday, when he found out he wasn't selected to the squad and was instead an Esurance MLB All-Star Game Final Vote candidate, he crushed a walk-off two-run homer to lead the Twins to a 4-2 victory over the Orioles. And on Friday, when it was announced that he'd finished second in the Final Vote to Kansas City's Mike Moustakas, he crushed a walk-off three-run blast to lead Minnesota to an epic win over Detroit at Target Field.
Dozier became the first Twins player to hit two walk-off homers in one week since the franchise moved to Minnesota in 1961, and both came on the heels of finding out he wasn't an All-Star.
"I guess that's just the timing of it," Dozier said with a grin. "That's just the way it is."
Manager Paul Molitor, however, was less diplomatic, saying he believes Dozier should be an All-Star and that his performances this week prove it. Dozier, who also hit a go-ahead homer to lift the Twins to a 5-3 win on Wednesday, leads the team with 19 homers and 48 RBIs, and also leads the AL with 48 extra-base hits and 66 runs scored.
"Brian just kind of put a punctuation mark on everything that has transpired with him the first half, this last week and the Final Vote," Molitor said. "There are a lot of people disappointed here, and rightfully so. The system is flawed to some degree. They're trying to get it right, but to have a player like that not in there doesn't seem fair."
Dozier's homer capped an improbable comeback for the Twins, who trailed by six runs heading into the eighth, and scored their first run on an RBI single from Dozier with two outs off Justin Verlander.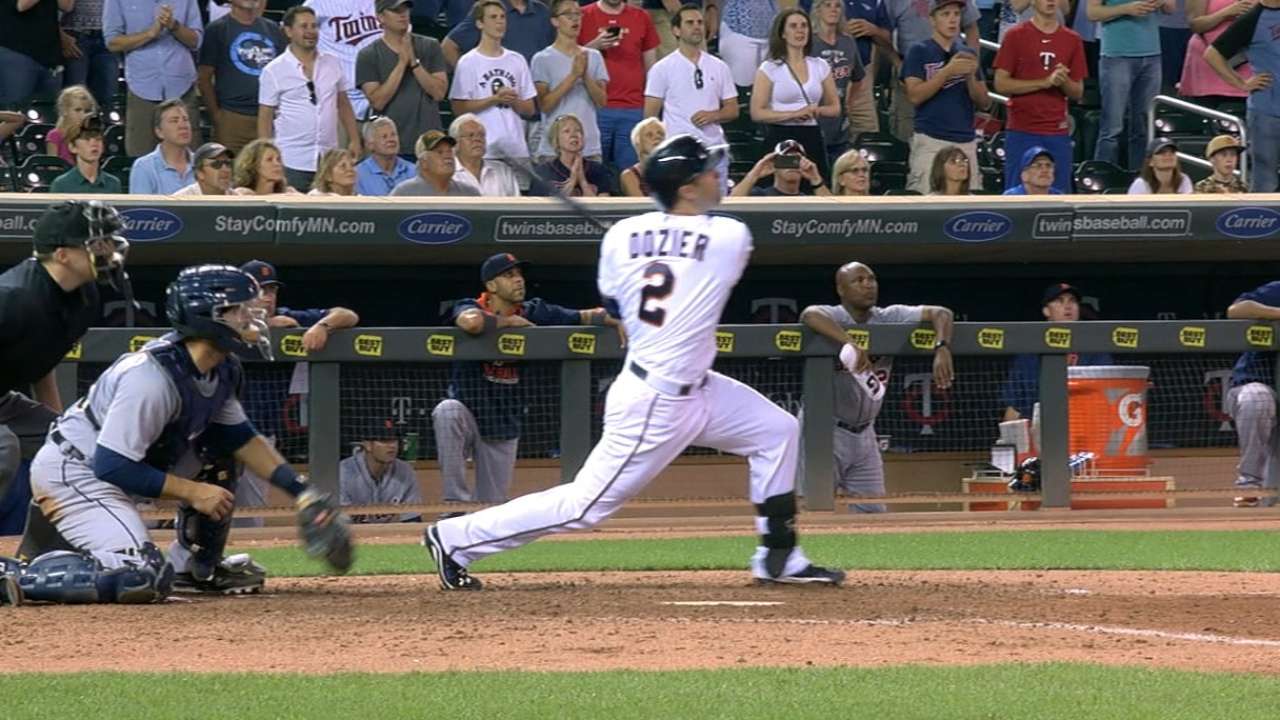 They entered the ninth down by five but came back against relievers Bruce Rondon and Joakim Soria to become the first team over the past two seasons to win in the ninth after being down by five runs. Teams were previously 0-1,057 in those situations, per ESPN stats and information.
Eddie Rosario hit a key RBI single that forced Detroit to bring in Soria, Kurt Suzuki was plunked with the bases loaded and Danny Santana came through with a two-run single to set the stage for Dozier's game-winning blast on a first-pitch slider.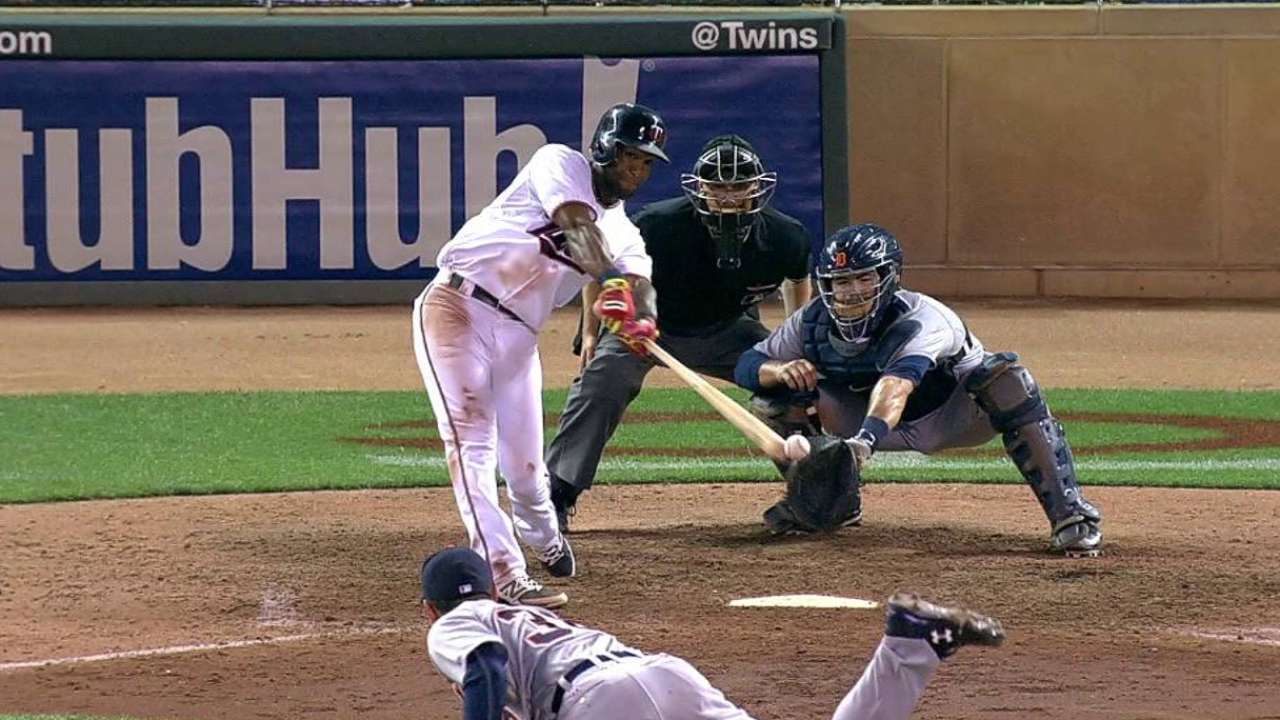 "Going into the ninth down by five runs, you have a tough task ahead of you, especially because if you get close, you have to face Soria," Dozier said. "We had a lot of big hits. We just strung everything together. It just seemed like it happened so quickly, bam, bam, bam, and then we won the game. That's the good thing about this team. We never feel like we're out of it."
Rhett Bollinger is a reporter for MLB.com. Read his blog, Bollinger Beat, follow him on Twitter @RhettBollinger and listen to his podcast. This story was not subject to the approval of Major League Baseball or its clubs.