Padres can't seem to catch a break
Club rallies, but leaves tying run in scoring position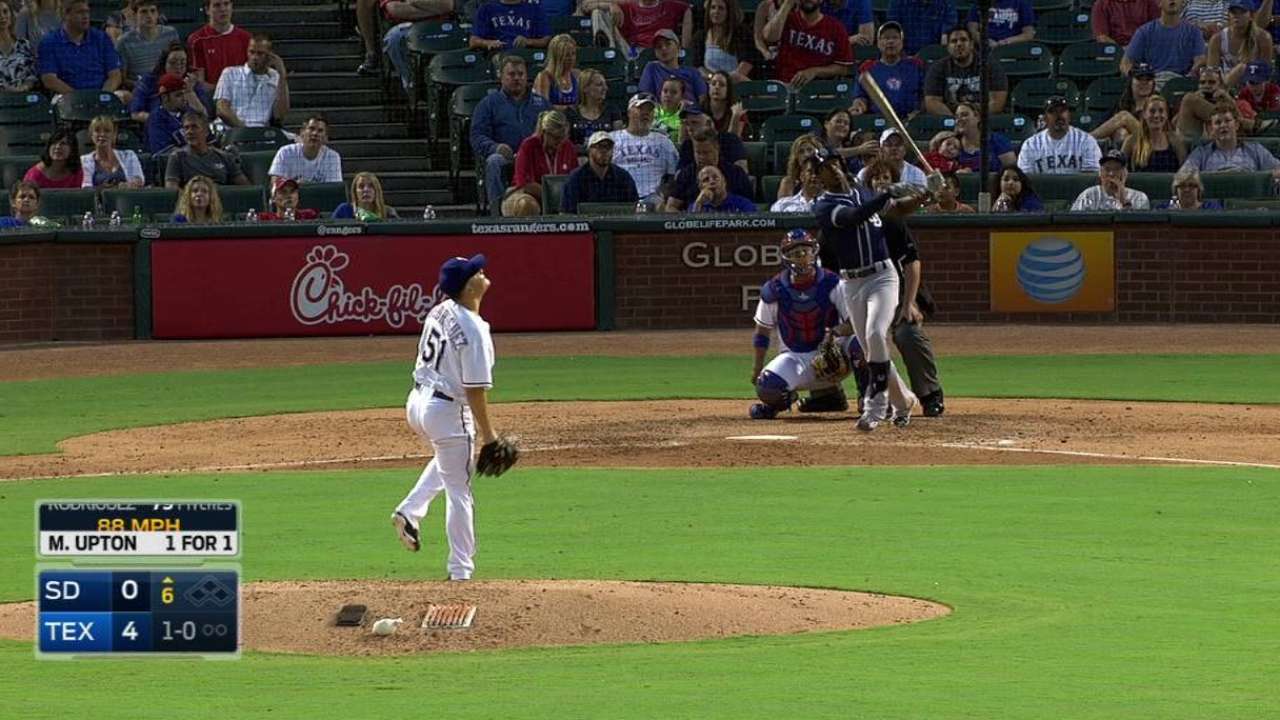 ARLINGTON -- In his first start as a Padre, Brett Wallace hit a ball to deep center in the eighth inning that was nearly a go-ahead home run. Instead, Rangers center fielder Leonys Martin caught it with his back against the wall.
It was that kind of night for the Padres in a 4-3 loss to the Rangers. San Diego left nine runners on base and was 0-for-7 with runners in scoring position. Seven of those nine runners were stranded in the final four innings.
"These losses are tough," interim manager Pat Murphy said. "That ball Wallace hits on a different day could go out. The ball that [Matt] Kemp hits has topspin and doesn't get out. Those are game-changers."
The Padres had another big chance in the ninth after Will Venable led off the inning with a single against Rangers closer Shawn Tolleson. Murphy opted to bunt, as Melvin Upton Jr. moved Venable to second with one out.
"We felt like we had a lot left," Murphy said. "If we tied the game, we had more [left] than they did in the 'pen."
Catcher Derek Norris struck out, but Yonder Alonso walked to bring Kemp to the plate. After falling behind 1-2, Kemp fouled a ball down the right-field line before swinging and missing to end the game.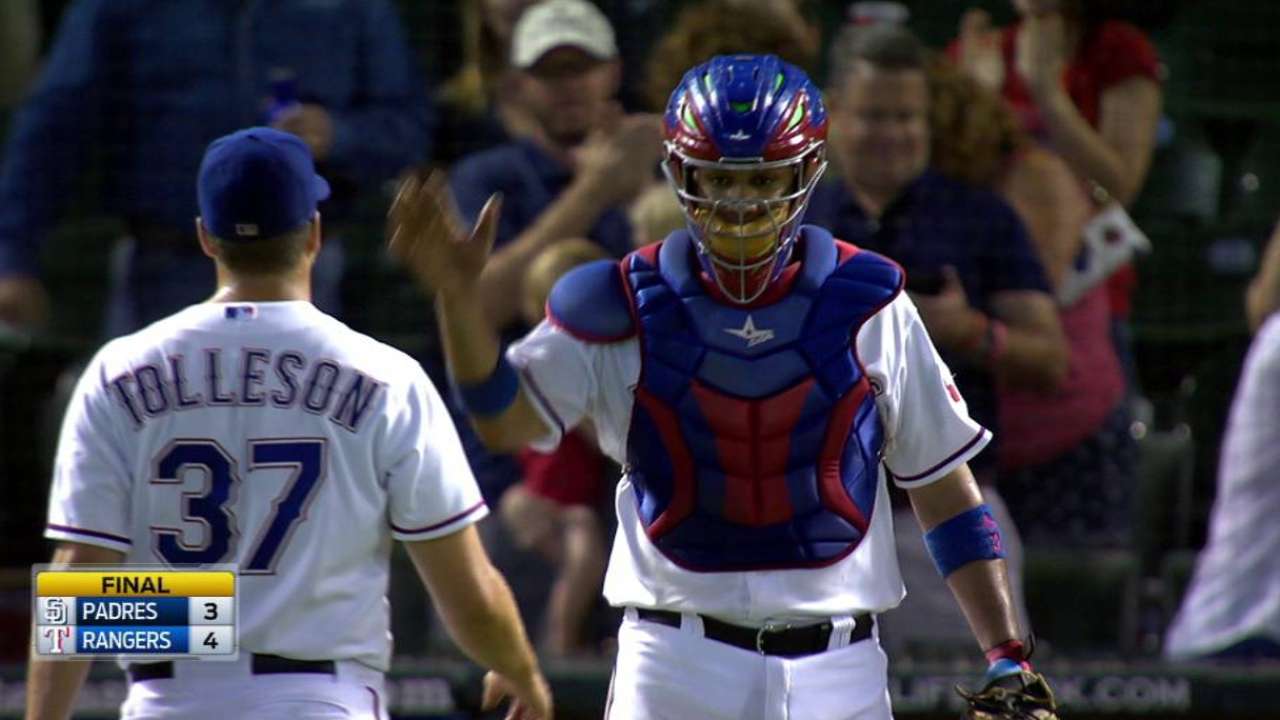 "We got our best hitter to the plate, and it didn't work out our way," Murphy said.
The Padres are in the midst of a six-game skid, and they've all been close games. Again, they weren't able to get the break or big hit they needed. Instead, they had a bad break that cost them when Delino DeShields tagged and scored on a shallow fly ball Will Middlebrooks caught in a crowd of Padres in the first inning.
Middlebrooks, though, won't blame mishaps like that on the losing streak.
"It happens all over baseball," he said. "It happens to the Cardinals, too, I'm sure."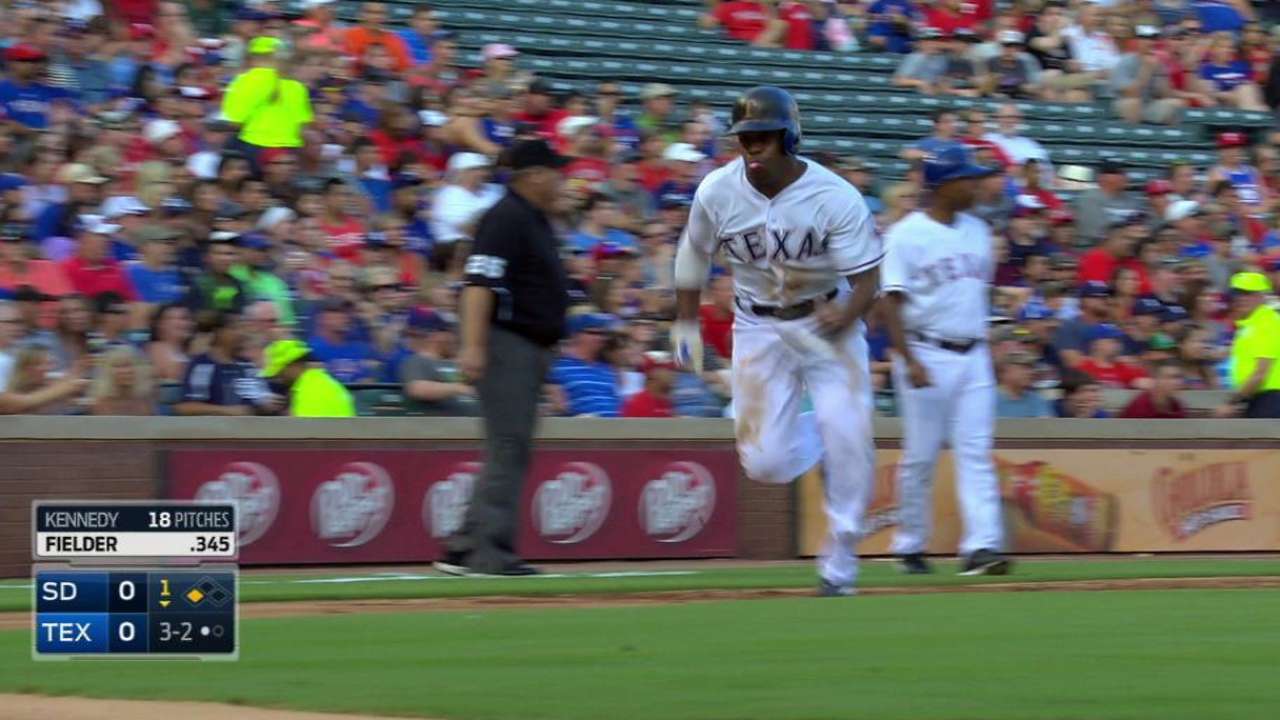 Murphy, despite another tough loss, remains optimistic. He said the Padres showed plenty of encouraging signs. On the offensive side, Murphy said there were better at-bats all around, and Upton broke out of a slump by going 3-for-3 with a home run.
San Diego has scored three runs or fewer in nine of its past 10 games, but Murphy figures something has to give sooner or later.
"It's been tough, but I'm convinced it'll turn," he said. "I am. Especially today. A lot of positives today. Some great at-bats that we have nothing to show for."
Cody Stavenhagen is an associate reporter for MLB.com. This story was not subject to the approval of Major League Baseball or its clubs.