Breaks go against frustrated Miller at Coors
Right-hander gives up season highs in hits and runs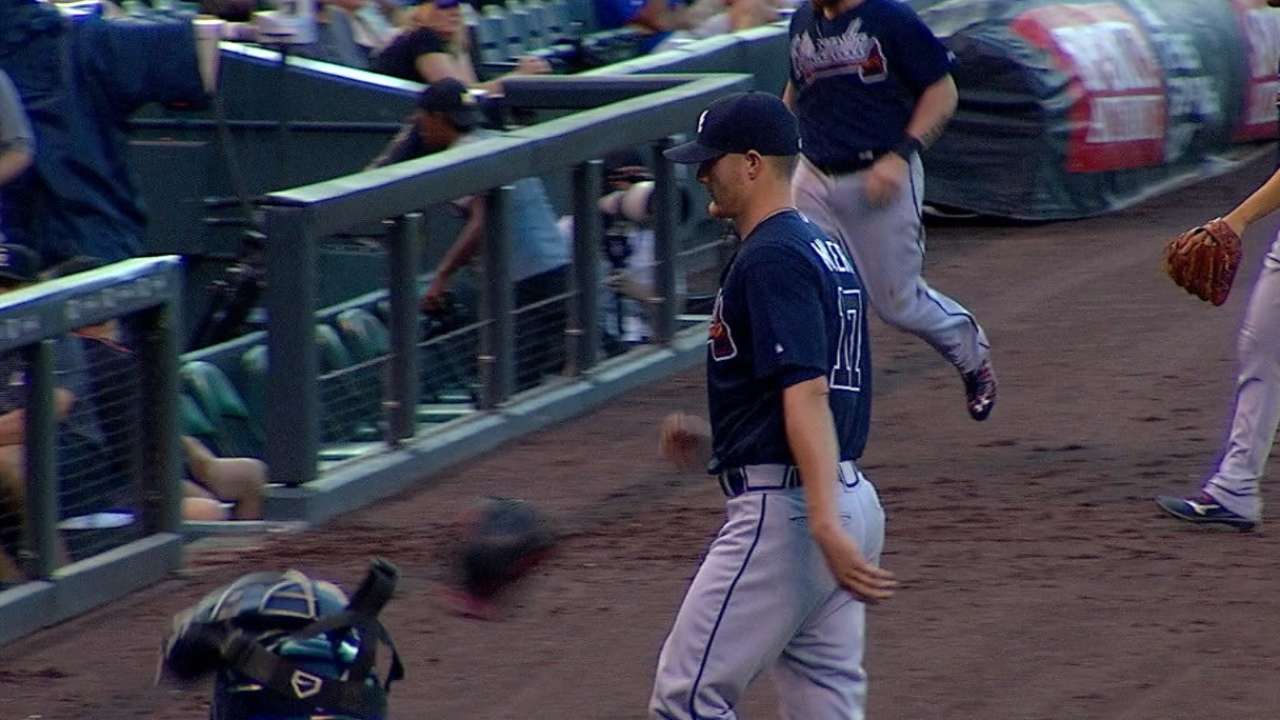 DENVER -- Even as he received very minimal run support while going winless of most of the past two months, Shelby Miller displayed professionalism and maturity. But everything seemed to come to a boil for the Braves' right-hander as he uncharacteristically lost his cool during the fourth inning of Friday night's 5-3 loss to the Rockies at Coors Field.
"It's OK, he hasn't had a bad outing like that, so it's good to see some emotion and see him fight through that," Braves utility man Kelly Johnson said. "Things are easy when you are rolling. Hopefully, this is a learning experience. We're not worried about him. He's an awesome teammate and he's having a heck of a year. So, we have tons of confidence in him."
There has never been reason to question the confidence the Braves have in Miller, who earned a much-deserved first All-Star selection this season. But there was some reason to worry about his psyche as he outwardly displayed his frustration while allowing season highs in hits (11) and earned runs (five) during this trying five-inning stint against the Rockies that extended his winless streak to 10 starts
"I think he was more frustrated with himself," said Braves manager Fredi Gonzalez, who went directly to speak to Miller after the pitcher tossed his hat and glove into the dugout after allowing three runs in the fourth inning.
Gonzalez chose not to reveal what he said to Miller, who also chose not to discuss specifics. But as the mature 24-year-old hurler spoke to reporters he did show some of the same accountability that has drawn rave reviews from the Braves this year.
"It's a tough place to pitch," said Miller, who placed most of the blame on his fastball command. "I didn't make pitches, and it's absolutely my fault."
Miller surrendered a pair of singles and a Daniel Descalso triple before recording his first out in the Colorado's three-run fourth inning. Things got interesting when he stared into his dugout after Jonny Gomes was unable to get to Charlie Blackmon's two-out triple, which landed on the warning track in left-center field. Moments later, Miller slammed the rosin bag as pitching coach Roger McDowell came to talk to him after D.J. LeMahieu recorded a ground-rule double on a deep fly ball that narrowly eluded a diving Cameron Maybin in front of the center-field wall.
"It's a tough place to pitch for sure," said Miller, who has posted a 9.39 ERA in two career starts at Coors Field. "It's a big outfield. They were having to run some balls down out there in the gaps that are 390 [feet from the plate] and [415] to center."
Miller has certainly had reason to become frustrated as the Braves have provided a total of 10 runs of support during his past 10 starts. Thus, it might have been easier to understand why his teammates weren't too concerned about the outward display of emotions he showed while becoming Coors Field's latest victim.
"He's an All-Star and he's been rewarded in that way," Johnson said. "Everybody acknowledges it. He has been pretty good. I don't think there are any alarms sounding."
Mark Bowman is a reporter for MLB.com. This story was not subject to the approval of Major League Baseball or its clubs.