Cron's turnaround hits another gear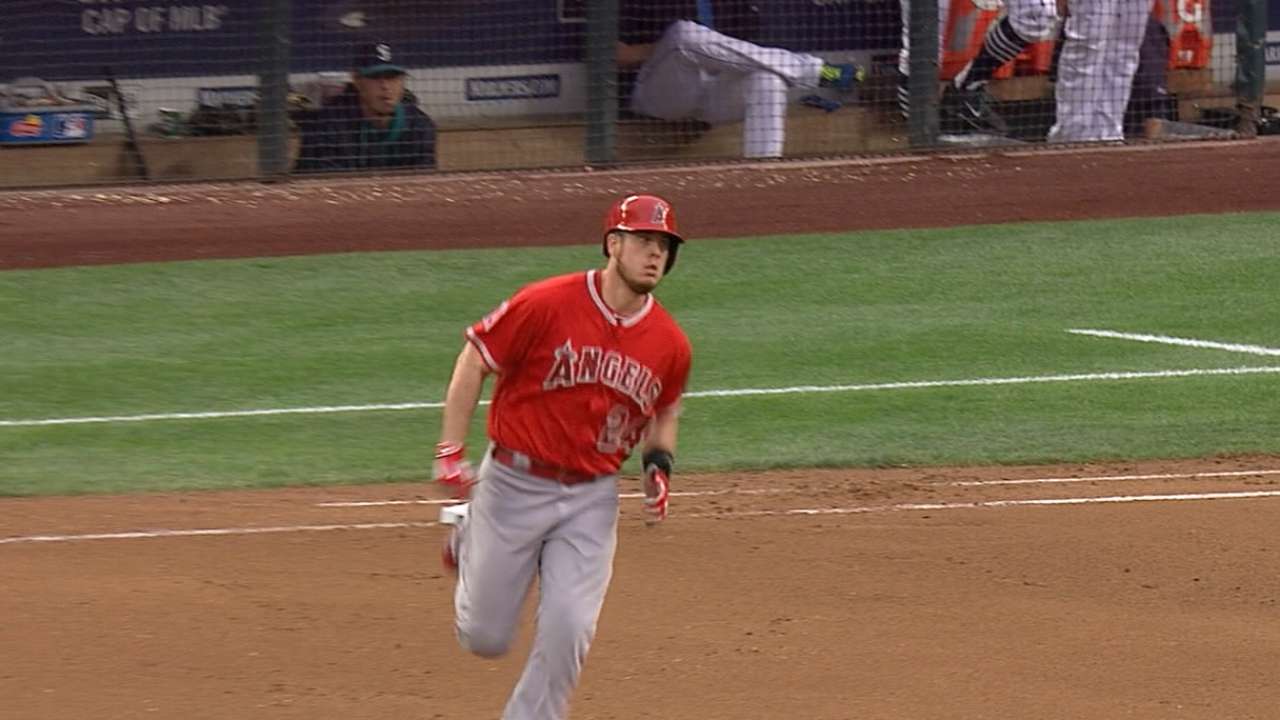 SEATTLE -- C.J. Cron needed 42 games to hit his first three home runs of the 2015 season, but it took just three at-bats in the Angels' 7-3 win over the Mariners on Friday night for the 25-year-old designated hitter to nearly double that total.
After launching a fourth-inning homer to left followed by a sixth-inning blast to right-center to drive in three runs on Friday, Cron is 13-for-29 with 12 RBIs in eight games since being recalled from Triple-A Salt Lake City. He had just six RBIs in his first 35 games with the Angels this season.
"There's no doubt he's in the batter's box with a little more confidence. I think he feels like he's better equipped right now. The time spent down in Triple-A was well-served," said Angels manager Mike Scioscia. "There's no doubt he needed to work out some things and find his timing, and he did and he's really been attacking the ball well while he's been up here."
The multi-homer showing was Cron's first since June 27, 2014, at Kansas City and marked one of his most prolific nights at the plate this season.
"My timing's right. If you're on time, good things are going to happen," Cron said. "Sometimes you're swinging the ball well and sometimes you aren't. You have to capitalize on the times you're going well."
On Friday night, however, Cron's performance might not have even been the Angels' best. That tends to happen when sharing a clubhouse with reigning American League MVP Mike Trout.
Trout, too, launched a pair of long balls -- a three-run blast to center in the third inning followed by a solo shot to right-center off reliever Danny Farquhar in the seventh -- to log his second two-homer effort in the last three games.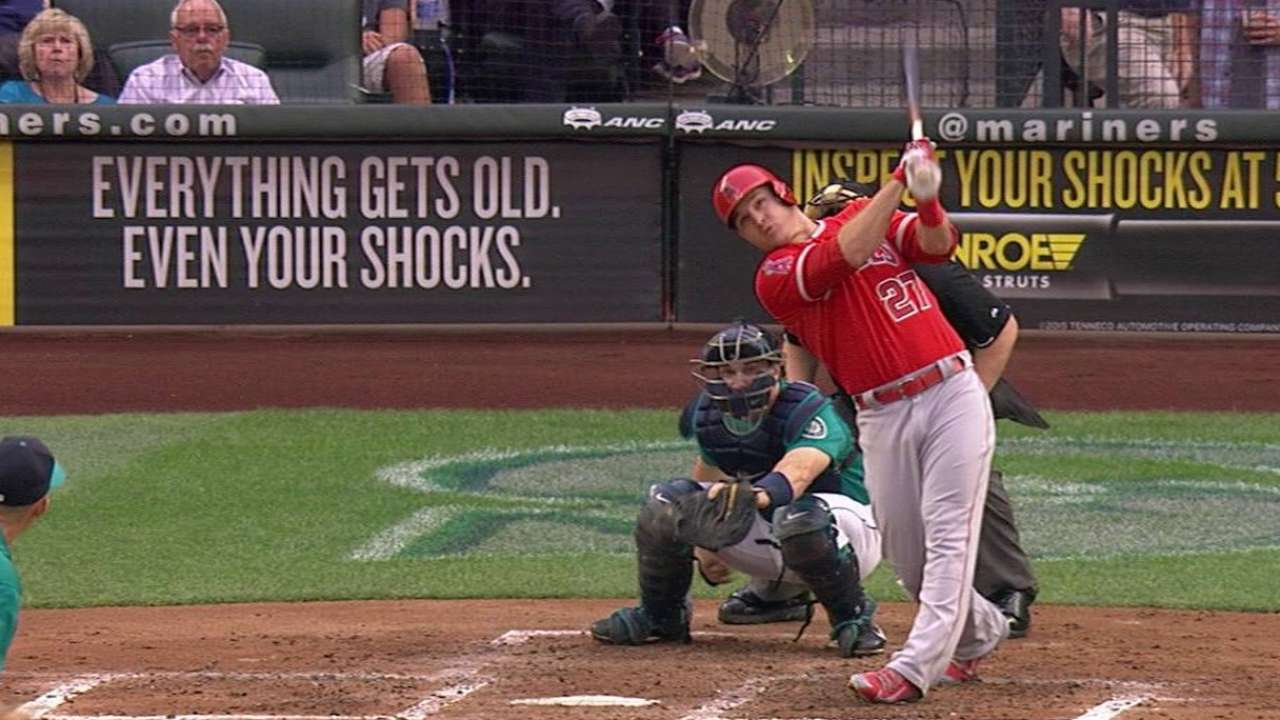 "Oh yeah [it's special]," Trout said of the torrid stretch. "All the preparation you do before a game, in BP and in the cage, just to put it out on the field and in a game is always good."
The 23-year-old All-Star's second home run tied him with Albert Pujols for the American League lead with 26, but it was his first home run that put him in the record books.
In addition to becoming the sixth player in AL history to hit 25 home runs before the All-Star break at age 23 or younger, Trout became just the fourth player to post four 25-home run seasons by his age-23 season, joining Frank Robinson, Eddie Matthews and Mel Ott.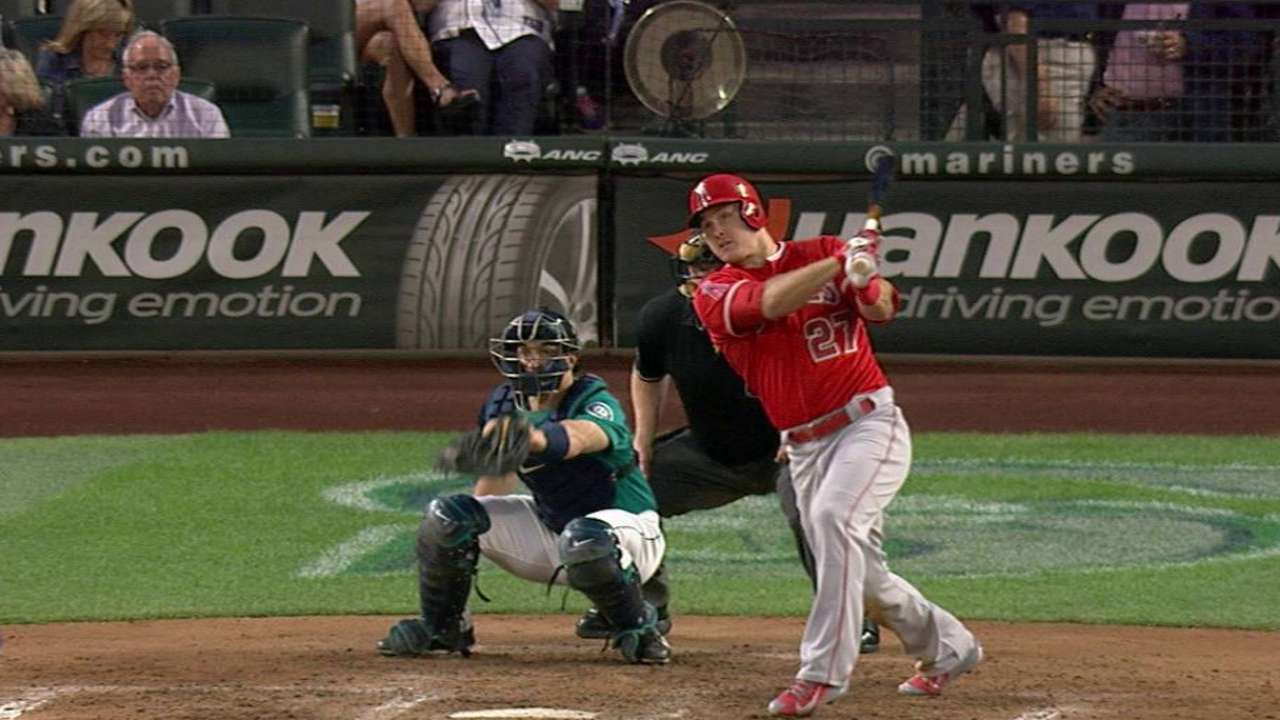 Trout said the victory over Seattle was a team win, and he was quick to praise the production of a teammate who is starting to see the fruits of his labor.
"He's got the intensity. He's been swinging it," Trout said of Cron. "He puts a lot of hard work in the cage, and it's showing."
Andrew Erickson is an associate reporter for MLB.com. This story was not subject to the approval of Major League Baseball or its clubs.