Nats catch spark in 5th before fire snuffed out
Moore, Taylor forge lead, but club unable to take full advantage of hitters' park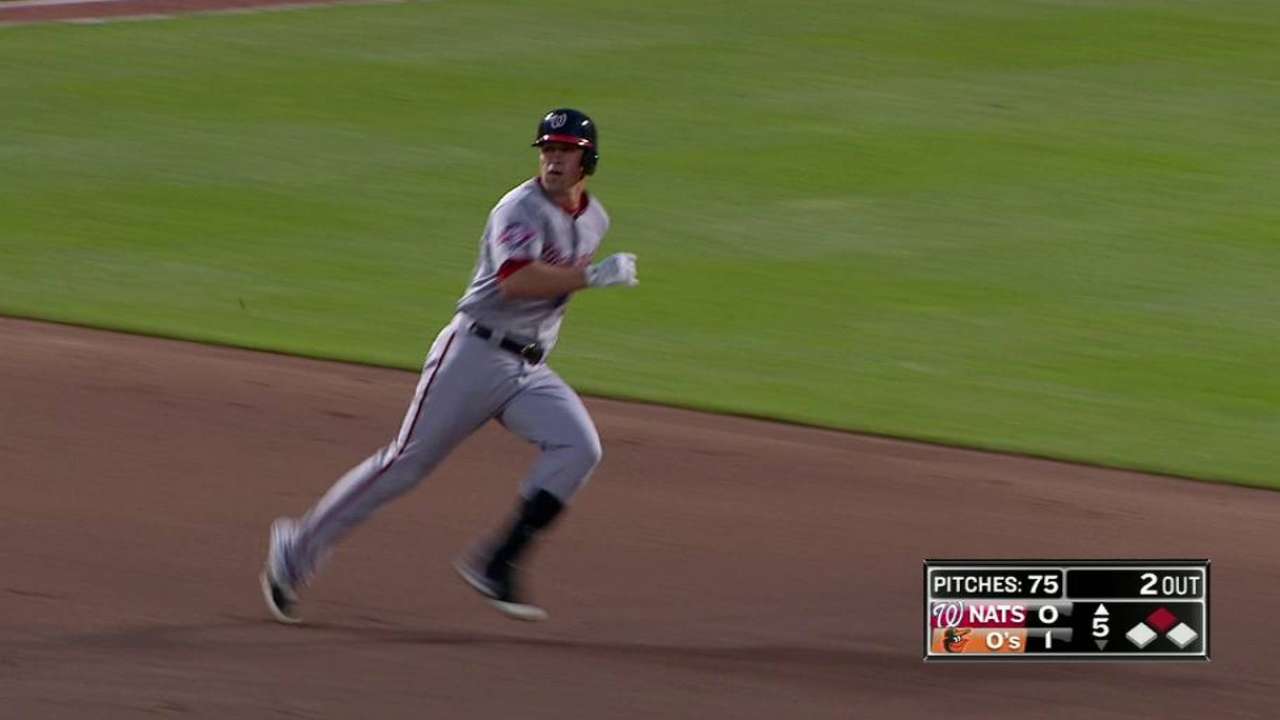 BALTIMORE -- With two outs and two strikes in the bottom of the ninth, Baltimore's Jonathan Schoop waved one arm at a slider down in the zone and became Friday night's hero, hitting a walk-off homer that just cleared the wall to sink the Nationals in a 3-2 loss.
The swing, which dealt Washington its third defeat in 42 games when leading after seven innings, illustrated just how friendly Camden Yards can be to hitters -- and that, Friday night, the Nationals didn't take advantage of it.
"Two runs in this stadium is tough," first baseman Tyler Moore said. "We need to score more, and we didn't do that tonight."
Moore, hitting in the eight hole, produced one of the Nationals' two runs, both of which came with two outs in the bottom of the fifth inning.
With the Nats trailing, 1-0, Clint Robinson and Ian Desmond both singled, but Jose Lobaton grounded into a double play for the second time on the night, seemingly taking the air out of a potential big inning.
With two outs, however, Moore saw a fastball in the zone and drove it into the right-field corner.
"I was able to get ahead of him and got in a hitter's count," Moore said.
His eighth double came on a 3-1 pitch.
"He just threw a heater right there, and I was able to get the barrel on it."
Michael Taylor came up with a two-out RBI of his own, plating Moore on a ground ball that squirmed its way between second and third base.
Other than those two chances, the Nationals had four at-bats with runners in scoring position and came up empty on them.
"We had some opportunities with guys out there, but still," manager Matt Williams said. "We're in the game, and one swing of the bat either way can make the difference. Tonight it was for them."
Jacob Emert is an associate reporter for MLB.com. This story was not subject to the approval of Major League Baseball or its clubs.