Mastery of home Syndergaard's calling card
Rookie's latest gem given early boost by Duda, Cuddyer's back-to-back homers
NEW YORK -- To find a Citi Field start similar to Noah Syndergaard's effort during Friday night's 4-2 victory over the D-backs, you have to look all the way back to ... his last one. If you want to get crazy, go back again, to the one before that.
And while none of those outings were as electrifying as Friday's -- he rung up a career-high 13 strikeouts against just four hits over eight innings, with 13 of the final 15 retired, and on and on -- they all add up to a continued trend of home dominance that is turning Syndergaard's starts into must-see local affairs. When Syndergaard is here, he isn't just good. Maybe the fans know the splits: 4-1 with a 1.74 ERA in six home starts, against 0-3 with a 5.33 ERA on the road. Maybe that's why so many of the 28,243 at Citi Field waited to leave until Syndergaard did Friday, maybe an inning longer than they expected. And when he did walk off, it was to an applause that felt more thunderous than it should have, considering the non-near sellout.
"He's growing up fast," Mets manager Terry Collins said.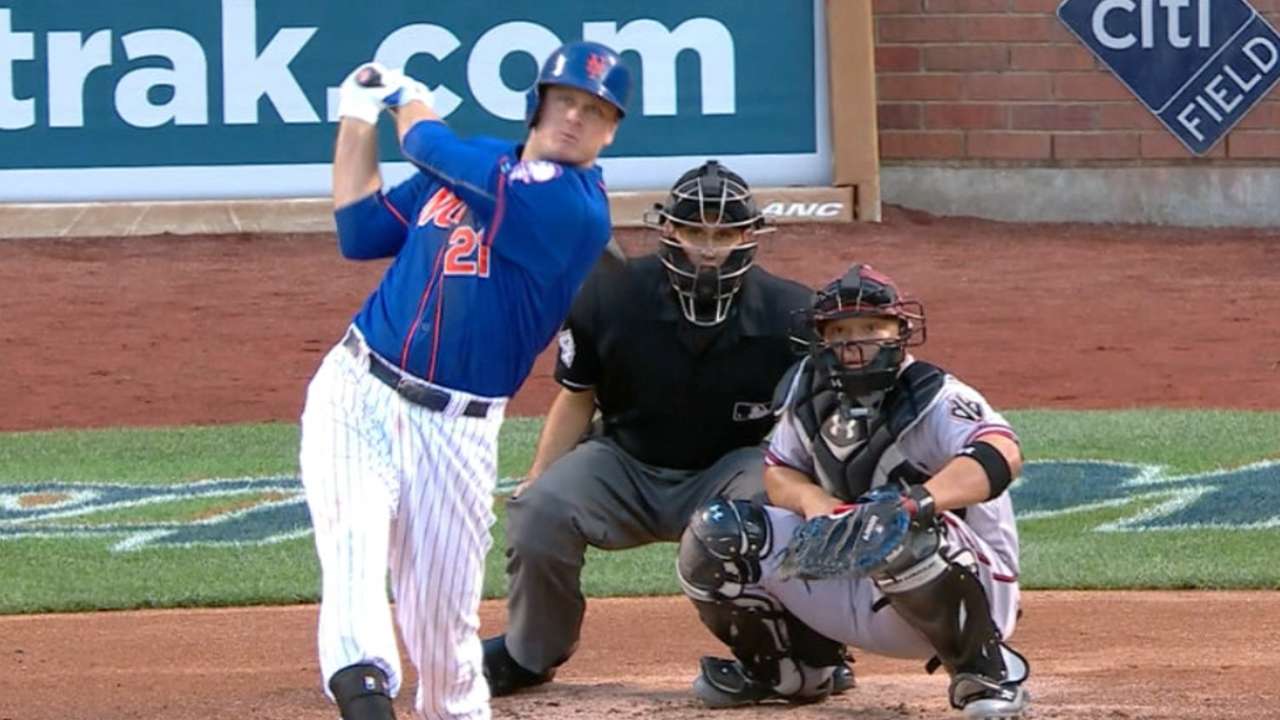 With the All-Star break looming, Collins let Syndergaard start the eighth inning of a 4-1 game with 100 pitches. Three batters in he was at 113, already a career high, and facing All-Star first baseman Paul Goldschmidt with a man aboard. Collins had closer Jeurys Familia warming in the bullpen. Syndergaard retired Goldschmidt, who he had struck out twice earlier, on a foul out with his 116th pitch, setting a new barometer for his stamina and capping another brilliant performance.
"I didn't even know that 116 pitches was Syndergaard's career high," said Collins, who has complied with New York's organizational philosophy of conservatism when regarding its young pitchers. "That's great information. I really needed to hear it."
Syndergaard's second pitch of the night was rocketed into right-center for an A.J. Pollock double. His eighth was lofted to center for a sacrifice fly, and the rookie found himself in an early hole. But after that he scattered just three hits and walked two. After New York's offense spotted Syndergaard some uncharacteristic power -- back-to-back home runs by Lucas Duda and Michael Cuddyer in the first -- the rookie got stronger.
"After what happened in the first inning I was just able to relax. That's something I learned last year in [Triple-A Las] Vegas. A lot of my outings started off with three, four runs in the first inning," Syndergaard said. "I have to have short-term memory and forget about it."
He struck out eight of 11 at one point, including the side in the sixth. Even when things weren't working, they did. In the sixth, Kevin Plawecki called for a fastball up and out of the strike zone against D-backs third baseman Jake Lamb. Syndergaard missed badly. His fastball split the center of the plate. But it was at 98 mph and Lamb took it for strike three.
"It worked out," Plawecki said. "He's getting confident. He knows his stuff can play here. Not just play here, but really dominate."
And so constituted what, in theory, would qualify as a formulaic win for this New York team as it's presently constructed. Mets pitchers have thrown to a 1.42 ERA over their last 133 innings, and own a staff ERA of 3.24 overall, third best in baseball. Friday's contributions from Duda and Cuddyer were more than enough, but have been uncommon (at best) from those veterans lately. Combined, the pair entered Friday 13-for-their-last-113.
"Getting some runs on the board for Noah I think helped him get more comfortable up there," Plawecki said.
Joe Trezza is an associate reporter for MLB.com. This story was not subject to the approval of Major League Baseball or its clubs.