Teams inquiring about trades for Segura
Brewers owner Attanasio says club seeks young, controllable players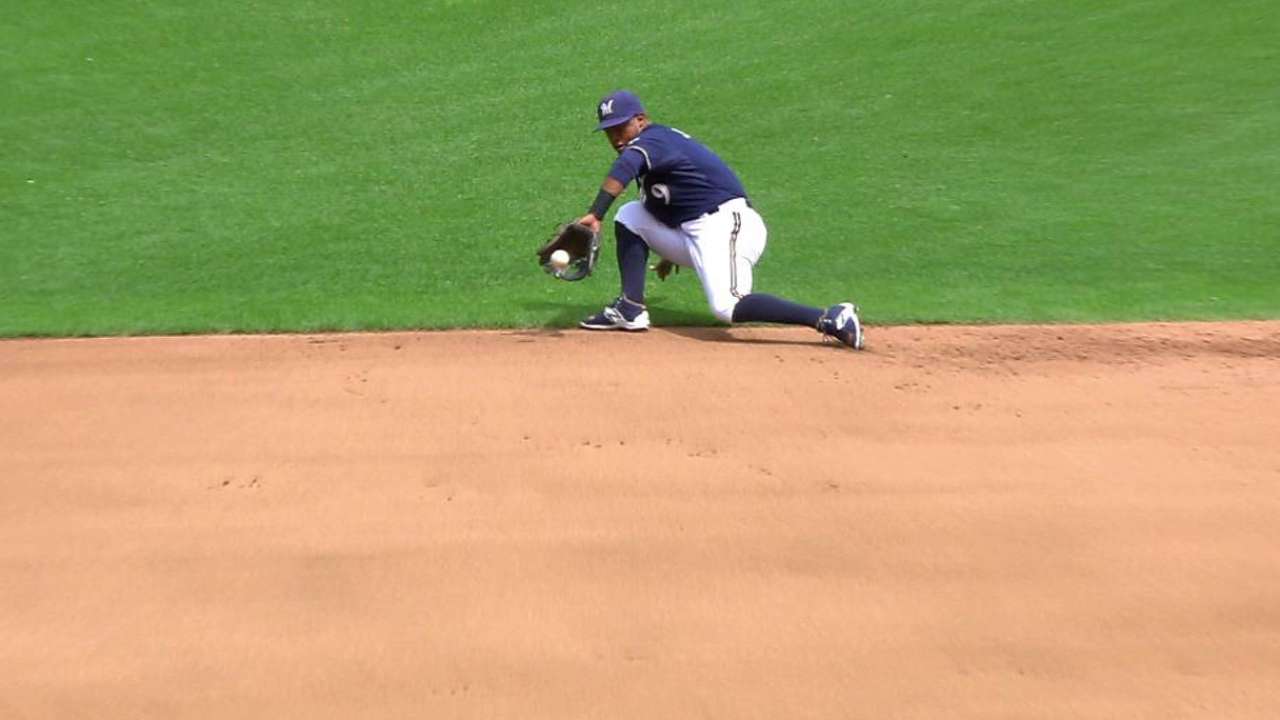 LOS ANGELES -- Owner Mark Attanasio said the Brewers were both taking and making telephone calls with an eye toward acquiring controllable young players ahead of the July 31 Trade Deadline. But he does not expect action until play resumes following the All-Star break.
"We always listen. Relative to teams' interest in our players, we're probably listening harder than we did in prior seasons," Attanasio said Friday, before the Brewers opened a series at Dodger Stadium. "And then in terms of outward-bound [communications], whereas in prior seasons we were looking to add -- last year we were aggressively trying to add -- this year there have been a couple of outward-bound calls on what you would call 'selling.'
"We're always looking to improve our team, so you're also making outward-bound calls looking to improve your team. It's on younger, controllable players."
Players like 25-year-old shortstop Jean Segura, which makes it interesting that Segura's name appeared in a trade rumor on Friday. FOXSports.com reported that the Mets had again checked in with the Brewers about hitters, including veteran third baseman Aramis Ramirez, who intends to retire at season's end, and Segura, who won't reach free agency until after the 2018 season.
"Because we're in the circumstance that we're in, teams now call and ask about a wide range of our players," Attanasio said. "We can't control that. That's because of our record. … I think we shouldn't mistake that because teams call and inquire about our players, that means we're out there shopping our players. We are looking for young, controllable players. You guys can connect the dots on that as far as Jean Segura. That's the kind of player we're looking to add."
Despite his age and contractual status, Segura is a popular name in the rumor mill because he happens to play the position of Milwaukee's greatest depth. Top prospect Orlando Arcia is a shortstop, as is Luis Sardinas, one of the players acquired in a January trade with the Rangers.
"We have a lot of [shortstop] depth, but you're always an injury or two away from [going from] having depth to being shallow. We're wary of that," Attanasio said. "And one of the great things about stockpiling shortstops -- the Cubs stockpiled a lot of shortstops -- is that shortstops can play all over the field. They can play short, they can play second, they can play third, they can play the outfield. So we're not rigid in that in terms of how we look at our depth of talent."
The Brewers consider themselves in a position of strength in weighing offers for Segura, since they could always hold him and listen again after the season, or at next year's Trade Deadline. The same goes for center fielder Carlos Gomez, whose contract runs through the end of next year.
For some other players, the timeline is shorter. Ramirez, outfielder Gerardo Parra and starter Kyle Lohse are all in the final months of contract years.
But this year's trade season is off to a relatively slow start.
"With the advent of the internet and everyone analyzing every trade, I think general managers are generally a little more cautious," Attanasio said. "Everybody's got big staffs now, so in the good old days, it was one GM to another. Now, everybody has a war room, and there's teams of guys in these war rooms. Everything gets very, very heavily vetted. It slows down the pace of trades."
Adam McCalvy is a reporter for MLB.com. Follow him on Twitter @AdamMcCalvy, like him on Facebook and listen to his podcast. This story was not subject to the approval of Major League Baseball or its clubs.